Dating apps are a plenty in our market. Most of us are familiar with the notoriously well known Tinder, Ok Cupid, E-harmony and so on. Recently, I have also been getting a lot of ads on my Facebook feed from GaiGai (don't ask me why).
But one homegrown app that has gotten my attention in recent times is Paktor. Paktor, for those of you not familiar with the term, means "going out on a date" in Cantonese. It is a well known app in Singapore and has a regional footprint in markets such as Taiwan, Indonesia, Malaysia, Thailand and Vietnam. (A few months ago, it also made headlines for aligning itself with a handsome young security officer. But that's a separate story you can check out here.)
With 20 million global users, Paktor "has become the de facto dating platform for Southeast Asians", says the company, and can be considered a home grown pride for those looking for love.
Most recently the dating service decided to relaunch in South Korea after being in the market since the end of 2016. The name it chose to go with was "Swipe" and added on a teal coloured scheme which actually made the app look entirely different.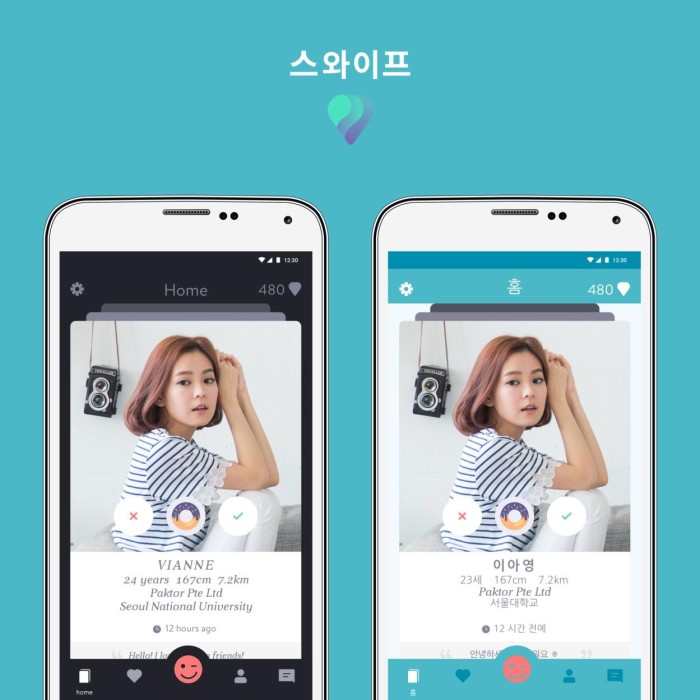 Now as a Singaporean girl, with strong connection to my roots, when I first heard it, I felt a little betrayed.
While Cantonese is by no means my first language, Paktor is a word I am familiar with and grew up hearing in my heartland neighborhood.
"It's like saying if I travel to the US, I should change my name to Jane and go blonde," I exclaimed to my team.
So I decided to bravely pick up the phone and speak to the fine folks at Paktor before penning down my thoughts.
A spokesperson very politely told me, as I predicted, that much effort was put in to ensure a successful relaunch and it wasn't simply done on a whim.  In fact, the CTO Jing Shen Ng spent much time with a team in Korea doing on ground market research to find out what resonates with the public there. Paktor even set up a new office in Seoul and made several local hires to ensure there is local knowledge on how to grow the business.
"Ng personally stayed in Seoul for a month and together with the Korean team, did over 20 meetups with Koreans at cafes and attended various start-up events to gain valuable user insights. And post the relaunch, the app has seen an increased number of downloads and now has four times more users," he added.
"But what about keeping the Singapore spirit strong?" I fought back.
Well turns out, Koreans too love all things Korean. According to the spokesperson, the top apps in the Korea market are all homegrown and are involving things Koreans can resonate with.
"The name Paktor has no meaning to locals and that brand affinity is important to Koreans. The team huddled together again and finally decided on 'Swipe' (스와이프), the main action on the app," he said.
"But Swipe isn't a Korean word," I argued back.
He explained, still quite calmly, that while we might just pronounce Swipe the way we see it spelt, in Korea, the way they pronounce it has more affinity with locals. They call the app there "Swiper-loo" and not just the very quick and curt "swipe" like we do.
Now with the relaunch, the app also  has new features inspired by Korean culture such as Photo Pick - where users rate other users' profile photos and get 10 Paktor points in return; and the need to showcase more user information like education, job and Facebook interest groups (Koreans are actually rather concerned on what company and school a person went to).
With the other insights, Paktor's head of design, Lay Hiang Low was also tasked with revamping the user interface to suit the Koreans' preferences. The end result was an app with a brand new look but retaining features such as Paktor Rewards, Paktor Guess and One-Touch Gifts, the spokesperson assured me.
Well, that conversation put me a little more at ease. I suppose I'll stay away from the blonde hair dye after all.