Fiona Bartholomeusz has been the managing director of Formul8 for over 15 years years now. The agency which started in 2000 currently has over 35 staff members and boasts itself of  being a strong through-the-line agency with regional presence. The office is currently head quartered in Singapore with a regional office in Dubai, UAE.
The agency has core international expertise in the areas of financial services, hospitality, telecommunications and high end luxury consumer and sports marketing. The agency is known for its integrated abilities, dedication and the simple fact that it "gets things done".
"No BS...just a nimble, earnest and passionate agency who gives a s**t and loves what they it is they get to do," says Bartholomeusz on her LinkedIn page describing the company.
Bartholomeusz talks to Marketing about the grit behind the glamour of running an independent creative agency.
When was the precise moment you knew you wanted to do something on your own?
Just before I turned 30, (women do strange things at that age)...I had just spent four and a half years working for Hong Kong-er Richard Li at Pacific Century. He was a totally kick ass boss and championed anyone who had ambition and street smarts so while I pulled in ridiculous hours (precursor of my life now!), it was cool working for someone so driven.
Who was the first client you had on board?
I started f8 in 2000. Our first client was an American online company and we were invited to pitch for the account against a US and Euro agency and we won it. It gave us enough startup capital to fund us for six months. I decided to give it one year to see where I could go with it, the rest as they say, is history.
How did you put your first team together? 
I was a shareholder of a publishing company and the initial team that made up f8 were actually the design unit that did our magazine template work. I realised that I enjoyed the creative process much more than the publishing side of the business and bought over the design unit and that's how f8 began.
What was one of the toughest moments in running your agency? How did you overcome it?
Like any newbie, people were always skeptical about how long you would last as a business or that you didn't have enough of a track record or credentials. I was quite unabashedly shameless in plugging the agency to anyone who had a minute to spare, so I was pretty lucky in having a solid stream of business and clients from the get-go. Complacency isn't something I am known for and every agency needs a rainmaker to survive.
Were you afraid of failing? How did you handle it?
I'm too stubborn to accept defeat.
I've seen enough agencies open with great ambitions and fail miserably because they forgot that it's always a business first. I will always champion the spirit of creativity, but I do sometimes think that while people in this industry have their heads in the clouds, their feet aren't very firmly planted on the ground. So they approach running an agency like they're still working in a cushy network and they don't realise just how tough, expensive, competitive and cutthroat running a small new agency is. People don't just buy ideas, they want to work with people that are credible, reliable and responsible. And that's the cornerstone of our success.
I have always told my team that the least I could do was to ensure that they get paid on time, get bonuses and good salary raises, and that they should never have to fear being axed just because we lose an account. In the process, they'll get to work with great brands that add to the value of their own creative portfolios. However, I never ever said that it will be easy, because it isn't. You don't get to be a profitable business by slacking off. So we hire people with the right attitude and individuals with integrity and heart.
A general is only as good as his army, as they rightly say. And failure for me will never be an option.  If you're not bullish about your own business, how will clients ever have faith that you will champion theirs?
How does it feel like to be your own boss? Could you ever work for someone else again?
I only allow myself one 'pat on the back' moment one day per year right after we close our books and I see our numbers. Then it's back to business again. I never rest on our laurels because this business is so unforgiving and so fickle. I do get annoyed when people tell me "f8 is you" – it isn't by far. While I write copy for some clients, I don't design and I am an abysmal project manager. I am allowed to continue as a 'boss' because many others here are far better than me in the areas I am poor at and this is what make us a well-rounded, solid agency. I have no delusions of grandeur about my own limitations.
I work for people every day as I consider every client my boss.
[gallery link="file" ids="105068,105069,105070"]
Pluses and minuses of being independent?
Pluses – I get to run the show as I see fit. Mistakes are mine to make, the right choices are mine to call. i.e I chart my own destiny. What I enjoy is promoting and paying people without the typical agency hierarchical framework in place.
I pay on merit, heart and attitude. I don't care how many awards/degrees/years they have in the business. And I get to value add for clients when they least expect it. So if a client needs a TVC in two weeks, it's my call to make it happen, need to get SG$10 million dollar racehorses to run in the desert against a fictional city backdrop? Consider it done.
Creative work is subjective and every agency sells itself as doing great work, so for me, that's not a differentiating USP. We are known for how invested we are in our client's businesses and we walk the talk, so clients value this and we are treated like partners every step of the way.
Minuses – The lack of an international framework and ancillary services. Research, media buying, analytics, etc. It would be far easier to tap on resources for services we don't provide and since we're usually slightly understaffed, having a sister company we could pull headcount from would always be good.
I also dislike how some Singapore companies take pleasure in lowballing and dissing local indie shops just because we're not part of a big network. We rarely support our own and that's sad. I have a few clients who are stellar supporters of us and they judge us on merit and abilities, not by the name on the door. Isn't that how it should be?
When you first started out, how did you market your agency? How did you get clients on board?
I called every person I knew who was in marketing and asked for design projects. (refer to 'shameless' trait in answer #4) I guess my enthusiasm and passion for the business swayed a few people into trying us out.
Philips and Nokia were two brands who stuck their necks out for us and gave us a chance to work alongside the network agencies on roster. I'm still pals with their former marketing folks to this day and I will always owe them a lot. They didn't have to be supportive or fair in their treatment of us, but they were, and people like that are few and far between.
Loyalty is a greatly undervalued trait in this business.
What was your first experience in the ad world? How do you think that shaped you? 
I was an ad sales minion. Which was pretty darn tough as you get crapped on by clients and their ad agencies. Till today, I don't waste any sales person's time as I respect how tough their jobs are. Greatest training ground ever though – after selling ad spaces to companies out in Tuas, I know I can put up with anything.
What have you taken away from your years in the ad world and implemented in your current business?
Hire people with integrity, not just talent. Because you can teach someone the necessary skills, you can't make someone a better person if they have no basic ethics as people. The amount of flakes we have in advertising, I could start my own Kellogg's factory…
What is the one thing start-ups need to remember in this market?
Don't go into the business expecting to be bought out. If you're good, the suitors will come a-calling. Just don't start a business on that premise. If you care more about the money, go be a banker.
Be realistic about your plans. While there's nothing wrong in wanting to chase your dreams in building the next big Asian network, the reality of this business is that differentiation, networking, a spot of luck and a shit load of hard work is what separates the ones who make it and all the rest who don't. So there's no shortcut to success here.
What is one piece of advice you'd give anyone wanting to make it out on their own?
Stand for something. Don't worry about being popular, focus on being a good agency.
The transition from being an employee to being a business owner is a shock to anyone's system. Running a business means having to be tougher, competitive as hell and frankly, not as well liked as you would want to be. It's even more challenging when you're a female because you're automatically labelled a b**ch. Which is fine by me because I am here to run a business, not a sorority. I've said it often enough, I don't need people to like me, I need them to respect that they know what I'm doing. They can like me after I've gotten the job done. :)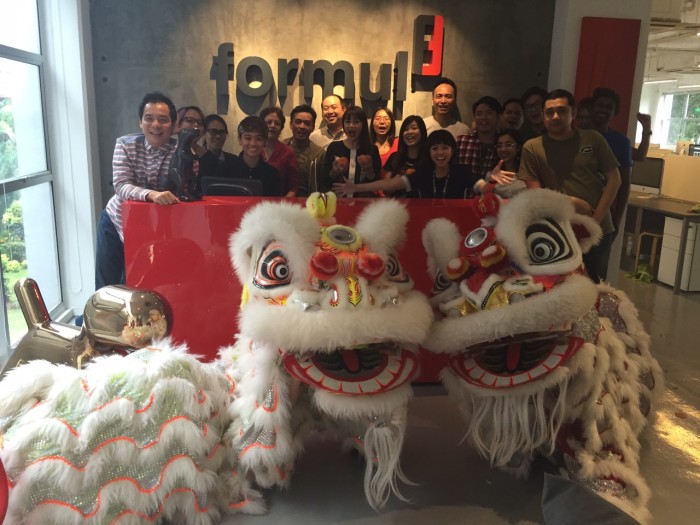 Would you be open to buyout?
We've been approached a few times, but it really boils down to having the right fit and whether a buyout can value add to us as a company and vice versa.
Five year plan for the agency
That would be giving the game away, and anyone in advertising will tell you that the best laid plans always go awry. So let's keep everyone guessing for now.
First team: James Ong, Eujin Goh and me.
First client: Zareeba
Founding year: 2000
Founded by: 3-man team above
Claim to fame: Meydan in Dubai.
A 200 million square feet master planned development owned by Sheikh Mohammed. Fast tracked to a global launch in 2010, we handled everything as an extended marketing arm for the Chairman of the Group – through the line advertising and digital, PR, events, exhibitions – you name it we did it.
We even moved a team there and opened our Dubai office in 2009 as a result. It was a fantastic opportunity for us and when we launched the project in conjunction with the Dubai World Cup in 2010 with 80,000 people in attendance for one night, it was a truly defining moment for us as an agency. I remember sitting on the outdoor terrace of this stunning 1.6km Grandstand at 4am wondering to myself how a small team of 10 people managed to pull this off, and we did!
The client later told me that he had the Chairmen of two of the largest networks fly in to see him before he decided to award the contract to us, and he did it because he felt we had the heart and we would never let him down because they weren't 'just another client'. It's moments like these that remind me why I'm in this business.