Southeast Asian eCommerce platform Shopee has emerged top in YouGov's annual BrandIndex Buzz Rankings in Indonesia, making it the most talked about brand of the country in 2019. With a buzz score of 59.6, Shopee takes over the four-year defending champion, Garuda Indonesia, who landed on the fifth place with a score of 54.6 this year. It is Shopee's first time topping the charts, according to YouGov.
Digital brands seem to be talk of the town, with WhatsApp, YouTube, eCommerce site Tokopedia, digital wallet GO-PAY, Samsung, and digital payment platform OVO dominating the top ten rankings. WhatsApp lands itself in second place with a Buzz score of 57.5, YouTube in fourth place with 55.4, Tokopedia and GO-PAY tying in sixth place with the same 54.1 Buzz score, and OVO in ninth place with 51.6.
Other brands who made it into the top 10 rankings are: Indomie in third place with a score of 56.8 and mineral water brand Aqua which tied with OVO in ninth place with a score of 51.6.
YouGov also measured which brands have the most improved buzz scores. Shopee took the lead again in this ranking, with an improvement buzz score of 12.9. Trailing behind is budget accommodation booking platform RedDoorz, who saw an improvement buzz score of 10.1, and Netflix with 8.0.
F&B brands topped the charts in most improved buzz scores as we see Samyang in fourth place with an improved score of 5.6, Big Cola in fifth place with 4.5, dairy product manufacturer Frisian Flag in sixth place with 4.3, and Pocky in ninth place with 3.6. Other brands who made it to the list are Airbnb, Twitter, and Uniqlo. Airbnb tied with Big Cola at an improvement buzz score of 4.5, Twitter gets the eighth place with 3.8, and Uniqlo tied with Pocky at ninth place with 3.6.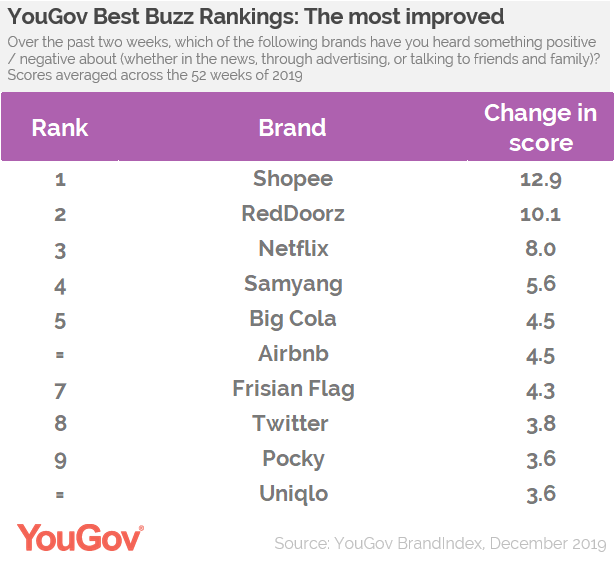 Ervin Ha, head of data products, said that Shopee has not only topped the charts to be the most positively talked about eCommerce brand in an "increasingly crowded" eCommerce space, but also the "overall brand in the nation". He added that Shopee has "effectively won over Indonesia", and it may be due to its innovative campaigns or its global ambassador.
YouGov BrandIndex measures the public's perception of brands on a daily basis across a range of measures. The annual rankings are compiled using buzz scores from across all 52 weeks of last year. buzz scores measure whether people have heard anything good or bad about a brand during the previous two weeks.
Shopee has been doing well in similar rankings in Malaysia. In the same ranking system, Shopee also topped the charts to be the most positively discussed brand in Malaysia in 2019. Last year in a similar YouGov report, the eCommerce platform ranked highest advocated brand in Malaysia for the second year in a row as well.
Read more:
Shopee SG aims to create personal connections with #ShopeeGivesBack campaign
Shopee edges out Lazada to be ranked SEA's most popular eCommerce app
Shopee MY apologises for stealing cartoonist's artwork for 12.12 sale