CHALLENGE
Myanmar (Burma) recently emerged as one of the hottest new destinations in the Southeast Asia travel space. Almost overnight, a new political openness, rich history and a natural beauty, combined with pent-up tourism demand, made it a "must see" destination for international tourists.
In response to this sudden global interest in the country, MyanmarBurma.com was launched this year as a one-stop travel portal. The website helps international tourists learn about a country that is dramatically transforming itself, and to also make secure and responsible online flight and hotel bookings.
Launching a new site is never easy. Even though the territory is relatively untouched, the giant global online travel agents moved in quickly and attracted significant traffic and inventory in the market. Its challenge was to step into an already competitive online landscape, command significant SEO traffic, and establish its position as the online travel information leader for Myanmar.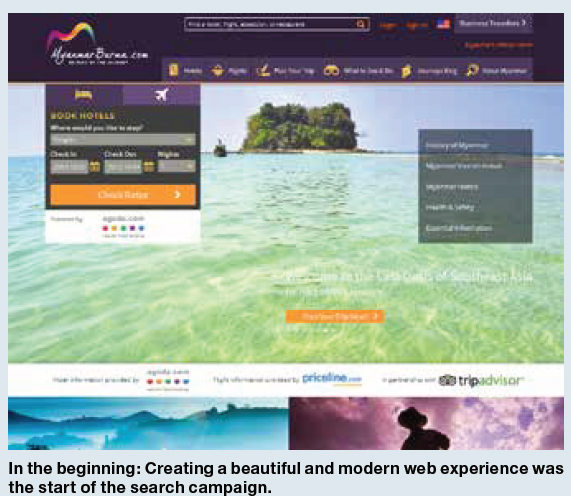 STRATEGY
With a strong domain name, top international travel partners (Priceline.com and Agoda.com), and a sleek website, it knew it was in pole position to record a top 10 in SEO results. The challenge was to overcome technical factors such as domain age and quantity of links, and to stay friendly to Google's Penguin, Panda and Hummingbird updates.
There were two parts to its strategy for success. First, it carefully monitored and evaluated every other website focused on any part of Myanmar. Although in the first year it was up against established sites such as Wikipedia, Lonely Planet, the New York Times, and Reuters, it knew the long-term prospects were better for a quality and focused site such as MyanmarBurma.com. We performed detailed analysis of our competition for every keyword, and realised most of these sites would actually become link partners for our content.
The site is a content producer, not simply a booking engine. It pours its energy into presenting the country handsomely, with well written blogs, articles about each city, detailed lists of things to do, and a beautiful and effective navigation structure. Before the launch, it produced well over 800 articles covering every city, cultural identity and activity. Consequently, when it went live, it quickly became the go-to source for Myanmar information, and monetised the traffic through hotel and flight bookings.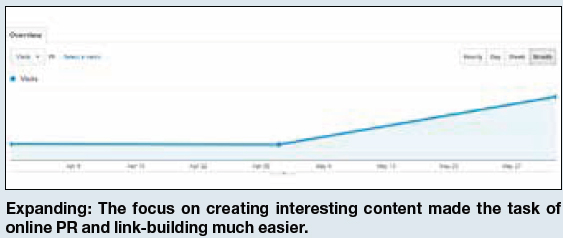 EXECUTION
For the execution of the search campaign, it had a core team of five people – a mix of in-house content creators and agencies of different strengths. At the core was its in-house team that generated original and interesting content, including articles, blog posts, social media posts, infographics and photographs.
A digital agency managed the technical aspects of the site, including site speed, uptime, hosting across the globe, new content management, rich snippets and other necessary SEO features. A link-building agency focused on building relationships with high-profile travel blogs, sites and columns to attract influential links to the site. And a top PR agency focused on building relationships with offline media, magazines, etc, to gain brand visibility.
The site planned for a six-month soft-launch beta period to correctly set SEO fundamentals before officially launching. In this period, it communicated daily, had weekly project reviews and aggressively monitored its progress in the industry.
RESULTS
From a steady traffic flow when the site went live, it experienced a four-fold increase in traffic within a month – shattering the myth that SEO results take months. As Google evolves its SEO algorithm, it is confident its high-quality content will continue to rise in its rankings. MyanmarBurma.com knows competing with Wikipedia and Lonely Planet's Myanmar sections will not be a short-term exercise. Furthermore, while increased traffic is great, it's growth in bookings that indicates real progress. So it carefully balances its link-building and content-marketing efforts between high-volume and long-tail keywords.
Bottom line: Within three months of the site going live, and even before the official PR launch, the site broke into the top five traffic sites for Myanmar-related travel.
This article is part of a six-part series from Marketing Magazine's Search 2.0 Master Report.
Read part 5 : Search2.0: Case Study - Bupa
Download the full PDF of the report here.