Southeast Asian consumer confidence continued its steady rise in the first quarter of 2015, reaching the highest level recorded to date, according to the latest Nielsen Global Survey of Consumer Confidence and Spending Intentions.
Southeast Asia (comprising Indonesia, Malaysia, Philippines, Singapore, Thailand and Vietnam) posted a score of 114 points in Nielsen's Q1 2015 Consumer Confidence Index, up two points compared to the previous quarter and 17 points above the global consumer confidence index score of 97 points.
The Southeast Asia score was the highest recorded by Nielsen since it began reporting a Southeast Asia consumer confidence index in 2008.
Underlying the results were consumers' strengthening confidence in the state of their personal finances and a growing willingness to spend.
The survey of more than 30,000 online consumers in 60 countries ranked consumers in Indonesia, the Philippines, Thailand and Vietnam among the most optimistic consumers in the world.
In Singapore, consumer confidence was steady at 100 points.
In Malaysia, consumer confidence rebounded by five points to 94 in Q1 2015. However, uncertainty surrounding the introduction of a goods and services tax saw close to one third of consumers (31%) flag the economy as their greatest concern.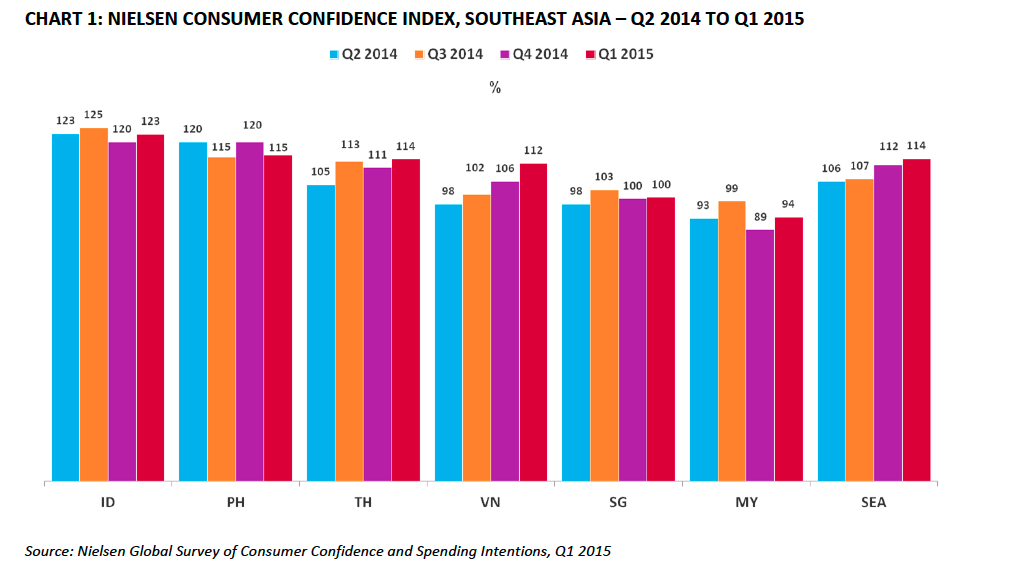 A score above and below a baseline of 100 indicates the degree of optimism or pessimism. There were 14 countries that scored 100 points or more.
"The typical consumer in Southeast Asia is demonstrating a level of confidence that far outstrips their global counterparts," Kaushal Upadhyay, Nielsen's executive director of client service in Southeast Asia, North Asia and Pacific, said.
Consumers are also feeling positive about their personal finances, and by extension disposable income, which is helping to drive overall sentiment and highlights potential increases in consumer spending, Upadhyay added.
Positive attitudes on jobs growth and personal wealth
More than two-thirds of Southeast Asian consumers (68%) hold a positive view of local job prospects over the coming 12 months, with the outlook strongest in Indonesia (74%) and the Philippines (73%), compared to 50% globally.
Malaysia was the only country in Southeast Asia that returned a score beneath the global averages for job prospects and personal financial outlook over the next 12 months.
Attitudes on saving vs spending
Majority of Southeast Asian consumers (71%) intend to put their spare cash into savings after they have covered their essential living expenses, an increase of two points quarter-on-quarter and up nine points compared to the same time a year ago. Consumers in Vietnam are the most intent globally on building their savings fund – 78% put their spare cash into savings.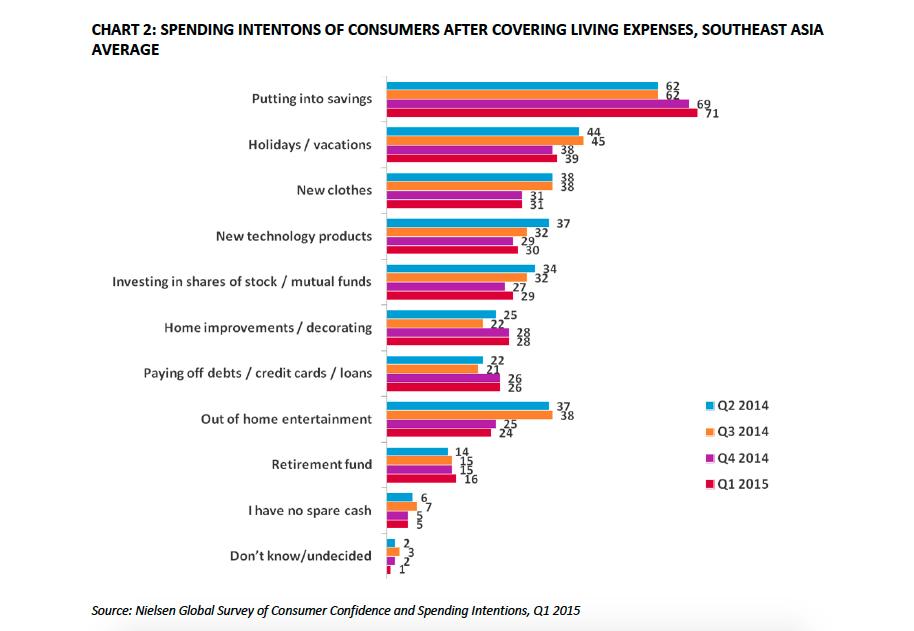 Outside of building their savings accounts, the most common item consumers purchase with their spare cash is holidays – close to two fifths of Southeast Asian consumers (39%) spend their spare cash on holidays, particularly Singaporeans (48%) and Thais (45%).
"Consumers in Southeast Asia remain diligent with their savings, but they are balancing out their nest egg contributions with spending on holidays and vacations," Upadhyay said. Consequently, travel is a growing segment which represents ample opportunities, he added.