Just as what Google, Microsoft and Baidu predicted, Germany was the big winner of World Cup 2014 last night and so was Twitter.
Since the Luis Suarez's biting memes and the unforgettable Brazil's defeat, Twitter has become the second-screen of World Cup 2014, with the #BRAvGER alone had peaked at 580,166 Tweets per minute.
In total, more than 300 million Tweets related to the #WorldCup have been secured since group play began.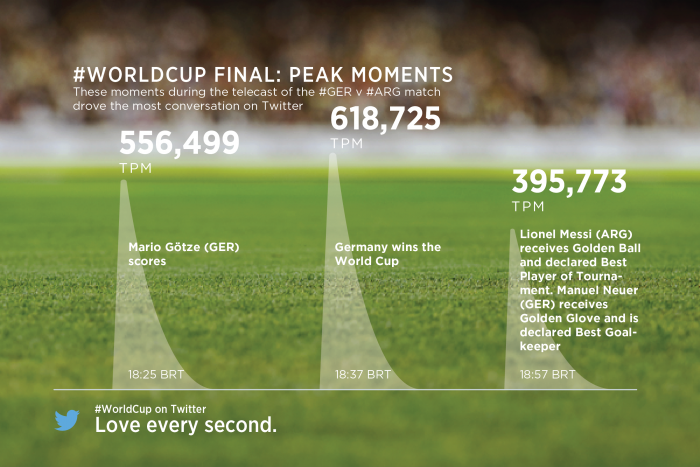 #GER vs. #ARG proved to be an epic finish to the #WorldCup that captivated fans around the world. After 64 matches, only one team is left standing- @DFB_Team – which is the 2014#WorldCupFinal champion, beating @Argentina in a match that generated 32.1 million Tweets.
This is a heat map showing how the match played out on Twitter last night (pay attention on the world light up as Germany scores its winning goal):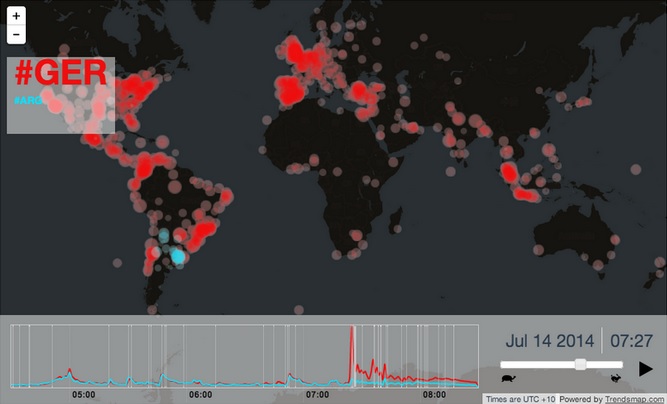 When the final whistle sounded and #GER claimed their 4th championship, we saw 618,725 Tweets per minute (TPM) discussing the match — a Twitter record for an event.
Twitter, which turns the soccer festival into a global social media event, is undoubtedly one of the biggest winners of World Cup 2014. But the impact does not limited on social media, but also to smart brands.
"We've seen brands around the world do an amazing job of connecting with football fans during the World Cup by putting the fans and football first," Steven Kalifowitz, head of brand strategy of APAC and MENA at Twitter told Marketing.
Snickers, for instance, has posted a smart tweet cashing in on Luis Suarez's World Cup bite, which reported 48,003 retweets and received massive engagement rate than posts on other social media platforms.
Motor company Hyundai also got a 39.5% lift on Twitter followers during the World Cup:

Also Lufthansa's Tweet about Germany's World Cup victory:
https://twitter.com/lufthansa/status/488437053131329537/
"These are great examples of how brands are understanding and leveraging the power of Twitter's platform for live, public conversations to reach people in the moment.
"As the World Cup has reaffirmed, while TVC's and other traditional media offer reach, the true power of social is to complement reach with engagement, which enables consumers to have a deeper, more resonant experience with the games and brands," he added.
Ringo Fai, director of social media at GroupM, agreeds: "This year, Twitter is one of the biggest battlefields for non-world cup official sponsors on ambush marketing. Brands who have reacted the quickest and the funniest win big, and the key is to create real-time content."
"For all the time-consuming planning and the big money that pumped into World Cup commercials, the best ad idea is actually just a simple, timely, and noticeable tweet."
"The winning piece of real-time content, or bite size entertainment on Twitter, might give you a greater return of impression and talkability all over the world than to splurging on to creating big-money print ads, for example some World Cup official partners including adidas," he added.
Photo courtesy to @Podolski10