By now we are all familiar with the STB-SENATUS saga, where a piece of content created by SENATUS, was picked up by the tourism board and reposted on its social channel without proper creditation.
And while STB has since released a statement apologising for the matter, Kien Lee, managing director of SENATUS, has taken to social media to provide further context to the situation. Lee said that the apology made by STB to him was done via WhatsApp an "not via any formal communications" and questioned how "professional" the apology really is.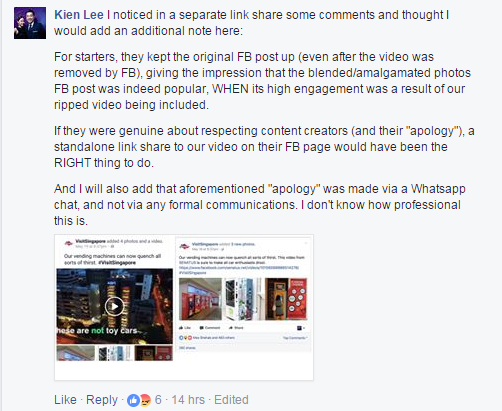 When contacted by Marketing, Terrence Voon, director, digital and content said that STB and TBWA fully respect intellectual property rights. He explained that both parties contacted SENATUS immediately upon learning of their mistake to offer their personal apologies and to resolve the matter.
"We remain open to further discussions with SENATUS on this," Voon added.
Today with the speed and ease of communication, it is not unusual to see decisions being made on chat platforms. We asked some industry players what the right way to rectify the situation would have been. In a conversation with Marketing, Joseph Barratt, founder of Mutant Communications said that it all seems to boil down to the fact that STB did not seem to have much respect the creative asset or the work that went into creating it.
"This seemed obvious from its original use of the video and through to the way it handled their apology by sending a WhatsApp message," Barratt said.
While the original transgression may have been an innocent mistake but "when a mistake does happen you need deal with it by being upfront and not hiding behind WhatsApp."
"I'm sure a big part of the anger SENATUS is feeling is due to the lack of respect shown to them and this does not help," Barratt explained.
When asked how brands should handle such events, Jeremy Seow, managing director at WE Communications said that brands faced with a similar situation need to engage in direct communication immediately. He said:
The brand afflicted needs to have a senior member of the organisation contact the person who has been affected and have a conversation immediately.
He added that both parties need to try and keep that conversation between them. This is coupled with ensuring that the details in the conversation are kept between those involved, and not spread externally.
"That direct line of communications also needs to be maintained throughout the event," Seow said.