Local design agency DoodleRoom has blasted the Singapore Tourism Board(STB) on its Facebook page saying that the government agency has recycled its work without informing the agency.
It posted a picture of last year's Singapore Art Week Guide, which it worked on for the STB, and this year's guide on Facebook, saying that both covers were nearly identical.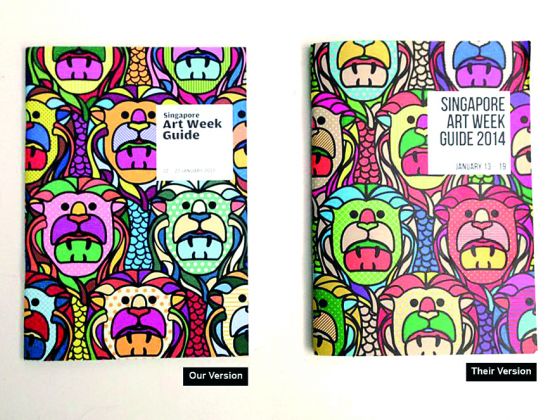 (Photo courtesy: DoodleRoom)

It then expressed disappointment that the agency had not been invited back to work on the project this year, despite its work being used. It also said that its artwork for STB's food truck event in Sydney was "rehashed", according to Today.
Herman Ho, art director, DoodleRoom told Marketing that the agency was merely voicing its disappointment that there was no attempt to modify the previous design, and that credit to the agency was not given when this year's design was used.
"The post on Facebook was to use this incident to bring about a discussion on how we can adopt a healthier design environment, where designers and their efforts are respected and appreciated, so that such an incident will have a lesser chance of happening again,"he said.
The post by DoodleRoom was shared 327 times, drawing many comments from the design industry. However the post has since been taken down, with the agency putting up this post:
"Thank you everyone for your support. We're really touched and surprised at the responses we've gotten. As all of you know, we only wanted to express our disappointment for not getting the acknowledgement due. We know we have ruffled some feathers, however there are many in the same boat whom [sic] have cheered us on. Ultimately, we just want to aspire for an environment that is more conducive for fair play."
The STB has since responded, saying that it using the artwork was in line with industry norms and it had "the full rights to use, reproduce and modify it."
In a statement to Marketing, Jason Ong, deputy director, Arts at STB, has said that it found DoodleRoom's design to be very attractive and usable in its other initiatives. As to why the agency had not been invited to pitch, Ong said that the STB had put out an open RFP in September, but the agency had not put its proposal in.
"Although STB is not obliged to obtain Doodle Room's permission for further usage or adaptation of the creative assets developed by them, we do acknowledge the effort and creativity that Doodle Room has put into the development and production of the Singapore Art Week Guide 2013. We hope they will continue to show interest in working with STB.
STB fully respects intellectual property rights, and supports the development of local creative talent as one of our strategies to develop Singapore as a distinctive and compelling destination," he added.
The agency said it had no further comment on STB's remarks.
The issue of recycling ideas have long been a gripe of the industry.
In an earlier interview with Marketing, Nader Tadros, director HP OEM, SEA region, Microsoft  said that agencies also tend to recycle ideas, he said. "If we are to pay a pitch fee, what is the assurance that the idea created is solely for our organisation and will not be reused or resold to a competitor if we are to reject the idea at that point?" Tadros asked. (Read more in Why it's bloody hard to prevent idea theft?)
Also, in an earlier interview Theodore Choo, former president of the 4As told Marketing that most industry bodies had their hands tied when it comes to helping agencies, leaving it mostly to agencies to take up the issue with the client. (Read more in Who's idea is it anyway?)
What are your thoughts on this? Reach the writer on this at elizabethl@marketing-interactive.com