Snapchat is quickly heating up the competition in the social spend when it comes to ad spend, an arena currently dominated by Facebook and Instagram (also under Facebook).
According to WPP chief executive Sir Martin Sorrell, in a conversation with CNBC, WPP clients spent a staggering US$90million on advertising on the Snapchat platform, a figure which was three times of what was initially forecasted by the network. This places the messaging app in a stronger than expected position to take a bite of the marketing and advertising pie.
Sorrell added that Snapchat could become a threat to Facebook in the ad industry. However, he also explained that the amount spent is still small compared to the US$5billion spent on Google and US$1.7billion spent on Facebook.
The statement follows recent news of Snapchat adding a search bar to its interface, a move said to be a positive one for brands looking to gain a bigger presence on the platform. The new function also started the debate on whether this would trigger a growth in its user base.
In September 2016, eMarketer said that despite criticisms of its initial ad offerings, Snapchat is still in a good place for "explosive growth in ad revenues" in the near future.
It also predicted that Snapchat will generate ad revenue of US$366.69million in 2016, with the figure set to rise to US$935.46million in 2017. This coupled with Sorrell's revelations show's the messaging app's growth in adoption by advertisers.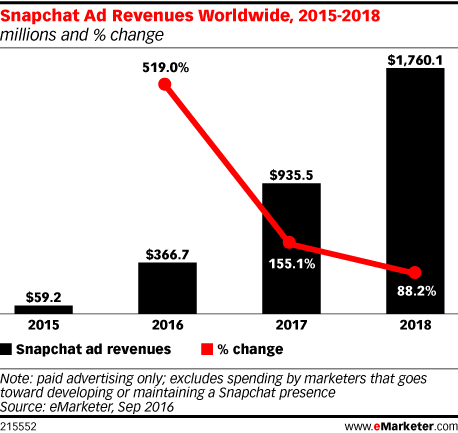 Sorrell also explained that there are opportunities for Snapchat to capitalise on the ongoing conversation over fake news by looking towards advertising measurement issues. This comes as Google and Facebook come under fire for not doing enough to combat the spread of fake articles surrounding the recently concluded US elections.
With challenges associated with measurement as well as distrust over the media due to fake news, Sorrell explained that clients are likely to look into experimentation when it comes to ad spend, hence Snapchat is in a good place to capitalise on this.
Snapchat saw an eventful 2016, with the holding company changing its name to Snap Inc in a bid to rebrand as a camera company. This follows the company's reveal of its new camera and hardware called Spectacles, sunglasses built with an integrated video camera. The company was also said to have secretly filed for an initial public offering (IPO), according to unnamed sources from Reuters. The move was then said to make it the biggest stock market opening in more than two years.