Internet Entrepreneur and author Marc Ostrofsky says relevance is a search engine's holy grail. "People want results that are closely connected to their queries." That pretty much sums up the direction in which search marketing is headed.
And as digital marketing budgets grow, search's share will continue to soar. The fourth annual Marketing Budgets Report 2013, published by Econsultancy and sponsored by Responsys, states that the percentage of companies planning to invest in cross-channel has grown year-on-year, demonstrating the increasing importance of an integrated marketing strategy.
"The rise of mobile is another way that marketers are interacting with consumers on their own terms, and in 2013 we'll see marketers increase their investment in mobile optimized email and mobile search marketing," it says.
Search, whilst being one of the top choices of marketers when it comes to digital marketing, is also fairly elusive - thanks, in part, to the largest player in the space, Google.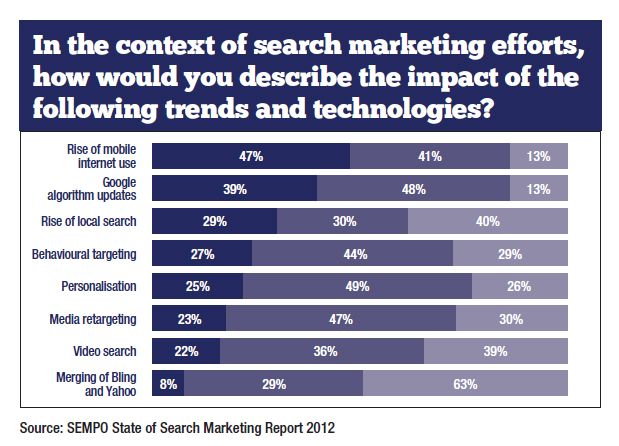 Google's ever-changing algorithm keep brands on their toes as it continues to improve targeting adding capabilities to comprehend context and not just keywords. One such recent tweak is its "Hummingbird" algorithm aimed at making search more relevant. Seemingly, that isn't a huge change for consumers but PPC marketers need to understand what Google is aiming to do. Put simply.
"In fairness, the Hummingbird algorithm uses many of the old procedures, weights, filters and methods of the old algorithm. However, the new algorithm will deliver better search results for long tail, conversational based searches," says Jyoti Koria, account manager at Mindshare.
"There is a feature within Google AdWords that allows you to see exactly what users are typing into Google to get to your web page. This will ensure you are on top of any long tail or conversational based queries that are being used."
Here is what Hummingbird does. Previously, when you searched "how can I fix my iPhone?," Google would return a set of results that includes the keywords "fix" & "iPhone" - this means Google would return a number of Web pages that contain these keywords but may not relate to the actual query "how can I fix my iPhone?"
With Hummingbird, Google's algorithm will place more emphasis on the other words in the search query such as "how can I?"
So under the old model, Google was matching individual keywords and phrases to the pages in Google's index. But now it is considering all the keywords in the query and the relationship between each to understand the intent behind the search query. Now this change does not have any negative implications on any paid search campaigns.
"Marketers need not panic," says Koria. However, it does create a small opportunity to expand long tail search queries or add "conversational" based queries to a search campaign.
"Previously, these types of queries had very few impressions, but if better and more relevant results are provided, there will be a growing number of users typing in longer search queries and "questions" directly in Google," she adds.
And not just algorithms, what's defining search in the current times is a multitude of factors, the most prominent of which is mobile. Big or small, global, national or local, with ownership on the rise, there is no business in Singapore which isn't being transformed by mobile and mobile search.
"So the first thing you should know is that if you're a brand wondering when to develop your mobile strategy, the answer is yesterday," says Julian Persaud, managing director for Google in Southeast Asia.
Here are some snapshots from Singapore and from across Southeast Asia:
More than 9 out of 10 smartphone owners have searched for local information, while more than 8 in 10 have taken action as a result (contacting/visiting business, purchasing something, telling someone about it).
48% search for local information on a daily basis, higher than the US, Japan, Korea or Australia.
As far as shopping is concerned:
87% of Singaporean smartphone owners have researched a product or service from their device. 57% who start research on smartphones go on to complete purchases on a desktop; more than 1 in 2 complete their purchase offline.
Across Asia, a similar portrait emerges:
91% Malaysian smartphone owners have researched a product or service from their device
88% Filippino smartphone owners have researched a product or service with their device
94% Thai smartphones owners have researched a product or service with their device
Korea sees similar numbers: more than 9 in 10.
Hong Kong: 89%
"Brands need to remember that smartphone screens might be smaller than desktop, but mobile search has greatly expanded the range of tools available to advertisers online," Persaud says adding that smartphones have features, such as a built-in camera, microphone, speakers and GPS, that can be used to help brands do things they never dreamed were possible with search advertising on desktop.
Google has made search results on your phones and tablets cleaner and simpler, optimised for touch, clustered on cards so you can focus on the answers you're looking for.
"Typing can be hard without a keyboard, so we have made it easy to search Google with your voice. Location is also very important for mobile users, so we give results for things like weather and movies based on where the user is located," Persaud says.
Likewise, it has focused on developing mobile formats that echo many of the changes on the consumer side. Advertisers can show consumers ads that allow users to call their business with a tap of the screen with a click to call mobile search ad format--no typing required. Given how important location is to both mobile searchers and to advertisers who want to reach them, we also enable advertisers to bid more for customers closer to their retail locations, or at certain times of day.
At the moment over 1.2 billion people access the web from their mobile devices with 61% of people having a better opinion of your brand when they offer a good mobile experience. Remember 95% of these mobile users have searched locally – which is every businesses want.
"So you get it. We get. Mobile marketing is moving to be the preferred method of marketing," says Rhyce Lein general manager of SEO Agency.
"All you need to do is look at the stats and even Google's latest update showcasing Hummingbird. Rather than illustrate this new move with a desktop image they used an image of a mobile app setting the stage for the future of mobile search and consumers," he says.
According to Persaud, the best thing any brand can do for their business on mobile is also one of the simplest: get a mobile website. Consumers don't want to pinch, zoom, or squint to read text; they'll just go somewhere else.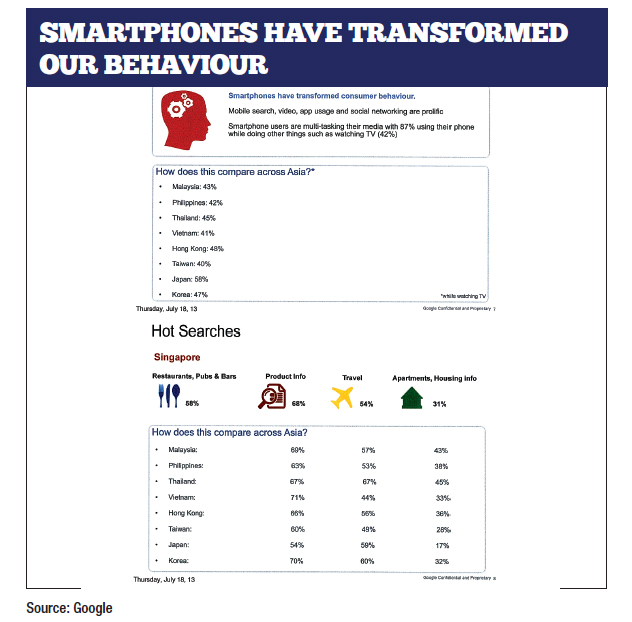 (You'd be surprised how few advertisers have actually covered this step, he says. Even among large global companies; for example, Google estimates that the majority of large advertisers in Singapore don't yet have a mobile website.)
"That's a problem, because if you don't have a mobile site, you aren't ready for mobile customers, period--you're just sending them to the competition. Even if you're a Fortune 500 brand running state of the art mobile advertising campaigns, if you're directing mobile consumers to desktop websites which frustrate them, you are wasting money," he says.
Second, make sure to clearly define your business goal. Do you want traffic to your mobile site? Or would you prefer to drive foot traffic to physical storefronts? Then, take a look at what sort of mobile presence (beyond the mobile website, which is non-negotiable!) will actually advance your business goals.
"Fancy apps are nice to have, but they aren't necessary for every business. It really can be as simple as a mobile optimised website with store hours and location prominently displayed," Persaud says.
"You might want to drive calls to your call center or retail outlet. Or it could be as complex as driving sales with offers tailored to a user's proximity to your store. But the mobile website is really non-negotiable, and it's the best place to start."
With such huge shifts in consumer behaviour and mobile starting to play a crucial role in their lives, brands need to keep in mind the basics of search marketing and this is what we are addressing in this month's master report.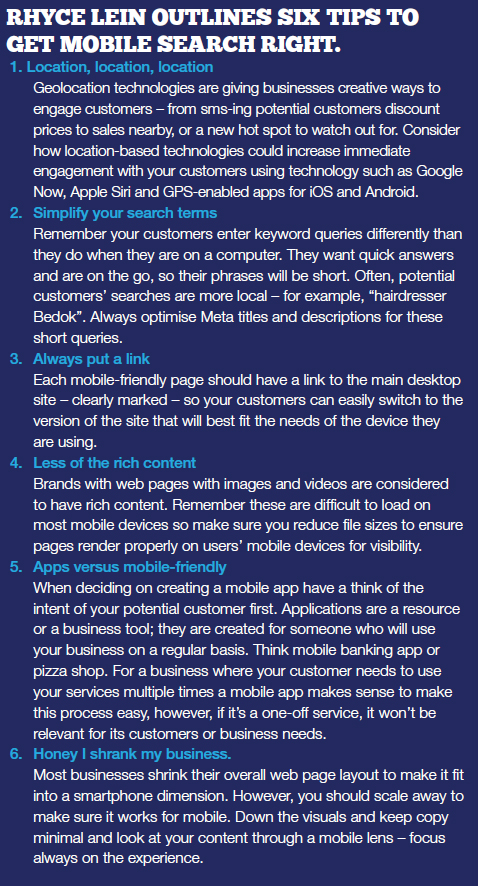 This article is part of a six-part series from Marketing Magazine's Search 2.0 Master Report.
Read part 2 : What is the difference between SEO and SEM?