According to ZenithOptimedia's new Advertising Expenditure Forecasts, global adspend will grow 4.4% to reach US$544bn in 2015, with online video being the fastest-growing advertising category.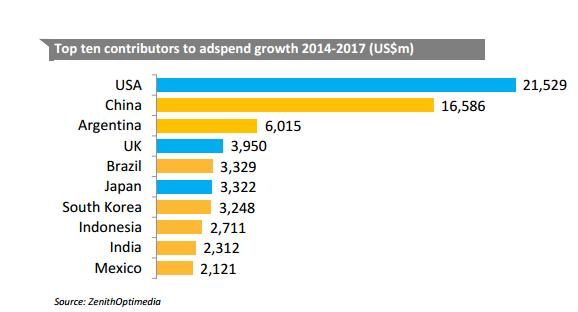 With the explosion of mobile video consumption and the spread of internet-connected devices, such as smart TVs and games console, it is no surprise that online video was forecasted to be the fastest-growing advertising category.
Now that smartphones have bigger and better displays, and transmission technologies like 4G are improving connection speeds,  consumers  can now watch high-quality video content whenever and wherever.
According to the Ooyala Global Video Index, mobile devices accounted for 34% of all online video plays in Q4 2014, up from 17% a year earlier. Several other factors are contributing to online video growth: measurement agencies are investing in research to track consumers' exposure to video ads across desktop computers, tablets and television screens; the main social media platforms are all developing their video products; and more online video is being sold by programmatic buying, providing advertisers with more control and better value. ZenithOptimedia estimate that global online video grew 34% to US$10.9bn in 2014, with a forecasted growth at an average of 29% a year to reach US$23.3bn in 2017.
China slows, but continues to grow at twice global rate
The Chinese economy is starting to slow after years of blistering growth – the technology gap with mature markets has narrowed, making productivity growth harder to come by. China's ad market is slowing in step with its economy, but it too remains very healthy by international standards. It is forecast that Chinese adspend will grow 9.1% this year – below the 10.5% annual growth it averaged over the past five years, but more than twice the rate of the world as a whole. Between 2014 and 2017, it is expected the Chinese ad market to enjoy an average growth rate of 8.5% a year.
"Online video combines the emotional connection of television with the efficient targeting and measurable effectiveness of digital display. While television will remain dominant for many years to come, advertisers are increasingly utilising online video as an invaluable complement, giving them new opportunities to communicate brand values to consumers," said Steve King, ZenithOptimedia's CEO, Worldwide.