In an act of real time marketing, Netflix has jumped on Circle.Life's #3dollarballer publicity stunt (which drew massive number of people and the police) to promote its Stranger Things series.
Just like the #3dollarballer campaign, which allows participants to exchange SG$3 for SG$50 via a vending machine, Netflix's take asks netizens to exchange three chocolate bars for 50 Baby Darts. For some context, "Dart" is a flesh-eating infant creature present in the Stranger Things series who was adopted and well-loved by one of the main characters.
The campaign, which also hashtagged #MaiTuLiao (Hokkien dialect for "don't wait") was also location tagged at Raffles Place, where one of the #3dollarballer vending machines were located. Since its posting last night, the campaign garnered over 140 reactions and 26 shares at the time of writing.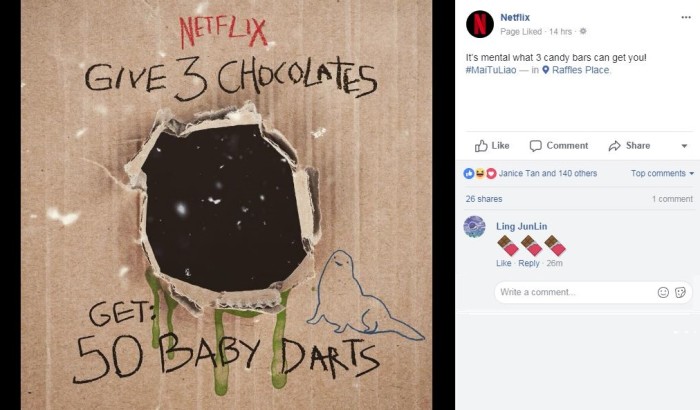 The campaign pays homage to the #3dollarballer campaign where vending machines offered cash giveaways. After hundreds of people gathered around the machines in hopes of getting a turn, the event had to be called off after police stepped in. The campaign made its first appearance on 27 February 2018 between 5:00pm to 8:00pm at Orchard Road, and even had several online personalities and micro-influencers promoting it.
Real-time marketing is no stranger to Netflix, which often localises its campaigns to promote its shows.
To promote Stranger Things, the brand turned its attention to local neighbourhood Yishun, which is often joked by netizens in Singapore to be one ridden with crimes and crazy happenings. The initiative drew a link between Yishun and the Upside Down, an alternate universe home to man-eating monsters which are the antagonists of the series. Later on, Netflix created an entire spot which once again paid homage to the connection, this time to promote the second season of Stranger Things.
Other instances which saw the brand taking a cheeky twist on current affairs include its #OwnselfCheckOwnself parody over a photo of Marine Parade Town Council cleaner Moktar, who listed himself as both the cleaner and cleaning supervisor in the estate. Published in a Facebook album, Netflix featured pictures from the various shows on its platforms such as House of Cards, Orange Is The New Black, Stranger Things, Riverdale, BoJack Horseman and Miranda Sings.
Read also:
Local comedian Kumar transforms the Queen in Netflix's 'The Crown'
Netflix rings in the New Year with dark 'Black Mirror' ad
Netflix commissions painted wall mural for "Orange is the New Black" series