Andreas Vogiatzakis  kickstarted his career at DMB&B in NY, and forged since a life journey spanning three continents and six countries. From corporate America he moved back to Greece in 1993 and managed JWT's media for international clients.
In 1997, he set sail for Japan to establish the media unit of D'Arcy and later restructured Starcom into a strong media agency in Japan. He later moved to Taiwan at the helm of the Mindshare group, cementing it to be the strongest market leader. In 2006, he joined Omnicom Media Group Malaysia.
Vogiatzakis sits down with Advertising + Marketing to talk about his leadership values and the highs and lows of his career.
Describe your management style
I believe that the best management style is the one that adapts to the circumstances. A great leader needs to assess the situation and judge which management style will motivate the team best and bring the best results. Results are created by people, and people have different motivational points to be activated at different times and in different circumstances. There are times that I have been democratic, and times I have been more directive. Both styles have worked well and both have backfired, depending on the situation.
What I try to do is to assess more accurately which style fits which situation better and apply it. Generally, I believe that people are always intending to do their best with the resources they have at hand at the time. Thus it is my responsibility to empower them, equip them with the resources needed to execute the best they can and motivate them in the right way. Too much dictatorship will create mutiny, and too much democracy might never get us ashore. A balance is what we need to strive for.
Career path
I fell in love with marketing back in 1987, and I quit the prestigious Mathematics University of Athens to pursue the new love of my life: advertising. But I was not sure what that fully entailed. The penny dropped when I took Media 101 as a mandatory course for my advertising degree at the University of Florida.
Kent Lancaster, an amazing media guru and teacher, showed me how media can be creative, and how it can combine curiosity and free thinking with structure and discipline. Synthesizing elements that make sense but might not seem fully related at first can create winning outcomes. Media then combines numbers and creative thinking to create media solutions that activate great creative work, hand in hand. I loved it and I never looked back.
Several dozen years later, I am still in this amazing field and still love it as I did on the first day! After graduation, I started my media career with DMB&B in New York, and later continued with JWT Media in Greece. In 1997, I set sail for Japan to establish the DBB&B media unit and I have been working in Asia ever since. After establishing DMB&B media, and a short stint with Weiden & Kennedy, I joined Starcom Japan and merged it with D'Arcy media (DMB&B). after five amazing years in Japan, I moved to Taiwan heading up the MindShare group, and after GroupM was successfully established, I moved to Malaysia in 2006 to head up the Omnicom Media Group.
Your first job
I will cherish forever my first job at DMB&B in New York.
Back in 1991, I wanted to join Leo Burnett, but New York won me over, and joining DMB&B was perhaps the best gift the God of Advertising could have blessed me with. There was intense training, wonderful colleagues, amazing bosses (good and bad) and constant learnings. Mark McGlauclin, the DMB&B head of Media, hired me on the spot, and Brian Gillian was my team media director, a Vietnam war veteran with a natural instinct for numbers and strategy. We had desk tops with Lotus notes back then, but no email (Brian called them "the machine").
Instead of email we had a group secretary who would type the media schedules on a typewriter and fax them to clients. She was getting grumpy every time we had to make a change in the flowchart, as she had to re-type it and re-fax it. I used to bribe her with vanilla floats that she loved, and so she was nice to me. My clients loved me in return! I used to ask Brian and Susie (Suzi was my immediate media supervisor) for more work and more accounts, so I can learn more. Suzi was tough, but respectful and generous with giving knowledge. She used to take me with her in all her media rep lunches, boy didn't I explore all the New York uptown restaurants! But then I was transferred to Amanda's team. Amanda was mean. She made me work on the weekends and re-run all Nielsen data, just because she could. I hated that but I knew it would not last, and while the anger stayed with Amanda, the knowledge stayed with me, and I moved on.
So in a year or so, I was blessed with amazing bosses, the good the bad and the ugly, from all of whom I learn so much, and did well to get promoted. But I still had not enough money to rent a place in New York, so I carried on renting an old apartment in Elizabeth New Jersey and took the bus across the river to Port Authority on 42nd street, and then walked to 52nd and Broadway where the office was. That was back in 1991, before the Walt Disney store got its presence on 42nd street. I can still close my eyes today and recall the walk to the office, the smells, the sights, and the feeling of New York, and walking past Times Square to go back and take the bus home. It was magical. The "Madison avenue" feeling was amazing and everywhere! Media lunches and parties, and an era that I am not sure it will ever be the same again.
The best lunch ever was a limo ride to the Playboy mansion with some media planners, and a gourmet lunch prepared by the mansion chef for us. Alas, no Playboy girls to serve us desert though. But the glam was just amazing. The day I left New York (as I had to go back to Greece to fulfil the mandatory army service) was a sad and beautiful day at the same time…
Who was the mentor who most influenced you and why?

Too many to mention, for all of whom I am eternally grateful. I now look back and as Steve Jobs said, I can connect the dots. I learnt from the good ones and the grumpy ones. The good ones showed me what I need to do to motivate and drive people and myself to excellence. The grumpy ones taught me what I should never do. Three amazing mentors for me to single out though are Jack Klues , Kei Ueno and Momose-san.
Jack, the former global CEO of Starcom/Vivaki, is retired now. I used to report straight to Jack (Global Starcom CEO then) when I was in Japan. Jack is an amazing media man, smart, appreciative and compassionate, driven by clear goals and with a desire to expand the business and built greater structures. I did learn a lot from his approach to different cultures, and from his patience.
Kei (pictured below), the chairman of Starcom in Japan, trusted me with a passion, and handed to me with generosity his knowledge, wisdom and friendship, which became a beacon to guide me in the good and tough times.
[gallery link="file" size="medium" ids="89507,89508"]
Momose-san, a senior Dentsu director with silver hair, taught me all about the Japanese way of being a farmer, not only a hunter, and how to enjoy the fruits of the labor.
[gallery link="file" size="medium" ids="89510,89509"]
I see it all now and their teachings are paying off. For my tenure and advancement in Asia, these lessons became catalysts that formulated principles and values that helped me succeed in Taiwan and in Malaysia, throughout my career. I will be forever grateful to them, as well as many others ever since. In fact, every single boss I have ever had was an immeasurable inspiration and mentor to me, to this very day, and I can safely say that I would not have been the same if not for each and every one of them.
Your biggest blunder in your career
Gosh … many, and all of them to learn from.  One of the biggest though was early on in Japan. I assumed that the Japanese team would know intuitively that I have their best interests at heart and they would accept me instantly. How wrong I was, and how did not I know that they were judging me as yet another foreigner who does not understand their culture, as another one who came here to tell them what to do, as if they did not know. And as they were not opening up to accept me in their teams, I was almost ready to quit just after two months on the job.
Thank God I did not, but I decided to try harder and understand why they were behaving that way, be patient and not judge them. And when I did, I managed to change the perception they had of me as just another Westerner, and for me to stay and have an amazing experience, that led to a lifetime in Asia and still counting. I learned early on, not to assume…but to try harder and be humble. This discipline still serves me great to this day that I write this!
When you're not working, what will you be doing, aside from spending time with the family?
I'd be playing guitar, practicing these heavy metal & blues riffs over and over and over again and jamming, or enjoying a cigar with my cigar club friends.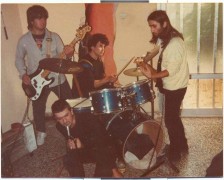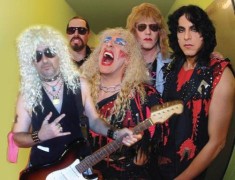 Harshest thing said to you in your career
I don't care, this is not my problem or my job. So I am sitting here thinking…responsibility is a shared discipline… isn't it?
When you were a newbie in the industry, did you dream you would be CEO one day? What kind of CEO did you want to be and how closely have you stuck to it?
I went into advertising and media because I fell in love with it and I still am. My career journey was never driven by me wanting to become a CEO. I just wanted to learn and advance, to experience new challenges and contribute. Stepping into the CEO role developed over time.
I was always ambitious to do more and do better for myself and for others. I was always driven to do more for my team and as this drive developed, so did the career advancement. The more you strive, the more skills you aquire and the better you become at what you do, and thus, the more useful you become at higher positions.
Craziest thing your staff has told you

It is actually what they have not told me… that I am not making sense…and they assumed I meant one thing, they understood another, which pissed them off…while I meant something entirely different.
I learnt two things from that: 1) Never assume as you WILL make an ass of YOU and ME (ass-u-me) and 2) The onus of correct understanding is on the shoulders of the one who is delivering the message, not on the receiver's! The outcome is only as good as clear the direction is!
One thing you would say to a newbie in the industry
Love what you do, love who you're doing it with, love who you're doing it for, and if you don't, quit it and do something you love. Greatness does not come from chasing money through a job position. It comes from true passion and determination. Like a great friend, Jeff Lee said to me once, success comes from using your PDA well and constantly: Passion, Discipline & Action. Fame and money will follow, guaranteed.
What's the toughest thing about your job?
Realizing and accepting my weaknesses, striving to learn and advance in order to strengthen myself. Most importantly, never resting in my success and my comfort zone. The moment that happens, complacency kicks in. Pushing myself proactively out of my comfort zone will only lead me to greater levels.
One thing you hate most about advertising
Price wars and devaluing our work, selling it cheap. What a shame this is, and what a mess it creates in the industry! Selling cheap is the source of all evils, as its consequences permeate every aspect of our business, like quality of work and talent shortage, to mention just a few.