Having joined TBWA\Group in 1992, TBWA\Group's president South & South-East Asia, Philip Brett is credited with establishing the group's network in Asia Pacific.
Marketing catches up with Brett to find out more about the man behind the role.
Describe your management style.
Hmmm…Not sure I am the best person to say.  But if pushed, I would say collaborative.  I have been brought up playing team sports so I very much believe in leading a group from within rather than from the front.  Also I have always believed that you should never ask someone to do something you aren't prepared to do yourself.
Tell us how you got to where you are.
I trained as a barrister, then took a year off, realised I wasn't grown up enough, fell into a temp. job in an ad agency which could not have been more different from my previous environment. I dabbled with road managing some famous standup comedians, came to Singapore to help get Tequila going on a three month posting in 1996…and am still here!
What was your first job?
I think it involved a building site…
Who was the mentor who most influenced you and why?
Not a mentor, but the person that I have always believed is the man to live up to is Jean Marie Dru.  He is one of the most impressive people I have ever met or worked with. You don't have enough space for the reasons.
What was the proudest moment in your career?
Easy… The moment we were told we had won the SIA account.  I burst into tears and then hugged the client…It was the biggest pressure release I have ever felt.  I don't think we could ever top that in a career.  It was a defining moment for many people around me at the time, and certainly a very special one.
What was your biggest blunder in your career?
There have been so many.  But if I have to come clean, it was probably when I failed my Institute of Sales Promotion exams as an account executive because my submission was strikingly similar to that of a close friend of mine!! Very naughty…I thought my career was all over before it had started.
When you're not working, what will you be doing, aside from spending time with the family?
I hate these questions. Everybody else paints, writes, does triathlons or reads philosophy.  Me, I cook!  It is very therapeutic, a bit creative and keeps me at home.  It is much easier than golf!!  Other than that, it really is family and work.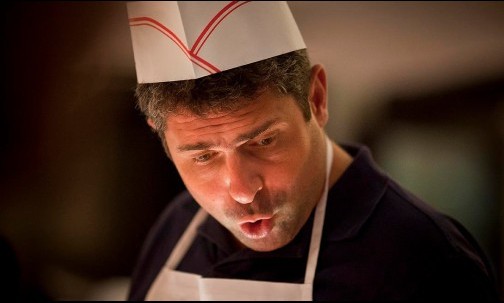 Harshest thing said to you in your career?
Usually this involves an exchange with a creative person, and I think there could be a long candidate list for that.  But honestly I can't remember anything specific. I have a good mix of thick skin, bad hearing and a short memory, so nothing really comes to mind.  Oh, wait, actually someone said I looked like Simon Cowell.  That hurt!
When you were a newbie in the industry, did you dream you would be CEO one day? What kind of CEO did you want to be and how closely have you stuck to it?
It was NEVER my plan at all.  I think I took a risk with my career at a good time and it paid off.  I never wanted to be a "CEO", so my only hope would be that people enjoy working with me and would do it again if asked…either colleague or client.
Craziest thing your staff has told you?
Pass. Most of them are bonkers.
One thing you would say to a newbie in the industry?
You had better want to do this.  It is a great career but it really demands its pound of flesh.
What's the toughest thing about your job?
Not taking everything personally.
One thing you hate most about advertising?
The industry's vanity.