In celebration of International Women's day, these fast food giants are surely showing their creativity. McDonald's is flippin' its M into a W for International Women's Day while Colonel Sanders is now introducing his Mrs.
While McD's in Singapore and Malaysia have yet to flex their creative muscles on Women's day, in the US, the  upside-down arches will replace rightside-up arches across McDonald's digital channels in a bid to celebrate women. According to several media reports, the logo will be changed on all of the company's social media channels. In the US, several restaurants will have special packaging, along with crew shirts and hats to celebrate the occasion.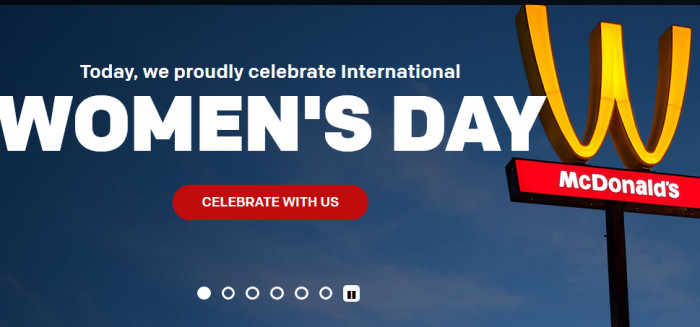 At the time of writing however, McD's in Singapore and Malaysia had not yet flipped its logo.
Out shining McD's in the region was KFC Malaysia. KFC, working with IPG Mediabrands' Society and Universal McCann (UM) replaced the well-known and beloved Colonel Sanders, the face of the day for KFC is Claudia Sanders.
In a statement to Marketing, KFC said it recognises that their people are the key of its continued success and this includes the women behind their counters and all around the organisation. For this year's International Women's Day, the team at Society and UM decided to bring to life Claudia Sanders, the lesser known woman behind KFC, to recognise her contribution to the well-loved brand.
Stanley Clement, managing director of Society said KFC, as a brand, takes a proactive stance in celebrating women who are today's role models, guardians, providers, nurturers, leaders, inventors, mentor, supporters and more.He added.
The team was looking at ways to support this, and discovered the story of Claudia Sanders, the wife of Colonel Sanders.
The KFC campaign runs for a day, with the digital campaign extending to encourage Malaysians to share an Instagram photo or stories of women who have made a difference in their lives using the hashtag #KFCIWD. Simultaneously, the campaign highlights three inspirational stories of KFC staff who, in spite of challenges, disabilities or family struggles, have been successful in their own right, and essential pillars within the KFC network.
Merrill Pereyra, CEO– Restaurant Division of QSR Brands said, "57% of people working for KFC Malaysia are women. We recognise that a diverse workforce is good for the business. Women are committed; they possess a unique flair and finesse. It is a fact that they, too, play extraordinary roles for the business."
The campaign includes an outreach by KFC to provide support to two single mothers in Segambut and Cheras, joined by Merrill Pereyra. His message to Malaysians, documented in a short video, emphasised the important role played by Mrs. Sanders, without whom, we might not have had KFC as we know it today.
Pereyra adds, "To all women of KFC and the world out there, we would like to say that your future is always bright, equal, safe and rewarding. Keep inspiring us and impacting lives, and thank you for all your hard work and contribution to our community, family and this organisation."