Zulu Alpha Kilo has launched a new agency website – a parody site rather, that's unlike any other in the industry.
The parody site pokes fun at the 'sameness' of every agency website. It features Zulu's fictional co-founders Frank Zulu—chief executive, executive officer, Marcus Alpha—ultra chief creative director officer, and Katherine Kilo—VP strategic strategy officer in charge of everything.
"Every agency website essentially says the same thing. So we decided to poke a little fun at the sameness of the industry with our Mocku-site," said Zak Mroueh, chief creative officer  & founder.
Highlights include the agency's culture (including daily naptimes), news of Zulu's latest coup–landing the Glen's Pet supply store account.
Read Also: 6 signs your agency's website is giving everyone a headache
Take a look at some of these screenshots and you can view the website here: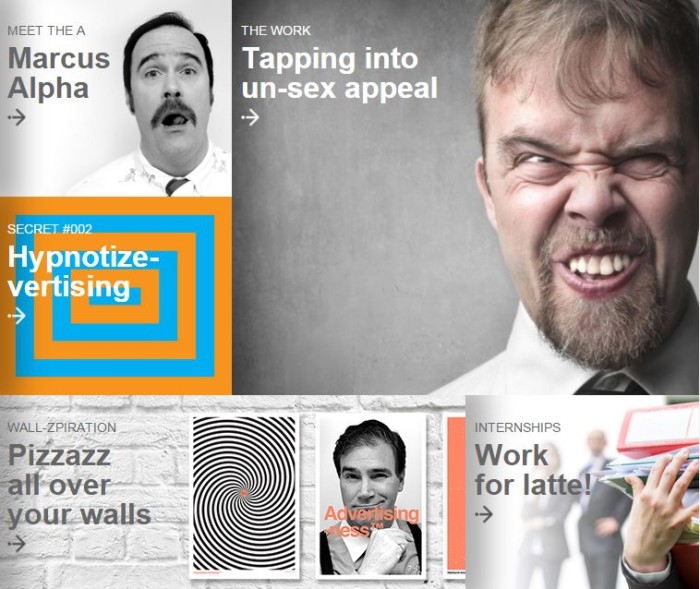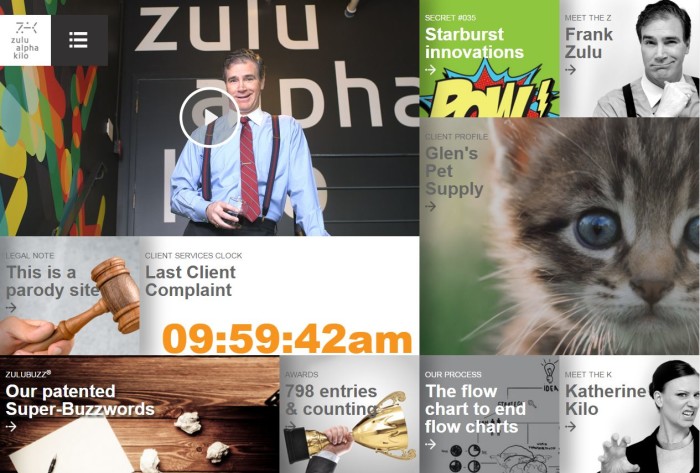 Proprietary strategic methodologies are skewered on the site.  Zulu's fictional 'revolutionary' strategic process called Holist-i-think includes how to "focus group test the best sandwich bread for catered meetings". The site also features Zulu's revolutionary creative approach to B2B —using stock handshake photos.
The new site replaces the "real" Zulu Alpha Kilo's simplistic original website that contained no address, phone number, or information about senior management. The agency is using the new site as a chance to create entertaining content, albeit fictional. All production was handled through Zulu's content creation division zulubot.
If you remember, they were the guys behind this video:
Read also: Agencies, stop dropping your pants to get business #saynotospec
Credits:
Creative Director: Zak Mroueh
Writer: Nick Asik, Jon Webber, George Ault, Kaidy Wong, Jon Taylor, Courtney Brown, Jerry Brens
Art Director: Omar Morson, Ari Elkouby, Jonathan Armstrong, Ryan Booth, Sherry Dubeau
Photographer: Jamie Morren
Accounts: Robyn Morrissey
Agency Producer: Ola Stodulska, Tara Handley
Production House: zulubot
Interactive Programming: Justo Tellez, Gillian Black
Interactive Producer: Ola Stodulska
Director: Zak Mroueh
D.O.P: Michael Headford
Video Post Facility / Editing Company: zulubot
Editor: Michael Headford