Connecting the physical and virtual worlds of fandom, Ogilvy & Mather Shanghai and KFC have teamed up with SM Entertainment to launch an app with 3D dancing game featuring Korean pop group sensation EXO-M.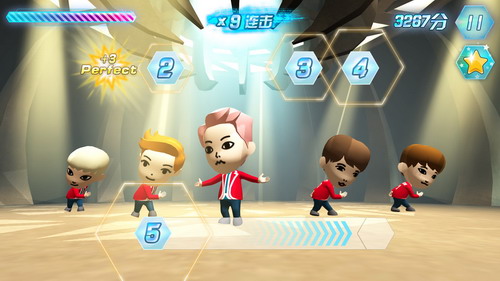 "This work reinvents promotional strategy for the toy meal category, which has not evolved much since its inception," said Sasha Engel, creative director and deputy head of digital of Ogilvy China.
"Receiving the toy is just the beginning of an hour-long branded gaming and fan experience that people can immerse themselves in by connecting their toy directly to the KFC x EXO-M mobile app."
Boasting more than 34 million fans on Baidu BBS (a social interactive site) alone, EXO is one of the fastest growing boy bands being consumed by China's avaricious music lovers. To more effectively captivate this young and digitally-native slice of the population, the agency delved into the world of their interactions with music, online forums and each other.
The team then reached beyond traditional celebrity promotions to create a virtual world linked to the physical, designed to encourage community involvement and social activity. The fun, simple and visually arresting mobile game is enhanced by other features that can be unlocked – from special characters to alarm clocks, personalized selfies and WeChat stickers.
"This marks a range of firsts for all parties involved, a 360 degree effort that embraces new consumer behavior in a digital age," says Henry Ho, vice president of O&M Shanghai.
"We engage EXO enthusiasts with a fun mobile game, but ultimately, we keep the player's attention by offering fresh, exciting activities and, ultimately, helping them interact with each other as well."
"We are as excited about this promotion as clientele," says Mr. Richard He of KFC Marketing VP. "Our customers are hungry for this type of deep interaction with EXO, leading to voracious, growing interest for this surprising campaign."
The KFC x EXO campaign runs seven weeks, and will end in grand style on Valentine's Day, where fans can score a virtual dating diary with their favorite star.
Credits:
Creative: Chief Creative Officer: Graham Fink Creative Director/ Deputy Head of Digital: Sascha Engel Group Creative Director: James Lee Associate Creative Director: Marc Viola Art Director: Li Wen, Da Lin Copywriter: Terrace Liu
Digital Strategy: Simon Usifo/ Chelsea Zou
Account Supervisors: Henry Ho/ Christopher Wu/ Yu Hong/ JC Wu/ Fiona Wu/ Mikki Li/ Junjun Ji
Social@Ogilvy: Sonic Zhao/ Coolio Yang/ Winnie Wang/ Joy Ji/ Miya Kang/ Le Luo/ Qian Zhang/ Jin Feng