Local agency Wild is an integrated marketing agency which claims to celebrate life through imaginative communication that inspire people. Working across all mediums, its strategies criss-cross the boundaries of marketing and advertising and popular culture and art and food and film and, well, all the things that touch lives.
"We believe the best communication is simple and clear. And the most effective means of persuasion is to be relevant, inspiring and authentic," said the agency.
Here's a quick look as to what makes Wild, well, really wild.
When was the precise moment you knew you wanted to do something on your own?
Yeo Ai Ling (pictured right - is currently founder / client services director was in a global role based in the US with Lenovo Worldwide jet-setting yet yearning to chase her dream of becoming an entrepreneur.
Ng Khee Jin (pictured left - is currently creative director) was twiddling his thumbs in Perth where he thought he had relocated for good.
Lee Kai Xin (pictured centre - is currently interactive director) was raring for purpose and excitement and joined a year later to head up Wild's interactive arm. Today, we're a 30-strong team.
Which year did you first start up? Who was the first client you had on board?
We started in January 2010. We were fortunate to hit the ground running with projects from Lenovo, NETS, Singapore Press Holdings and Skin Inc.
How did you put your first team together?
If you have a clear vision of who you want to be and how you want to get there, communicating it should come easily. So they came, they liked what they heard, they stayed.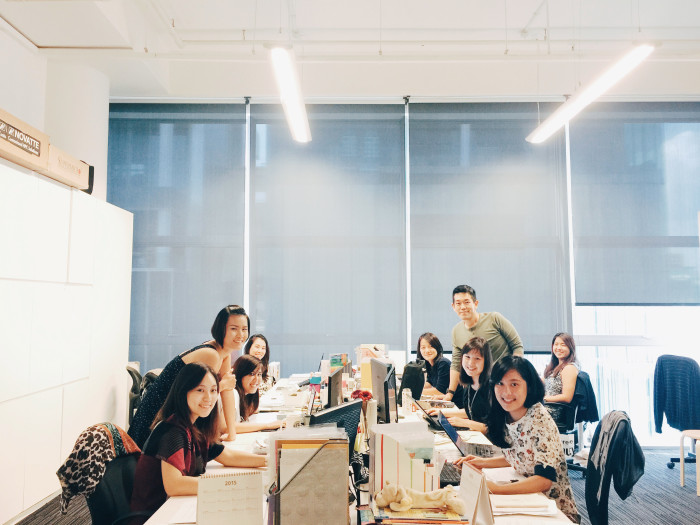 What was one of the toughest moments in running your agency? How did you overcome it?
Starting up from scratch was the toughest, yet most rewarding part of the journey. Looking for our first few clients and getting them to believe in a small start-up enough to give us projects; then finding the right resources to deliver on quality work as our reputation depended on every single project that we took on.
How did we overcome it? Sheer determination, a can do attitude and great team work. We never back down from a challenge.
Were you afraid of failing?
Failure is not an option. It's only failure if you say it is. Failure is an attitude. We don't do failure.
How does it feel like to be your own boss? Could you ever work for someone else again?
There is a misconception that being your own boss means you can do whatever you please. Being your own boss means that if you have a problem, the buck stops with you so you just have figure a way to solve it by hook or by crook. Though you don't have to manage upwards, you have a different set of stakeholders to manage such as your employees and partners. In short, being your own boss is empowering but at the same time humbling. Can we work for someone else again? Not a relevant question at this point and wouldn't it be arrogant to say 'no'?
Pluses and minuses of being independent?
The joys of independence is being able to focus on our objectives and goals more easily, being able to make decisions quickly and being able to decide what we want to work on and whom we want to work with.
The downside is the perception of some clients that, if you're local, you're not as good or well-resourced. Ad agencies can be a bit like fashion brands. Those who are less aware and confident will hang on to brand names. The initiated client, on the other hand, shops for ability, chemistry and a bespoke experience that only an independent brand can give.
When you first started out, how did you market your agency? How did you get clients on board?
Thankfully, between us, we had a good network of contacts to tap on. We got clients on board through our credentials and expertise of providing them with an integrated marketing perspective to their advertising and communications executed with bold creative impact. We never allow ourselves to forget that this is a people business and relationships are everything.
What was your first experience in the ad world? How do you think that shaped you?
Kai Xin had her first go in the business at Brand Union, Ai Ling's owes her first ad career stint to DDB, and Khee Jin spent his first day as a junior copywriter in JWT figuring out what a storyboard is. Today he still wonders why we need them when he has to act them out anyway.
What have you taken away from your years in the ad world and implemented in your current business?
That everyone is accountable for the work, whether you are an account executive or an art director. Everyone at Wild lives and breathes this.
What is the one thing start-ups need to remember in this market?
There are too many things to think about to settle on just one, so here are three instead:
-Stay true to yourself.
-Remember why you're independent.
-Focus on what makes you different and relevant.
What is one piece of advice you'd give anyone wanting to make it out on their own?
Think on your feet. Be prepared to build your race car while you're driving it.
Would you be open to buyout?
Never say never but we're not focused on that. In any case, a buyout should never be an end in itself. Right now, we are just busy growing the business and thoroughly enjoying the experience of it all.
Five year plan for the agency?
Make more money.
Broaden and strengthen our service offerings.
Enter new markets.
Make more money. (See? There's so much clarity when you're independent.)[gallery link="file" ids="105423,105424"]