Each year Marketing undertakes one of its most significant research projects to discover the media preferences of Hong Kong's top marketers.
The aim of the Media Benchmarking Survey is pretty simple; to understand which media platforms marketers look to for advertising solutions across digital, outdoor, TV, radio and print platforms.
We ask respondents to name the magazine, TV station, digital platform or OOH groups they would use to target consumers across key industry verticals from luxury, local business and finance, news and current affairs, property, travel and consumer electronics.
This issue we article the top three media platforms across digital in each category.
Methodology
How did we achieve this?
The media rankings were derived from questions in Marketing Research's annual Media Spend Benchmarking Survey. Marketing Research employed an online questionnaire and surveyed its database of client advertisers and marketing services agency professionals. All answers given by respondents were considered by Marketing when finalising the rankings.
Quality recipients and respondents
A total of 587 respondents participated in the Media Spend Benchmarking Survey. Genuine advertising decision-makers and influencers across key agency-using industries were well represented as were agency professionals from various marketing services.
Over 80% of client advertiser-side respondents were manager-level decision-makers and above, with 10% from the most senior ranks of client advertisers – CEOs, MDs or GMs – and another 31% were VPs or director-level marketers.
Twenty percent of the respondents from the agency side were CEOs, MDs or GMs, 30% were marketing personnel, while 25% were sales personnel. The remaining 25% were operations, creative and media personnel.
Advertisers from major and local international banks, FMCG companies, property and construction, IT and telecommunication firms, as well as those from travel and tourism companies participated in the survey. Agency professionals across the marketing services spectrum were also well represented.
Digital Media of the Year
1 HKET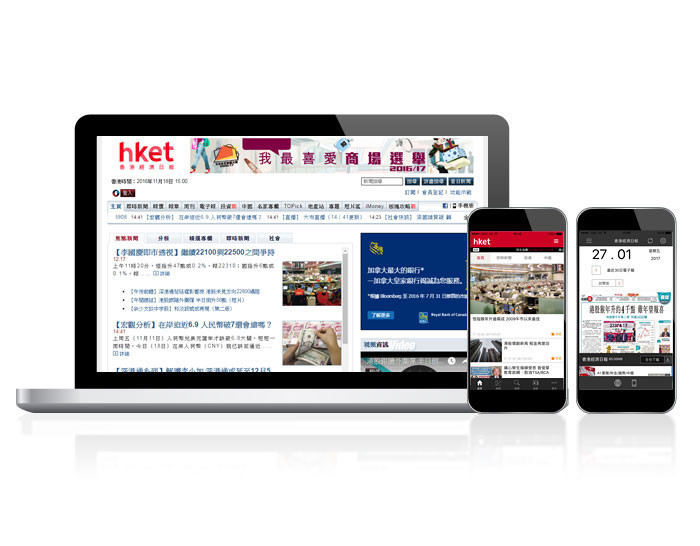 Hket.com snags top spot for the third consecutive year. The website provides the digital edition of the Hong Kong Economic Times and an archive of news since 2005. It carries professional analysis on finance and property markets as well as the macro economy, which users can read on devices that include mobile, tablets and desktop. This year, hket.com quietly revealed a new logo to refresh the brand.
2 AAStocks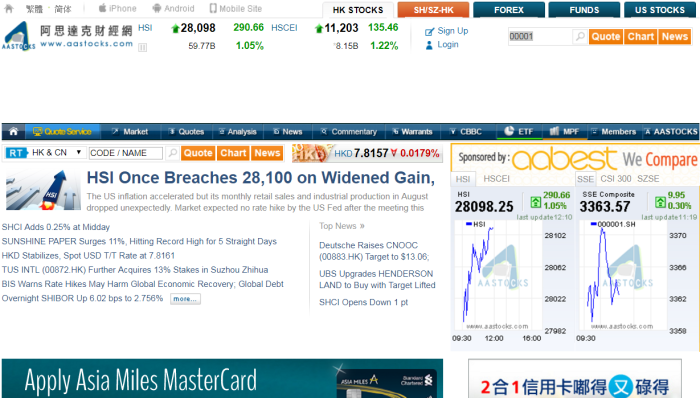 AAStocks.com climbed one spot to be runnerup in the local business and finance category. Founded in 2000, the website offers free real-time global financial information and analytical tools, covering HK shares, A shares, US shares, forex, funds, ETFs, precious metals and global indexes. The website claims it has more than 3.8 million unique users each month.
3 SCMP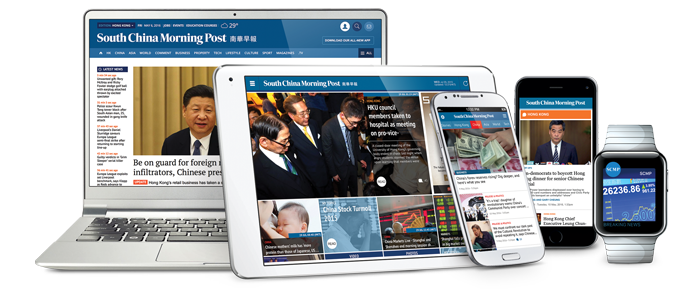 The South China Morning Post's flagship online product scmp.com dropped its paywall last April to give readers free access to news on Hong Kong, China, Asia and the world. scmp.com, in particular, features a photo gallery, provides themed photo journalistic essays and real-time news updates. Its infographics are given an interactivity that enables readers and researchers to select alternative perspectives on the news.
1 ELLE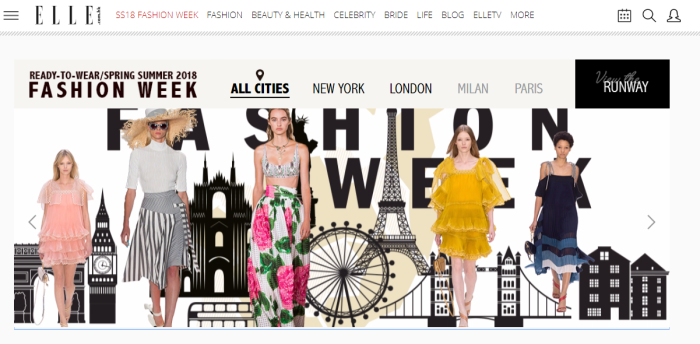 ELLE has beaten long-time winner She.com to claim top spot in the women's category. The site provides the latest trends in the world of fashion and beauty products to fulfil the modern woman's lifestyle needs. With the tag line, "Your everyday insight to style", ELLE HK's website is the number one female lifestyle website according to comScore.
2 She.com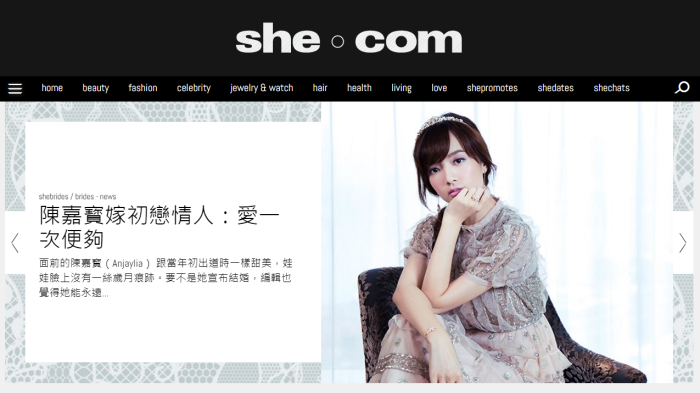 She.com finishes runner-up this year. Founded in 2000, She.com claims it records more than one million visitors per month. The website said its goal is to build a community targeting young and independent working professionals, not only bringing readers up to date with fashion and beauty news, but also providing content that will reach other aspects of people's lives.
3 Beauty Exchange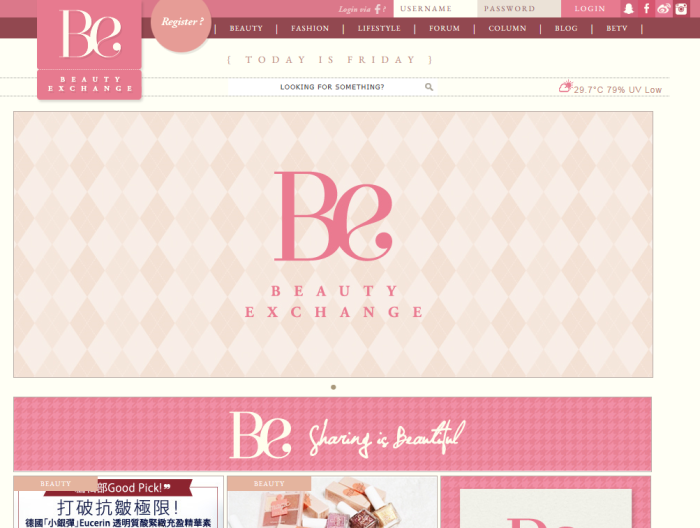 Beauty Exchange remains in the top three this year. The beauty portal provides multiple channels such as online forums, beauty features, blogs and videos to facilitate the exchange of new ideas and market information among its members.
1 U Lifestyle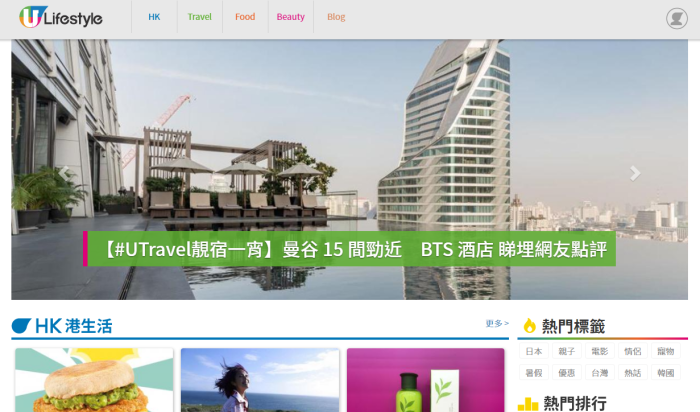 U Lifestyle landed in the lifestyle category for the first time, taking out first place. Under Hong Kong Economic Times Holdings, U Lifestyle provides content that integrates HKET's platforms, including U Travel, U HK, U Beauty, U Food and U Blog. The online platform features leisure information such as local entertainment, food, health, beauty and travel.
2 Lifestyle Asia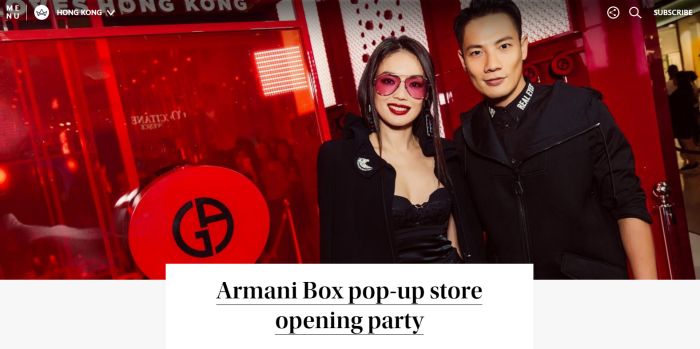 Founded in 2006, Lifestyleasia.com covers content such as luxury living, travel, fashion, dining and entertainment with local websites in Hong Kong, Singapore, Bangkok and Kuala Lumpur. In December 2016 the digital media claimed it had served 1.5 million high-net-worth
income readers across its four markets. This year, German media company Burda International acquired LifestyleAsia.com to strengthen its presence in Asia.
3 Yahoo Style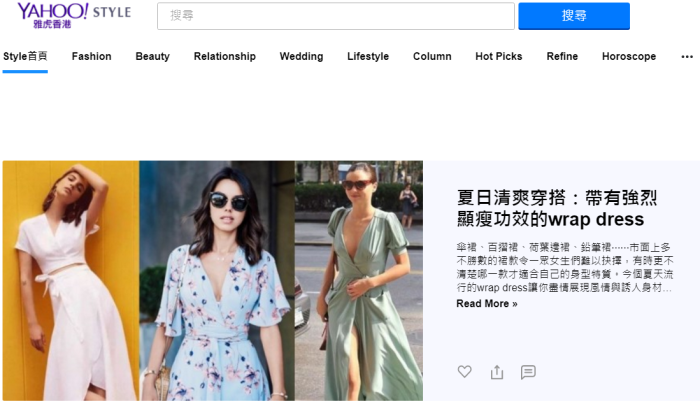 Besides its search engine business, content platform "Style" is one of the main features of Yahoo Hong Kong. The topics span fashion, beauty, fitness, weddings and offices. This June, it also launched a new platform called "Yahoo TV" which covers online entertainment programmes that are either produced in-house or through joint collaborations with media partners.
1 Esquire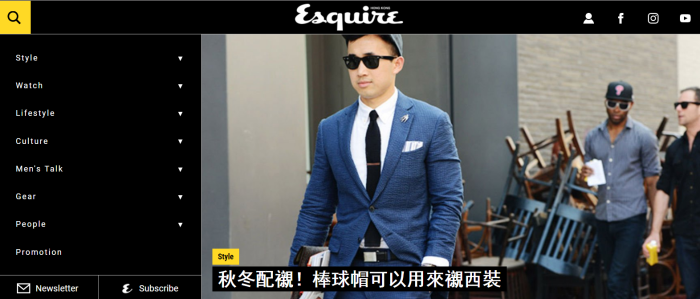 SCMP Hearst's Esquire steps up and takes first place in the men's category. The digital platform covers trendy topics such as style, culture, gear, people and watches. The title said it reaches an intelligent and sophisticated audience of men worldwide. EsquireHK.com also runs social media handles on Facebook, YouTube and Instagram.
2 Men Club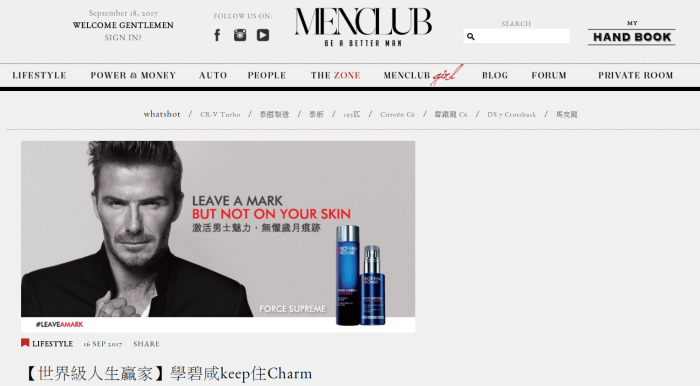 New comer MenClub.hk makes it to the top three. Men Club claims it is the most popular online media targeting all gentlemen in Hong
Kong. In addition to featuring content such as lifestyle, money and cars, it also puts a considerable focus on women and has a forum that only allows people over the age of 18 to view.
3 Men's uno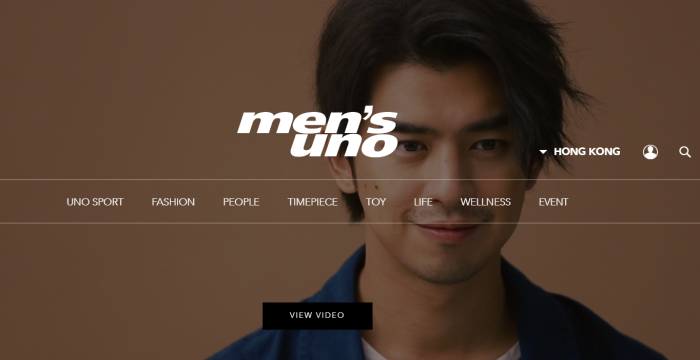 Men's uno slips two spots to number three this year. The digital platform covers trendy topics such as fashion, wine, watches, cars, travel,
art, culture and celebrities across Hong Kong, Taiwan, China and Malaysia. The website also features the video channel, men's uno TV.
1 Apple Daily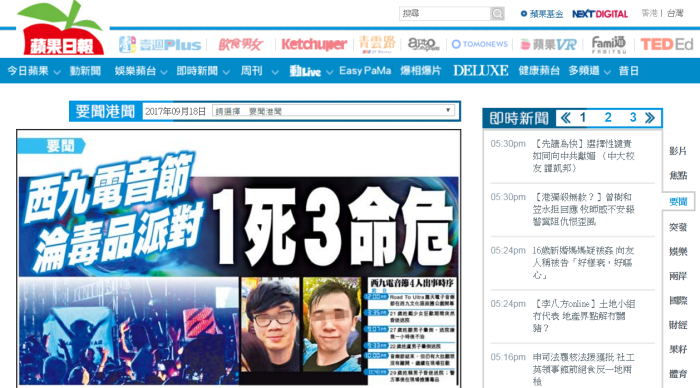 Apple Daily holds the champion's title for the fifth consecutive year. The digital versions of Apple Daily in video and animated formats have been accompanied by a signature style branded as Apple Actionnews. The Chinese news outlet claims it reaches 2,231,769 daily total unique visitors. Recently, it launched a VR app to create new excitement for both its users and advertisers.
2 SCMP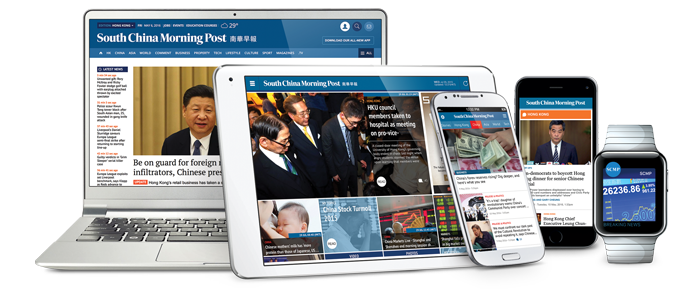 The South China Morning Post's flagship online product scmp.com dropped its paywall last April to give readers free access to news on Hong Kong, China, Asia and the world. scmp.com, in particular, features a photo gallery, provides themed photo journalistic essays and real-time news updates. Its online education portal, Education Post, ceased operation in October. The Education Post website will be integrated into the SCMP website as a new education section, while the Chinese content will no longer be published from October.
3 On.cc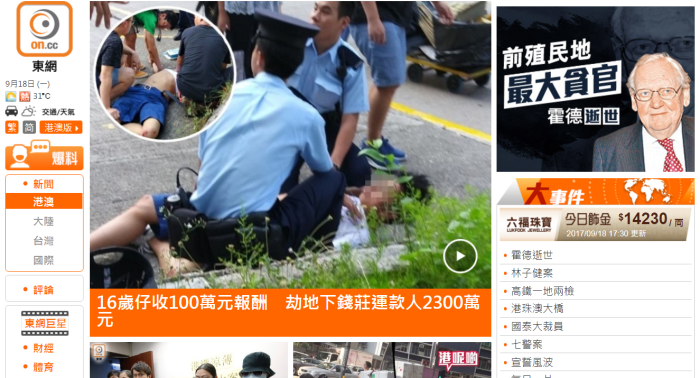 Oriental Press' flagship online portal on.cc finishes third in the news and current affairs category. To strengthen both the quality and
quantity of the Taiwan news, it has designed a special web page and included commentaries to cater to the reading habits of the Taiwanese. It also provides a version in simplified Chinese to attract Mainland readers.
1 Hong Kong Tatler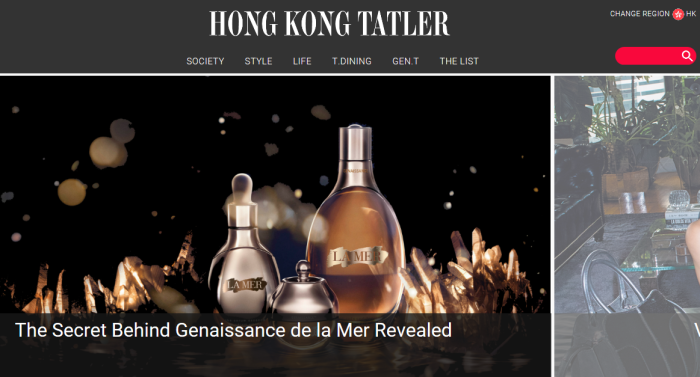 Hong Kong Tatler has once again taken top spot in the luxury category for the fourth consecutive year. It covers everything from events and the most glamorous people to fine-dining, international fashion and luxury travel. This year, Hong Kong Tatler launched the second edition of its Generation T List, which recognises 50 of Hong Kong's rising talent across different industries. Owned by Edipresse Media, the site has 320,000 monthly unique visitors.
2 STYLE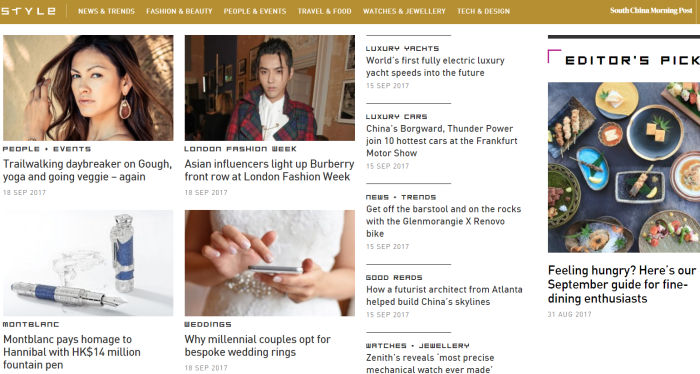 An online extension of SCMP's monthly magazine STYLE, it's a multimedia online portal for luxury lifestyle, fashion, watches and jewellery, gastronomy, art, travel and design. The website said it provides an Asian perspective on the world of luxury.
3 ELLE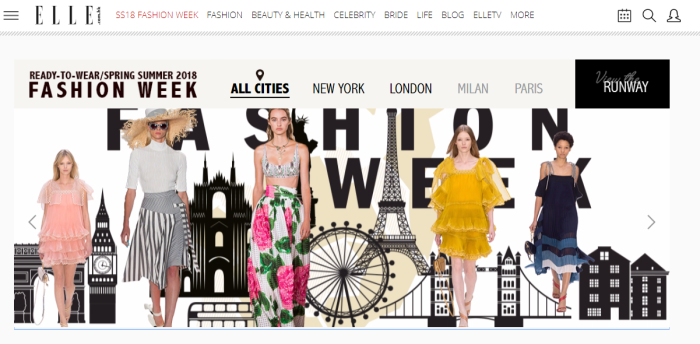 Claiming the top spot in the women's category, ELLE also makes it to top three in the luxury category. The site provides the latest trends in the world of fashion and beauty products to fulfi l the modern woman's lifestyle needs. With the tag line, "Your everyday insight to style", ELLE HK's website is the number one female lifestyle website according to comScore.
1 U Magazine
U Magazine, a travel and lifestyle magazine, was launched in 2005. It is a three-book package – Travel, Food, Life+Weekend – with the concept of "See U See More", which is to read the world. It covers the latest global travel information with in-depth stories, dining guides, city features, upcoming events of the town, entertainment news and interviews of the week.
2 TripAdvisor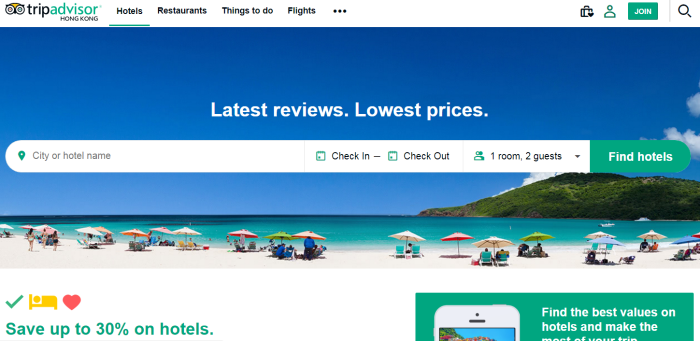 Travel and booking site TripAdvisor holds second place again this year. It recently revamped its iOS and Android apps and desktop sites to make searching easier. It also partnered with Deliveroo to put Deliveroo's restaurant network into the TripAdvisor desktop website, mobile web and mobile app experiences across 12 countries, including Europe, Middle East and the Asia Pacifi c regions. TripAdvisor-branded sites operate in 49 markets, and claims to reach 390 million average unique monthly visitors.
3 CNN Travel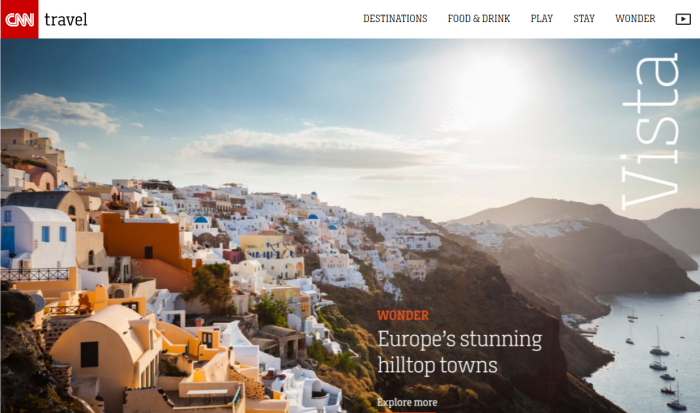 CNN Travel is CNN International's new travel website which brings CNN's existing digital travel portfolio and CNNGo.com. The Hong Kong-headquartered team that launched CNNGo.com has managed the site ever since to deliver the latest travel news, destination insights, travel ideas and country insider guides with directions to restaurants, bars, hotels and activities.
1 Discuss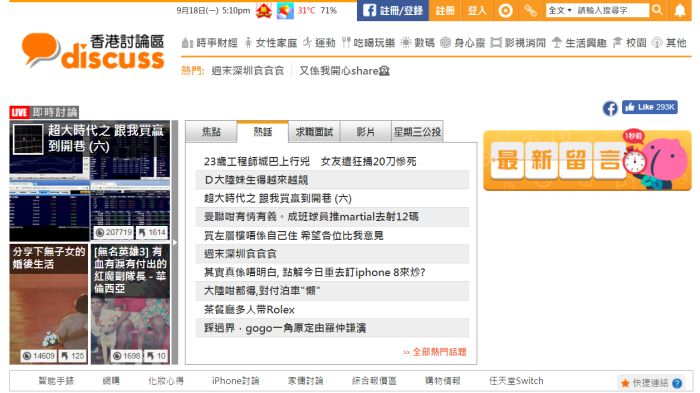 Discuss has risen from third place last year to top the forums category. Established in 2003, Discuss is one of the most popular discussion forums in Hong Kong. Members of Discuss are mainly adult and working class and are interested in exchanging ideas on the latest news, entertainment, property, finance, cars and marriage. It claims it reaches more than 10 million unique visitors per month.
2 Baby Kingdom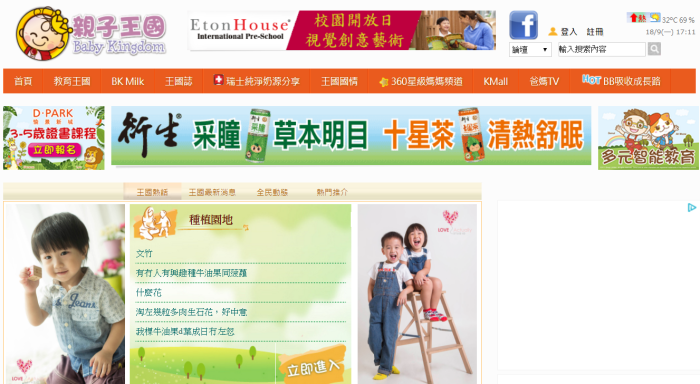 Baby-Kingdom.com was created in May 2002 as an internet-based company that serve families with young children. The parenting portal said its target users are aged 25-40, well-educated (matriculated and above), females with one to two children, and a member of a middle class family. It boasts daily page views of 1.3 million.
3 HKGolden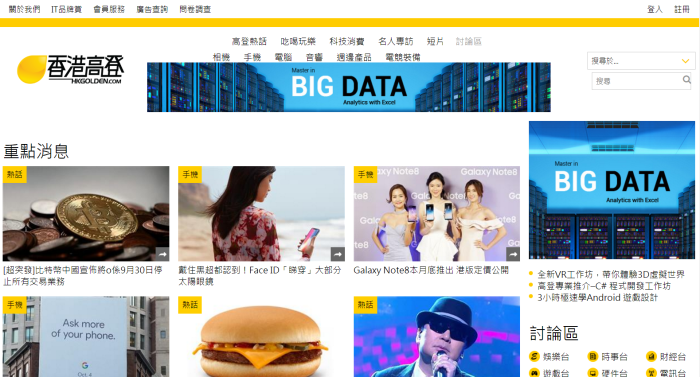 One of the local popular online discussion forums, HKGolden drops to third place in 2017. The forum gathers users such as tech-savvy
consumers, IT professionals and enthusiasts who are expressive in the community. The forum covers topics such as IT, academics, current affairs, sports, travel and entertainment, to name a few.
1 Yahoo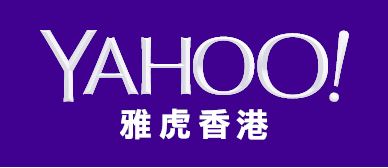 Yahoo Hong Kong once again comes out on top in the search category. In June, US mobile telecom Verizon completed its acquisition of the operating business of Yahoo. Verizon has combined Yahoo's assets with its existing AOL business to create a new subsidiary,
Oath. Yahoo Hong Kong also recently launched the interactive video live-streaming platform Yahoo TV.
2 Google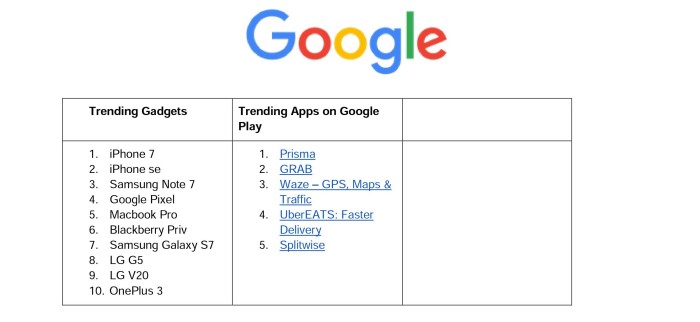 Taking second spot in the search category for 2017 is Google. The search giant has been actively engaged with local users this year and recently partnered with broadband operator HKT to introduce Google Wi-Fi to the city's residential sector. In September, it held YouTube FanFest featuring YouTube creators from around the world for the first time in Hong Kong.
3 Baidu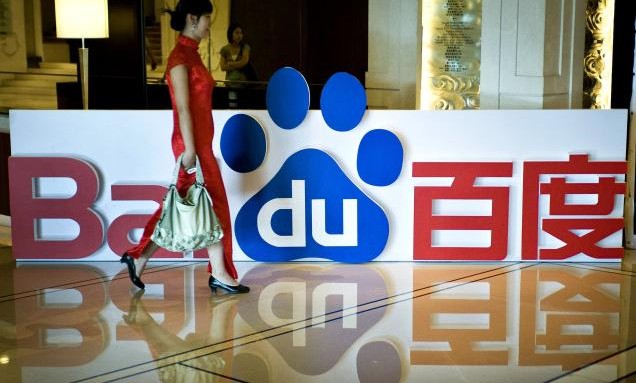 Baidu finishes third in search once again this year. In the mobile era, mobile revenue comprised 60% of its total revenue as of Q1 2016, and mobile search accounted for approximately two-thirds of total search traffic on Baidu. The mobile search monthly active users were 665 million for the month of December 2016, according to its annual report.
1 Facebook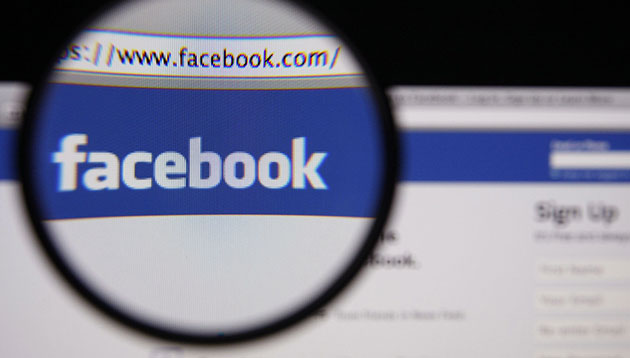 With two billion monthly active users, Facebook continues to be the social media king. To fight the problem of fake news on the platform, Facebook recently revealed new measures to reduce "low quality links" in its news feed to reduce the influence of spammers on the platform. Also, if pages repeatedly share stories marked as false, these repeat offenders will no longer be allowed to advertise on Facebook.
2 LinkedIn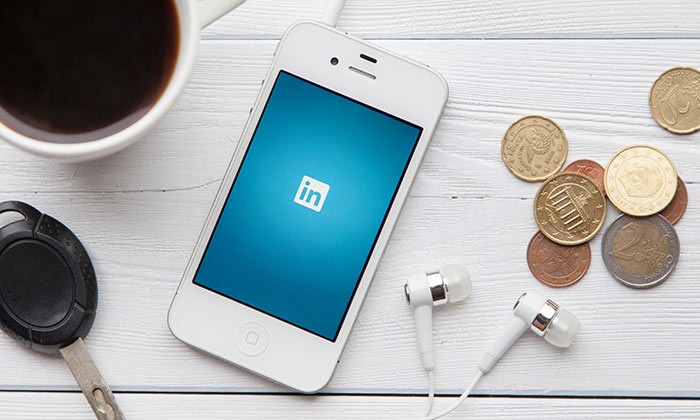 After a year, LinkedIn is back on the list and snags second spot in the social media category. Crossing the 100-million member mark in the Asia Pacifi c region last August, the professional network has a global member base of more than 460 million. Last December, Microsoft officially closed its US$26.2 billion acquisition of LinkedIn.
3 Instagram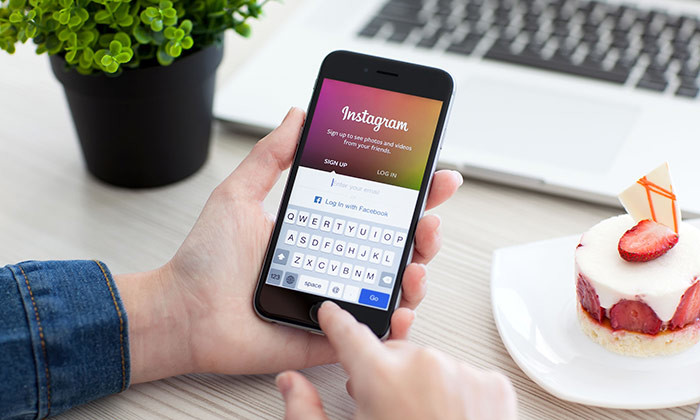 Facebook-owned social platform Instagram slipped one spot and finished third in this category. Instagram will launch a new feature which discloses paid partnerships influencers have with brands. This will culminate in sub-headers being placed on posts and stories which declare when a commercial relationship exists between creators such as influencers, publishers and businesses. This March, It claimed it had more than one million monthly active advertisers.