Facebook has acquired WhatsApp in a US$19 billion deal, including US$4 billion in cash, US$12 billion in Facebook shares and a further US$3 billion for WhatsApp staff over the next four years.
This marks the social networking giant's biggest acquisition to date.
The acquisition gives Facebook access to an additional 450 million users, 70% of who use the messaging service every single day.
"WhatsApp is on a path to connect 1 billion people," Facebook founder and CEO Mark Zuckerberg said in a statement. "The services that reach that milestone are all incredibly valuable."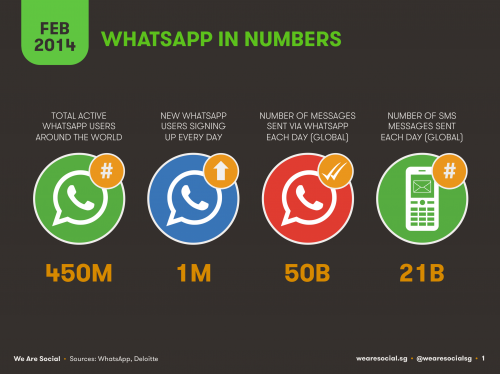 Zuckerberg added that he has personally known Jan Koum, co-founder and CEO of WhatsApp, for a long time. "I'm excited to partner with him and his team to make the world more open and connected."
"We're excited and honored to partner with Mark and Facebook as we continue to bring our product to more people around the world," Koum added.
"WhatsApp's extremely high user engagement and rapid growth are driven by the simple, powerful and instantaneous messaging capabilities we provide."
Ryan Lim, business director of digital marketing agency Blugrapes told Marketing that the acquisition was not entirely surprising. "Facebook knows that it needs to strengthen its mobile users base that is both its growth and revenue engine of the future.
"This seems to be its hedging strategy against competitors as well as a catalyst to its growth since being rejected by WhatsApp competitor - Snapchat last year."
The acquisition allows Facebook to augment its less than ideal messenger service and boost its base of mobile users by 450 million overnight, Lim said.
"It's clear that it is Facebook's ambition to dominate mobile social media before it is made irrelevant." Facebook said WhatsApp will remain a separate brand, in line with its US$1 billion acquisition of Instagram.
The company does have to work hard to keep young users engaged. But the reality is, Facebook always works hard to keep all its users engaged, no matter their age.
However, Lim suggested there would be transfer of technologies instead of users.
"Marketers will still not be able to reach to WhatsApp's user base through advertising as it declared on its company blog to remain advertising free."
WhatsApp's main rivals WeChat and LINE, in the mean time, will feel the heat of intensified competition. "Without the resources of a behemoth like Facebook, WeChat and LINE need to find new and innovative ways to outlast the expected accelerated growth of WhatsApp in the near future."
Lim added that end users should be wary, since Facebook now has access to their mobile contacts on top of their network of friends on mobile. Something that had eluded Facebook previously.
Nate Elliott, an analyst at Forrester, said it will be tempting to read this as a sign Facebook that is scared of losing teens. "Facebook is tireless in its efforts to keep users coming back. That's why its 1.2 billion monthly users keep visiting the site more and more frequently, rather than drifting away," he added.
According to one of its global workforce benchmark survey, 69% of information workers use Texting (SMS or a service like Apple's iMessage or WhatsApp) on a smartphone for work internationally.
Ever since Facebook went public, there has been immense pressure on it to monetise on mobile; while it has managed to earn 53% of its ad revenue (US$1.37B) through ads on its mobile app, the deal with WhatsApp opens up a new, lucrative revenue stream altogether, said Prantik Mazumdar, partner at HappyMarketer.
"WhatsApp is on its way to add a billion active users and if it manages to successfully charge US$0.99 per year from every active user, that's nearly a billion dollars of additional revenue. And if WhatsApp chooses to work on new revenue models through stickers, doodles, in-app advertising etc similar to what WeChat, Viber and LINE have been doing, that would bring home few hundred millions of dollars additionally and potentially help justify the mammoth US$19 Billion that Facebook has decided to pay."
However, what makes the deal interesting is and similar to the Instagram deal is the operational efficiency.
"The company employees only 32 people and spent 0 dollars in marketing itself or acquiring users, which is a testimony to it being a very lean, profitable operation and that would serve Facebook well from a financial perspective," Mazumdar added.