Edelman has confirmed that its Beijing-based PR firm Pegasus has no links to disgraced CCTV host Rui Chenggang.
Rui, a celebrity business TV host at CCTV, was abruptly taken away from his workplace at CCTV last Friday, and remains detained by Chinese authorities in over corruption allegations, according to multiple Chinese media sources.
Little is known about Rui's abrupt detainment, but China's mainstream newspaper People's Daily tweeted on its official account two days ago claiming that Rui "held shares in Beijing subsidiary @EdelmanPR that provides CCTV services".
Speculation about the link has swirled in China state media about links betwee Rui and Edelman.
Edelman acquired percentage stakes from founder and CEO Steven Cao at 28.86%, Rui Chenggang at 28.08% and Howard Hong at 21.06%.
Following that initial transaction, the shareholding of Pegasus was 78% Edelman, 8.14% Cao, 7.92% Rui and 5.94% Hong.
"Rui was a minority, non-active shareholder at the time of and after the acquisition," said Edelman via email.
Edelman now owns 83.94% with Cao's stake at 16.06%.
Edelman admitted that Pegasus was engaged by corporate sponsors involved in underwriting CCTV's presence at Davos for World Economic Forum in 2009 and 2010, and added "we are taking this matter very seriously and are continuing to gather the facts".
World Economic Forum cannot be reached at the time of publishing.
Rui, the newscaster celebrity, gained his global fame after publishing a famous commentary titled "Why Starbucks Needs to Get Out of the Forbidden City?" on his blog in 2007.
The online post, where he criticized the opening of Starbucks in the Forbidden City as a "erosion of Chinese culture", has rapidly garnered 500,000 views over night and has successfully rallied Starbucks to expel from the Forbidden City.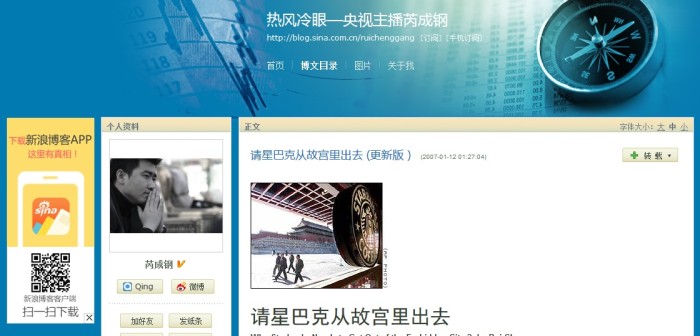 Rui's alleged corruption has been widely lampooned on news corps and social media around the world since last Friday, with many commentaries and critics emerged to raise concerns over the rising Chinese media corruption.