The next creative on our list is Mangham Gaxiola's creative partner Robert Gaxiola.
Previously, the executive creative director at Ogilvy two years ago, Gaxiola struck out on his own with the company's previous group chairman Stephen Mangham to launch Mangham Gaxiola. The pair made quite a stir as they started up with client CIMB Bank.
(Read also: Creative Catch-Up: Y&R's Farrokh Madon)
Now running his own team, the agency has grown steadily with a constant stream of clients. Only recently, it had to move into a new location to accommodate the growing team. But life wasn't always a bed of roses.
Meet the man behind the work.
How did you stumble into this industry?
I always wanted to do this. The biggest break I ever had was getting accepted into the Pasadena Art Centre College of Design.
The place was haemorrhaging talent at the time. Imagine going to school with JWT's Tay Guan Hin, photographer Russel Wong, directors Tarsem Singh, Larry Fong and Michael Bay. This private school is consistently one of the best in North America. I don't think I'd have a career now without that experience.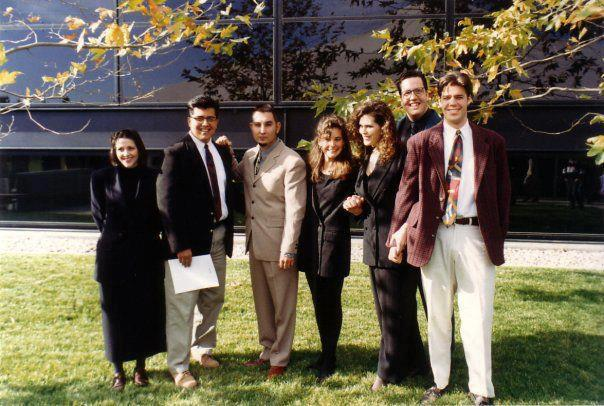 Pasadena Art Centre College of Design, 1993, Robert Gaxiola, pictured second from left.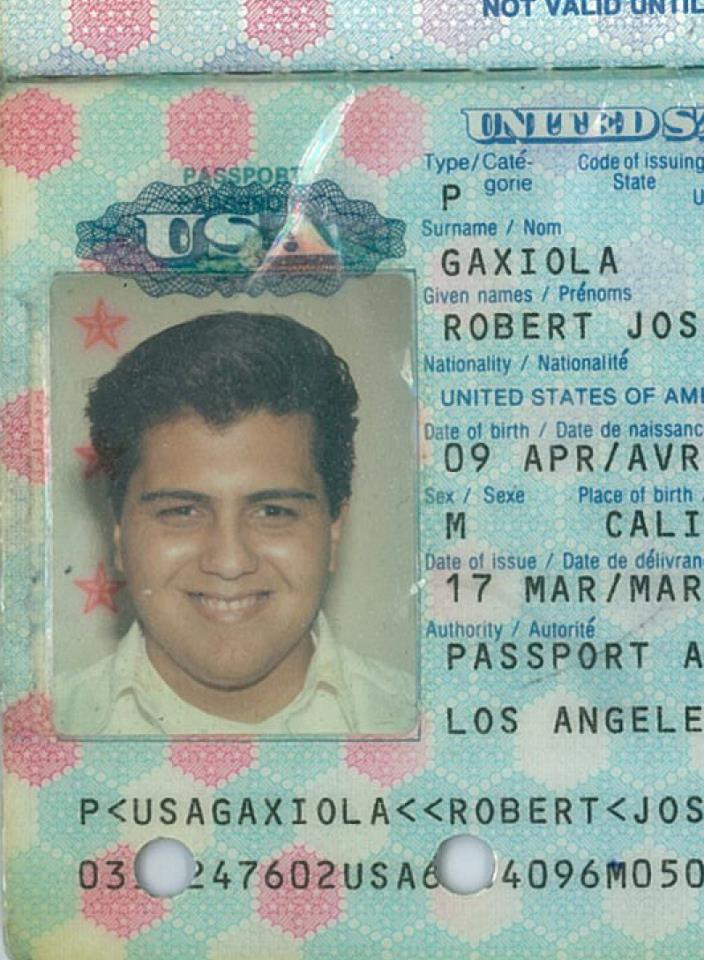 Robert Gaxiola arriving in Singapore in 1995 without a job. This picture was taken two weeks before he arrived.
Harshest thing anyone has said to you?
I usually don't give a toss what people say, but the last one I heard firsthand was this. "Hey, I'm glad you agreed to resign mate, if not we'd have to fire you, then embarrass you in the press." The gentleman who said this to me lasted about as long in that place as I did. He's since left the country.
Meanest thing you've heard someone say to anyone on the job?
This exchange was between my copy chief and a DY&R suit who just wasn't getting it.
"So you think you're gonna stop me? You are nothing more than an insignificant speed hump on the road I am travelling. You may slow me down, but you won't be the one to stop me. So the way I see it, you've got two choices, get on board or get run over …"
Meanest thing you've personally said to anyone. Do you regret it?
Do I regret it? I'm sorry for all of it. In my case it wasn't just what I said, but what I did. Most of my damage was fuelled by my own arrogance. The root of it was my own dishonesty in my personal life and at work. After a while it becomes second nature. I thought I was living some bulls--- madman lifestyle, but I was killing myself and everybody around me.
I was a fool to think that I was getting away with it. I lost it, and very publicly as we know, so I reached out, got some help and started to clean it all up. We really attract what we are, both personally and in business. Was I a cheater? A liar? A US tax evader? Yeah, all that and worse. I'm very sorry for all of it. I dealt with it. But right now I'm still here, alive, and surrounded by some very wonderful people. So if this is any indication of change that is happening then I guess I'm really loving life. Non, je ne regrette rien.
 Proudest moment in your career?
Assembling the best team I could think of for a very big heist obviously. So yeah, launching this agency with a great new client and my name on the door with Mangham's makes me proud.
No award souvenir could ever equal that. It was like a straight up casino heist with a real team of skilled professionals. A very big risk at the time, but we did it. We just moved into our new three-storey building at 202 Telok Ayer and we're really getting into our mode now. Come try our café sometime.
Stephen Mangham and Robert Gaxiola open for business.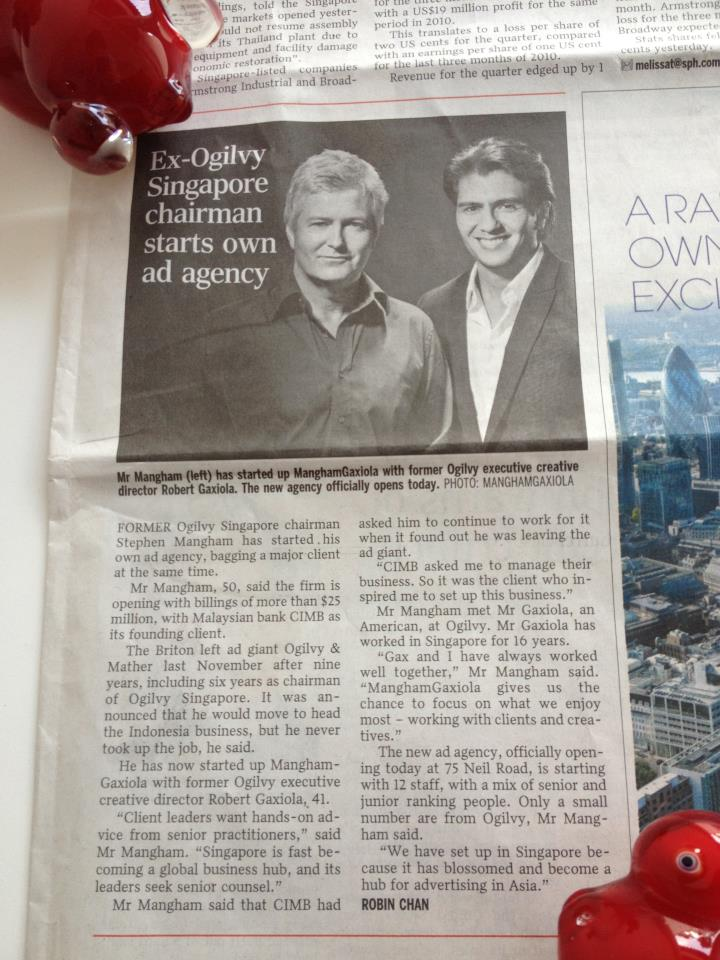 A mistake in your career you won't forget?
After drinking the Kool-Aid for too long, you start to believe the hype. People say you're this, you're that, you start to believe it. But chasing the wrong things, I found I lost myself in the process. You win more, you start rising up the ladder faster and the agency keeps throwing money at you so everything is validated. You then decide to win by any means necessary. Then you wonder why you still aren't happy. The awards didn't do it, the money didn't do it, my personal life was a disaster and there were times I resented all of it. The biggest mistake I ever made was living that lie for way too long. But hey, all of that is in the past now, and today I just use it as a reminder of what I don't want in my world anymore. I'd rather be dead than to go through that again.
Weirdest thing you've ever done in your career?
I ferry a cat named Neko to work every day. It started out as me getting him for the agency shop house at our old place, but I didn't have the heart to leave him there overnight so I carried him home. Over two years later I still carry him back and forth to work in a canvas tote bag. I know that looks damn weird, but I don't give a s---. I like him around, he makes me laugh.
Robert Gaxiola and his cat Neko.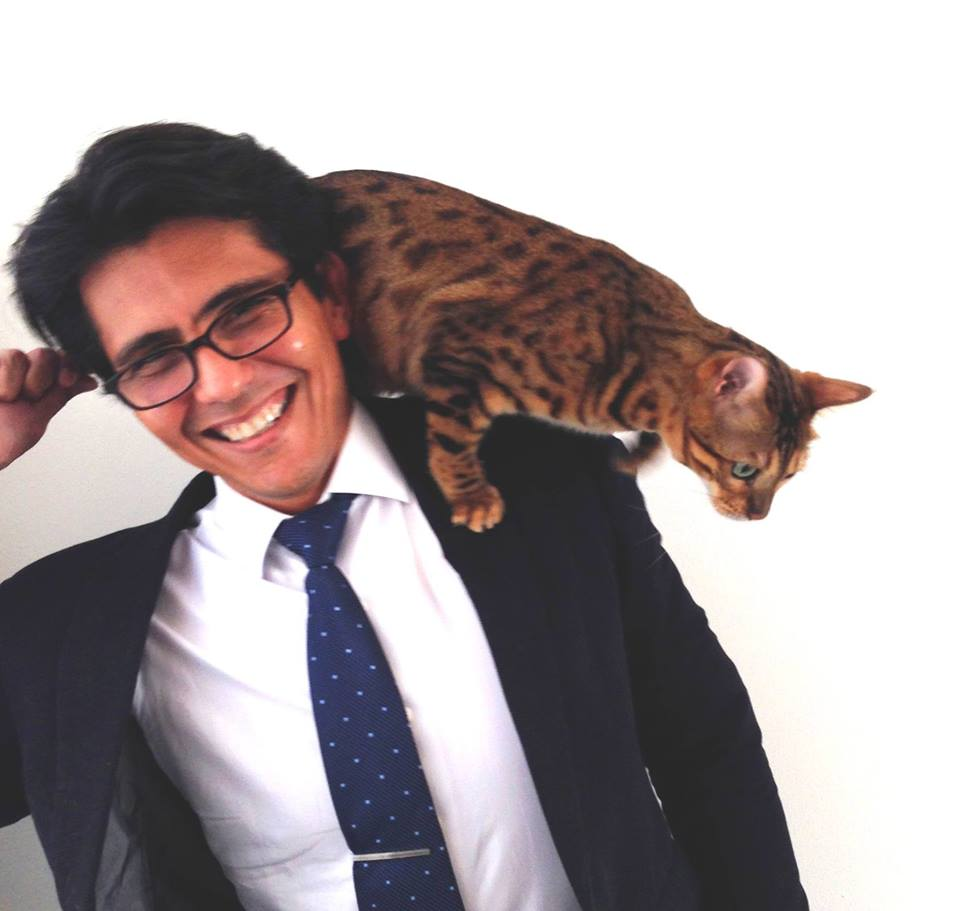 How do you get inspired when you aren't?
I think a deadline is the best source of inspiration. The layout pad is still the ground zero for creativity. Anything goes. And one idea always sparks another. People are also a source for inspiration. That's why we collaborate so much between us inside our creative department. It's sort of a watering hole I suppose. No titles or credits, we just work together and hammer it out like a bunch of kids. It's fun for me here, we wrap up at 6pm so it's always a very intense race to get it all done.
Mentor you look up to most?
Patrick Low. He's a man of character. He has talent, vision and he's humble to a fault. I didn't really appreciate how great he was until later in my career. He gave me my first job here in Singapore just hours after I landed. I learned a lot from him back then and I'm grateful for his counsel all these years later. When I grow up, I want to be Patrick Low.
Patrick Low and Robert Gaxiola both met at DY&R in 1995.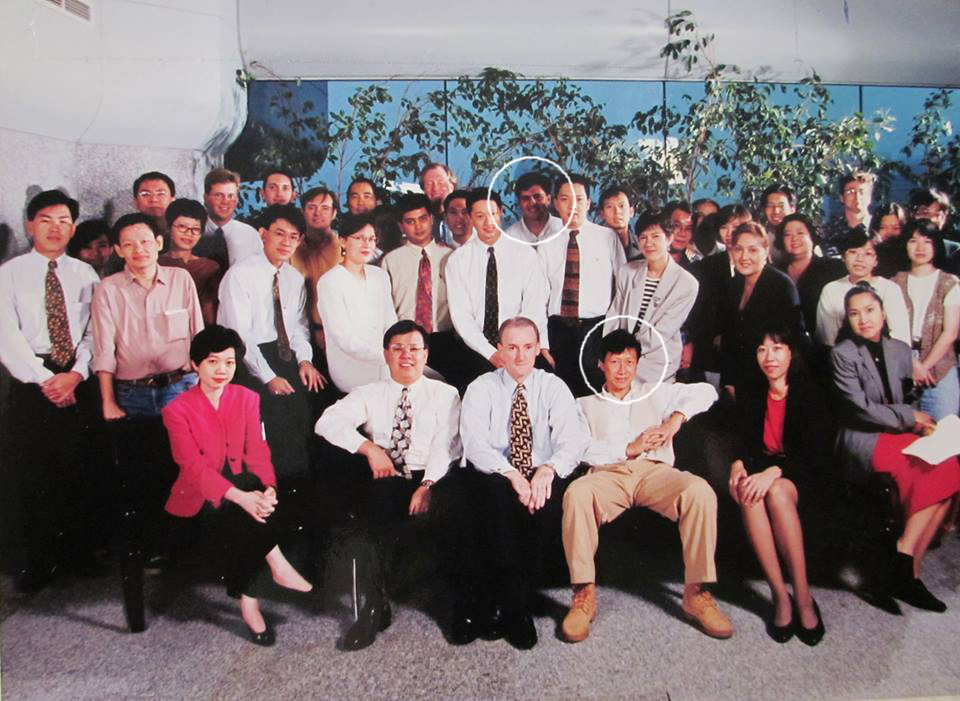 Now they both run their own shops. This picture of Robert Gaxiola and Patrick Low was taken at Goodfellas in 2013.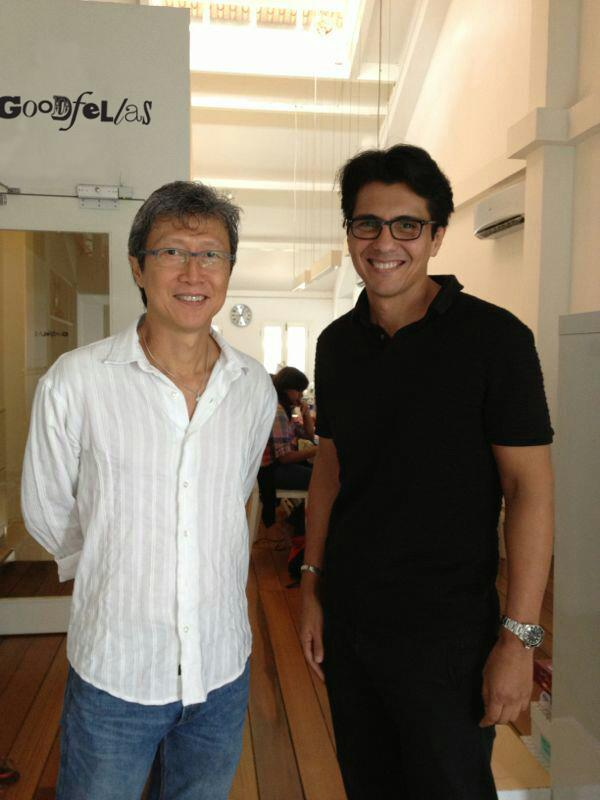 What makes the difference between an average creative person and a mind-blowing one?
Ego and pride, a talented guy who can drop both of these and do his own thing is what makes a mind-blowing creative. I met many when I worked at the famous Goodby Silverstein & Partners in San Francisco. All of them were humble and very talented. Nobody cared about what awards you had, or what you were ranked, Jesus, everybody there was good. Only the work mattered.
Most frustrating thing about being a creative?
For me it used to be creating these faux ads every year to win awards for these big network agencies. What a joke it was, blowing our money like that, and having to be pressured so much to win. All this effort just to prop up some global douche in New York. That's over too, and I don't miss it at all. There was a time and place for it, and thank God I grew out of it.
I learned a lot along the way. I don't think I'm the same guy I was three years ago or even two years ago. The guy we knew at Ogilvy and prior is over. But now is what matters. I live a dream of a life and I'm literally surrounded by some very good-hearted people.
A dream brand you would like to work on and why?
Not a brand, but a cause. I want to work on something that matters. But I need a partnership. I don't want to work in isolation from a marcom department. Very few clients get that. Mangham and I already worked at the biggest and best agencies. Now we can give clients more attention and better work because they get to work with us directly. It's one of our greatest advantages right now.
How do you wind down on the weekends?
We don't work weekends. I don't even have a key to get in. But weekends are hard for me because of training. I'm making it happen on the road bike or strength training in the gym. I'm a new student of yoga and this has really been a breakthrough for me. It's humbling to say the least.
The rest of my weekend is filled with reading, naps and all-day breakfast. This transition to becoming human is probably the second best thing that ever happened to me. So I'll keep at it, in the very least I'll just be another villain with redeeming qualities. I'm no hero that's for sure.
Creative Catch-Up is Marketing's ongoing series with the industry's top creatives.