Colgate Hong Kong has unveiled an experiential marketing campaign featuring the green apple, often used as a symbol of health.
The brand has set up vending machines in shopping malls. After inserting a HK$1 coin, the participant receives a green apple, a toothpaste and a leaflet containing a quiz about bleeding gums.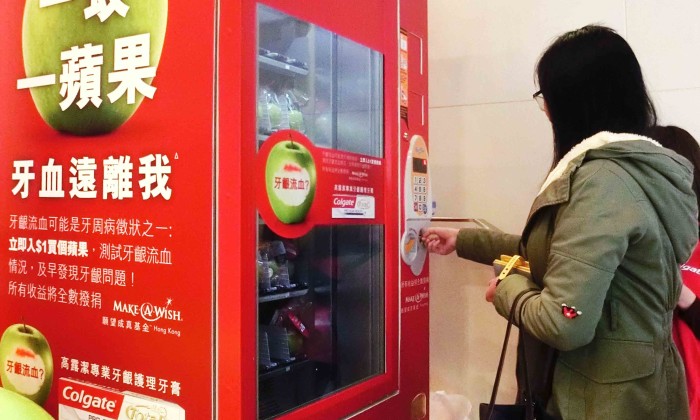 The HK$1 proceeds go to the Make-A-Wish Foundation and promoters armed with tablets encourage participants to answer questions in the quiz and recommending products based on how severe their gum bleeding is, as reflected by the quiz.
Participants can also share that they have taken the quiz on Facebook to receive a free toothbrush.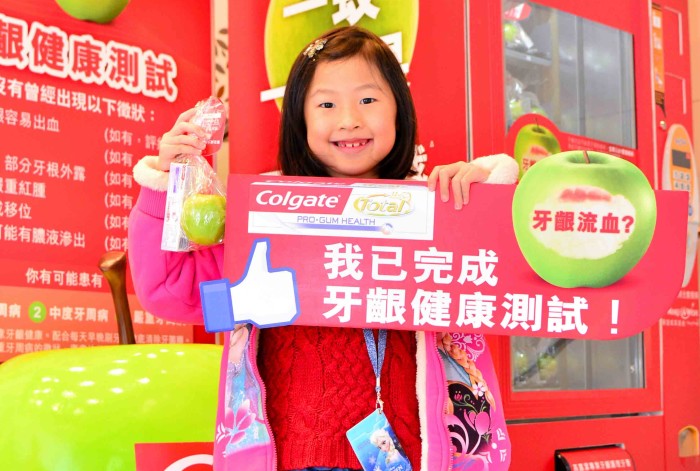 The campaign will run until 8 March. The vending machines will be placed from two days to a week at 12 shopping malls across Hong Kong Island, Kowloon and New Territories. These malls were chosen to target middle class Hong Kong families.
Newspaper ads and online display banners were placed to advertise the vending machines at various locations while the experiential campaign itself complements an earlier TVC that also incorporates the green apple.
A branded video will also play on a screen attached to the vending machine.
Hong Kong is the first market to roll out the campaign and other markets in the Asia-Pacific will soon follow in its footsteps.
Judy Chan, associate marketing director at Colgate-Palmolive, said the concept behind the campaign came from the old saying, "An apple a day keeps the doctor away."
"We changed the concept to 'a dollar and an apple keep bleeding gums away,'" Chan said.
"When you take a bite out of the apple, you can see whether or not you have bleeding gums. That's why we incorporated it into the campaign because the apple gives it that experiential aspect.  Even if people don't eat the apple on-site, when they bring the apple home, they may eat it and find out whether they have bleeding gums."
While trucks are the norm for many experiential campaigns on the street, Chan believes vending machines allow the brand to go deeper into communities in a city where awareness of dental health is low.
"Unlike Taiwan, Hong Kong does not have city-wide subsidies for dental check-ups for adults. That's why there is not as much awareness in Hong Kong," Chan said.
"In this context, dental health can be a very boring topic. It can even be scary for those who dislike visits to the dentist.  This campaign aims to make the experience of learning about how healthy your gums are in a fun and educational way."
Credits:
Client: Colgate-Palmolive
Associate Marketing Director: Judy Chan
Assistant Brand Manager: Catrina Kwok
Marketing Assistant: Jonathan Yeung
Creative agency: Y&R
Creative Director: Pierre Loo
Art Director: Enid Tse
Copywriter: Ritta Deng
General Manager: Eric Choi
Associate Account Director: Ericsson Tang
Senior Account Executive: Jenny Lai
Media agency: MEC
Digital agency: AGENDA Hong Kong
Event agency: RSVP Communications Limited