At the heart of digital marketing is creativity and boldness, John Mellor, VP of strategy and business development & marketing, Adobe digital marketing said on Day 2 of the Adobe Summit 2016.
Without an emotional connection with consumers, data is absolutely meaningless. While data can amplify or direct a sense of storytelling, ultimately a human approach is what counts.
As much as our jobs are demanding more and more data, it is still just a piece of the puzzle. Data alone is useless unless we can wrap content around it. It can be sterile and it is not emotional.
Stories evoke emotions and emotions drive change. But changing mere numbers  to tell a story at scale is not easy. Despite having cutting edge technology to spot trends and topics, data can still be hugely overwhelming for many.
In fact, a quick survey of the 10,000 attendees of the summit showed that 27% still felt that they were rookies with digital marketing skills and only 30% felt they were great at it. Approximately 43% of people felt they had some skills and their organisations were slow and steady when it came to adopting new digital tech.
Here are some of the other statistics: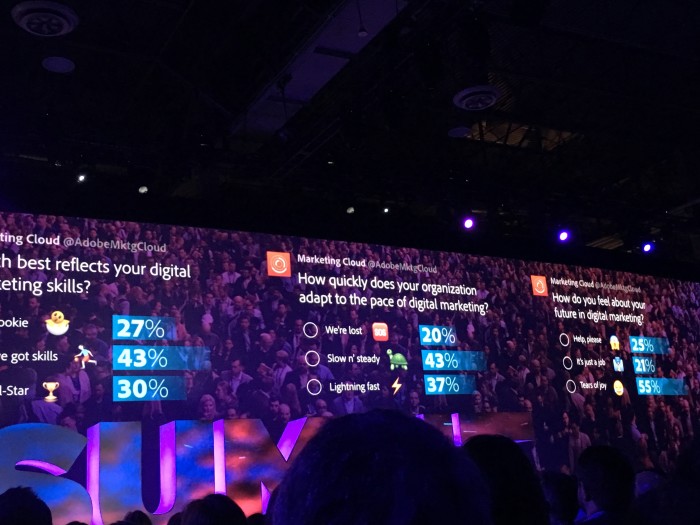 And to prove his point Mellor kicked off the conference by singing a duet with Vegas star Donny Osmond in front of an audience of 10,000. Watch the video here:
So how do you refrain from getting data-paralysis? No matter where your digital capabilities are, you just get down to business and get personal with the customer, Mellor said.
Getting to know them in an intimate manner changes awareness to experience and leads to an emotional connection. All that ultimately depends on how ready you are to being creative and personal in creating an experience.
Make the first move
Getting personal isn't always about getting the consumer to open up. Sometimes, it is about opening up first. One example of a company which was ready to do so was Cirque du Soleil, which Mellor termed as "possibly one of the most creative and experience led companies of all time."
Creating an extravagant experience has always been at the heart of the company, but with the strips in Las Vegas getting more and more crowded and shows constantly drumming up noise for footfall, Cirque du Soleil felt that it would benefit more by turning the volume down. The brand decided to get more intimate with its consumer.
"Our product doesn't translate [visually] onto other mediums easily," said Alma Derricks, CMO of the company.
One way the show decided to get more intimate with its consumers was by inviting them in back stage to get to know its designers and musicians and telling their stories as well.
Just 10 days ago, Cirque du Soleil launched its first ever half day Master Class, teaching dance to the public. Derricks added that the plan for Cirque du Soleil is to grow this into regular master classes to invite more of the public to get closer to the brand.
"It is a completely different way of engaging our customers from the past."
Listening to change
Meanwhile for Mattel, listening to its customers allowed the brand to win back the love of consumers. The brand recently went through revolutionary changes with its iconic Barbie dolls. Barbie had long lost her charms with a very dated look, admitted Richard Dickson, COO of Mattel.  He said:
Fear of messing up the most popular toy ever led to our silence and inaction.
He added that the company was fast taking the role of a "packaging company". To tackle this change, Mattel started to really listen to what consumers are saying. It listened in to conversations between children, mothers and society as a whole.
Eventually, the brand realised it had to add more diversity. This began with changing Barbie's skin and hair colour. Slowly, Barbie's stiff heeled foot was changed into one which was flexible allowing for more permutations and combinations to the dolls' styles. It also launched various body types such as plus size Barbie and petite Barbie.
Dickson added while  it might seem daunting for companies set in their ways to make a change, sometimes big meaningful change doesn't necessarily mean taking crazy risks. Sometimes, like for Barbie, these changes are somewhat easy to implement and make the product contemporary and relatable.
We knew Barbie had a purpose but what was critical was making those ideas relevant today.
Seeing real change
Media is another industry which has been heavily impacted by digital. Hollywood star George Clooney, who came on stage on the second day, shared that digital technology is aiding film-making from remote parts of the world such as Pakistan and Iran. One simply has to look at the content made for the likes of Netflix to see the quality of story-telling improve.
Moreover with TV no longer being the only dominating medium, the work out there available for young actors has increased exponentially.
"I think it is great for our industry and opens up a million different avenues of how to make and work in entertainment," he added.
As with all things good, Clooney admitted that there are some negative aspects that have infiltrated the world of Hollywood.
For example, when casting a new face, metrics such as social media following and so on come into play. Casting directors and play-writes often face the pressure of hiring an actress with a bigger following as compared to more talent. As a young talent this can help you, but it can also cloud your judgement. Clooney added:
If the most twitter followers were the biggest stars than Kim Kardashian would be Meryl Streep. I'm not knocking Kim Kardashian but she has a large Twitter following.
While all for advancement, Clooney however,was not the biggest fan of being on social media himself. He once even said: "I think anyone who is famous and is on Twitter is a moron."
While he stood by the statement, Clooney explained that in the offline world, celebrities have greater control over their narratives but online, a small mistake can easily be amplified adding that the speed of response on social media and responses "can kill you".
American soccer star Abby Wambach who is a tough advocate for equality also added that armed with data, it is easier to bring hard evidence to the table and address issues such as pay gap in the sporting world, which is still largely dominated by men.
Despite having a larger viewership compared to the 2014 FIFA World Cup, last year the winning team of 2015 FIFA Women's World Cup took home only US$2 million in prize money compared to Germany in 2014 bringing home US$35 million.
With data in hand, she added, there is more ways to fight to change the world.
On measuring success she added : "Process is so much more important than the outcome. So I am personally not so focused all the time on the outcome and I believe if you put it out there and you will get back what you give."
[gallery link="file" ids="131045,131044,131043,131042,131041,131040,131038,131039,131037"]
Read also: What it takes to create a great customer experience
Adobe paid for the journalist's trip to Adobe Summit 2016, held in Las Vegas.