This post is sponsored by Isentia.
As we approach the end of 2017, we see ourselves soaking in the festive atmosphere and holding celebrations for Christmas which is just around the corner. Isentia recommends how brands should not miss this chance to communicate with their audience and create compelling marketing campaigns, which will in turn help drive up revenue.
1. Forget what the calendar says - Christmas comes earlier than you think
Traditionally, the shimmery scene in Orchard Road marked the start of the holiday shopping season. Isentia's social media insights show that the season of giving appears to be starting earlier, with buzz on initial ideas of Christmas gifts surfacing as early as June. In fact, some consumers began to purchase Christmas gifts in October where we can clearly observe a sharp rise in traction. "This signifies a not-to-be-missed opportunity for brands to engage and build rapport with consumers who are already sourcing for gifts inspiration," Isentia's Insights analyst, Rufus Wong, said.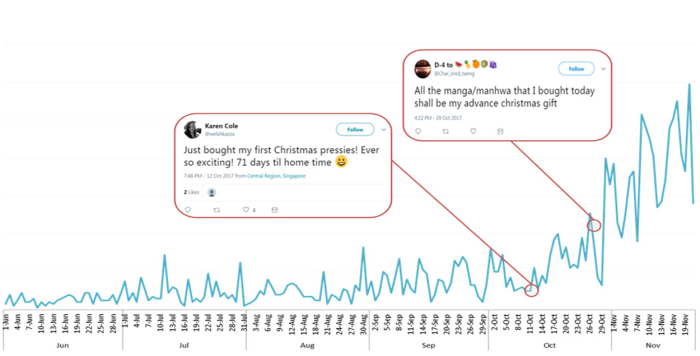 2. Help consumers give the perfect gift
Undoubtedly, the iPhone 8 and X emerged as the top Christmas wishlist in lieu of their recent launch. With Part of Speech analytics, we uncover the top product category of interest in beauty products (cosmetics and skincare), children's toys and food items (chocolate and other sweet treats). "We are able to observe that the words associated with beauty gifts during the recent two months (October and November 2017) by using data visualisation in R," Arun Elangovan, advanced analytics and data science manager, said.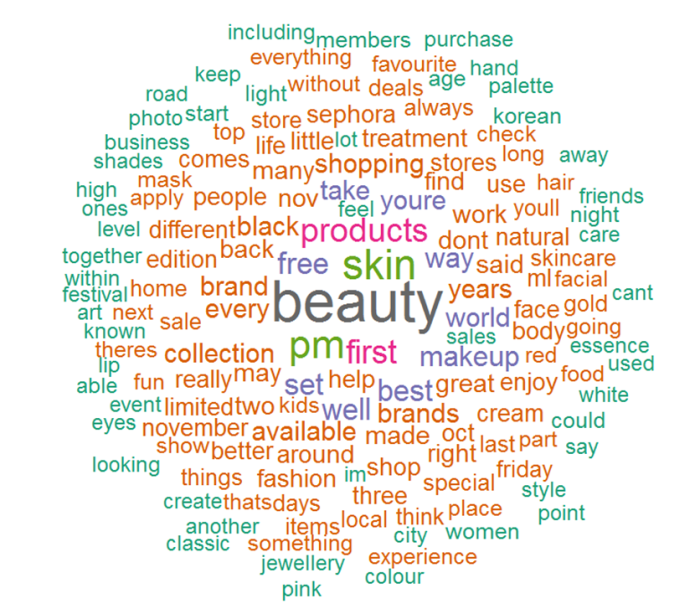 In addition, through Image Recognition insights, we identified that the most popular gift ideas among females are cosmetics such as lipsticks and eyeshadow palettes. Some indicated that they would wish to receive them, while others shared that they have bought it for their fellow girlfriends. Following that, Starbucks tumbler emerged as the next popular choice where majority mentioned that they had received it as their "first" or "early Christmas gift". "There's no doubt that image analytics could help marketers greatly with the rise of visually driven platforms such as Instagram," Carrie Ng, Isentia's marketing intern, said.
[gallery columns="2" link="file" ids="205913,205914"]
Note: Tags and text recognition are generated by the image recognition model
Brands often leverage on such data to formulate their campaign strategy. We now visit three brands that manage to capture considerable amount of engagement and attention from consumers based on their Christmas campaigns.
3. Getting your charitable spirit on during the season of giving
We learn from Innisfree, best known for its green ethos which uses all-natural and eco-friendly products originating from the pristine island of Jeju. This South Korean brand kicked off an omnichannel campaign titled "Make, Enjoy, Share. Green Christmas", encouraging fans to send e-greetings to their friends on Facebook or through an app to raise visibility of the event. Attendees at the event held at Orchard Cineleisure were able to enjoy activities such as eco-pouch stamping. In addition, the skincare brand invited its consumers to get crafty by introducing limited-edition DIY String Art Kit for SG$2, where the proceeds will go to the Children's Cancer Foundation. The brand also encouraged its followers to post their handmade artwork on Facebook and Instagram.
"By keeping its eco-conscious value consistent alongside the spirit of Christmas giving throughout the campaign, Innisfree was able to stimulate conversations both offline and online," senior insights analyst Ang Shu Hui, said.
4. Sure-fire way to launch giveaway contests
An excellent way to increase reach as well as drive engagement is to run giveaway contests. This can be done by extending giveaway contests to a prolonged period of time (eg. 12 days) and encouraging participants to tag friends as an entry requirement. Beauty and skincare giants, Kiehl's and Vichy, incorporated these mechanisms in their Facebook and Instagram contests which not only sustained interest from participants to stay tuned for daily giveaways, but also drove engagement and expanded their social media presence.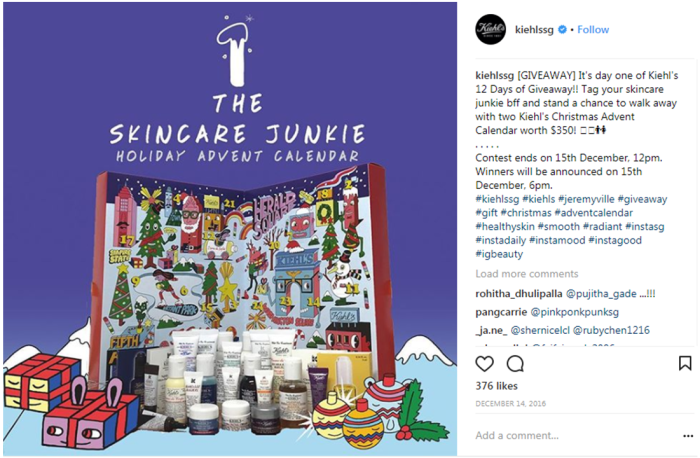 Meanwhile, Ferrero Rocher - a worldwide renowned chocolate brand - held the "Ferrero Rocher Christmas Facebook Contest" by getting participants to comment on its contest posts, the correct number of pralines spotted in the 180-degree and 360-degree images respectively.
By holding the contest in two separate weeks, the Italian chocolatier could reach a larger pool of audience and at the same time reach out to new potential consumers. While interaction in the form of "comments" were undoubtedly high, it was also observed that they had managed to garner interactions of up to 9k likes and over 800 shares.
[gallery columns="2" link="file" ids="205916,205917"]
5. Thinking where to target these consumers? Use Twitter and Facebook to start festive conversation
According to Isentia's social data, Twitter and Facebook witnessed notably higher traction as compared to other social media sites. On Twitter, consumers simply tweeted their wishlist and shared gift ideas with their followers. As such, brands can make sure of such an interactive approach to engage with users to find out about their needs and considerations of gift purchases. On the other hand, Facebook was observed to be an effective platform for brands to delight their existing and potential customers with promotional deals and giveaway contests. So do not forget to add Christmas sparkles onto your Facebook posts and create excitement about our campaigns on the platform.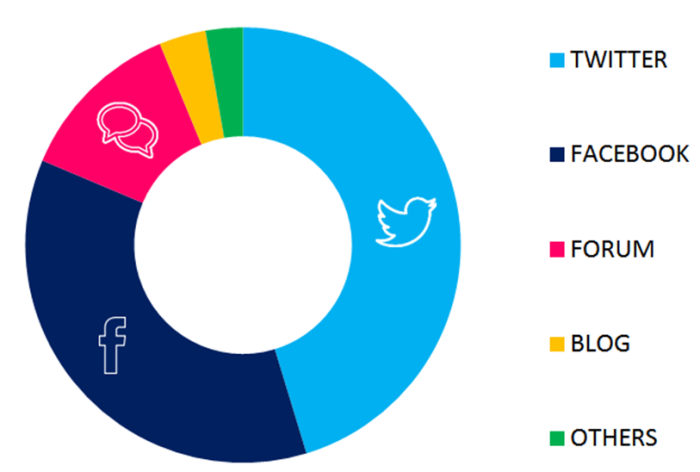 "It is increasingly essential for brands to optimise their content marketing efforts according to the platform where their target audience are hanging out," insights analyst Najung Gim, added.
Behind each thoughtful Christmas campaign, there is a strong strategy rooted around a brand's value and uniting consumers around a common interest or experience. Creating an effective campaign may not be rocket science, but it definitely involves a mash-up of art (creative thinking), science (data-powered thinking) and science (data-powered insights).