In response to strong objections and a request by the South African consulate, Zuji Hong Kong has pulled an ad featuring Nelson Mandela which went to print yesterday.
The ad features the late South African leader pumping his fists.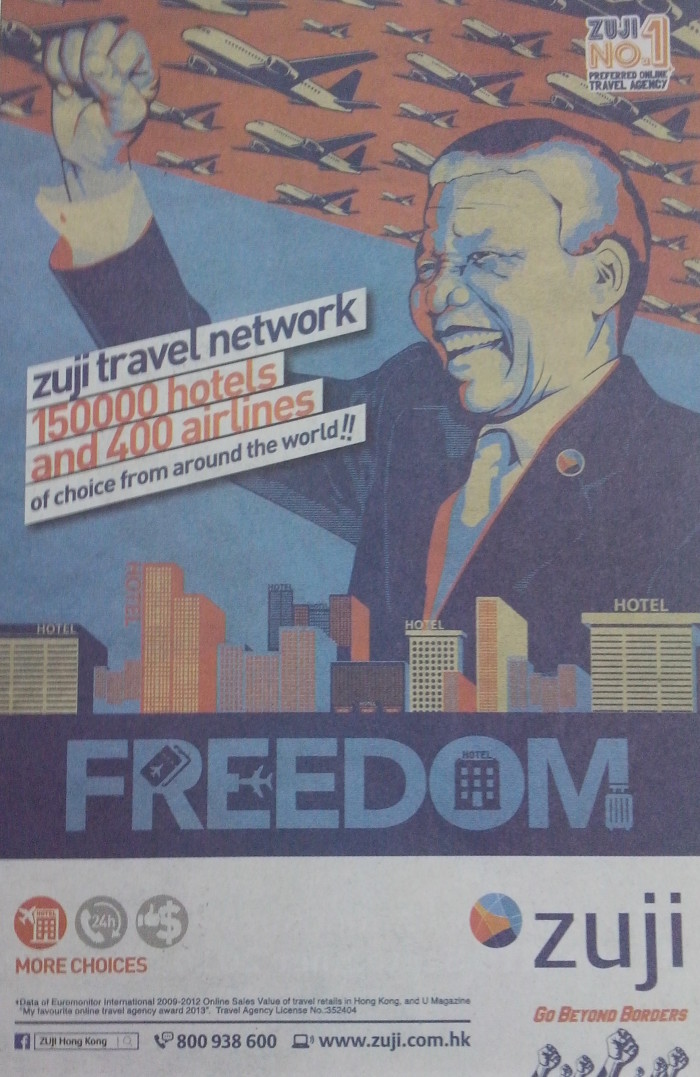 "Once we received comments from the South African consulate, we immediately reprieved the ad," said Charlie Wong, CEO of Zuji Hong Kong.
"It's a legitimate request. We have to respect the South African people's feelings. They do not to commercially exploit the image of Mandela and that is very reasonable."
The South African consulate in Hong Kong has declined to comment.
The ad is part of a branding campaign aiming to associate the online ticketing agent with the idea of freedom.
"We didn't mean to show disrespect to Mr. Nelson Mandela. He was an icon of freedom and we wanted to associate ourselves with the concept of freedom because we offer a wide range of hotels and seats on airlines," Wong added.
Hardy Lam, creative director at creative agency Sweet Concept which produced the ad, said the idea came from thinking about the concept of revolution.
"We were not selling a product, but a brand. The idea is that Zuji's platform is very innovative and revolutionary. This got us thinking about historical revolutions and the people who led them," said Lam.
"Mandela is a revolutionary figure and practically speaking, we wanted to choose people who could be recognized straight away. Mandela is one of them and he brings out our concept."
Lam adds that his team had good intentions but were ignorant about South African culture.
"We were not parodying him or creating a caricature of him, but we were probably wrong because we didn't talk to the South African consulate first. That was mainly because we didn't realize it was a problem when we first thought of the ad concept.  Using well-known iconic figures for advertising is very common but because South African culture seems quite remote from us, we didn't know that it would be disrespectful," he said.
"We are very sorry and we underestimated the South African consulate's reaction because we are not experienced enough.  We hope that the South African consulate can understand where we are coming from."
On the bright side, Lam said it was a very good exchange of ideas and a process of mutual understanding.
Wong says the particular Mandela ad visual will not run anymore and other ads in the series also featuring iconic figures will be changed.
"We are modifying our creative so that readers would need some imagination to understand who that person is – they could be Caucasian or Asian or of any other race.  If readers are careful enough will understand what we mean by change," he said.
Is it worth sacrificing the creative concept behind the ad campaign because of one offensive visual?
In response, Wong says, "We want to inspire our customers but we also have to be sensitive to other readers as well to make sure we don't disrespect anyone."