zChocolat was founded in 1999 by Jean-Philippe Khodara and his wife Valerie, as a chocolate retailer that operates only online.
They signed a deal with DHL whereby the brand's chocolates are shipped from France, where the chocolates are manufactured, at a flat rate.
Today, the chocolate brand has over 180,000 customers in more than 79 countries globally, mostly in the US, Europe and the EMEA.  In Asia, Malaysia, Hong Kong and Singapore are some of its biggest markets, followed by Thailand and the Philippines.
Around 3% of its customers around the world are based in Hong Kong and less than 2% is based in mainland China.
90% of the brand's chocolates are purchased for gift-giving, with half of total sales involving international shipping where customers ship chocolates to someone living in another country.
Khodara said he founded zChocolat as an Internet-only store because he did not want to take the boutique store route. However, times have changed and after running pop-up stores in Paris and at Harbour City in Hong Kong, he is now planning to open offline retail stores.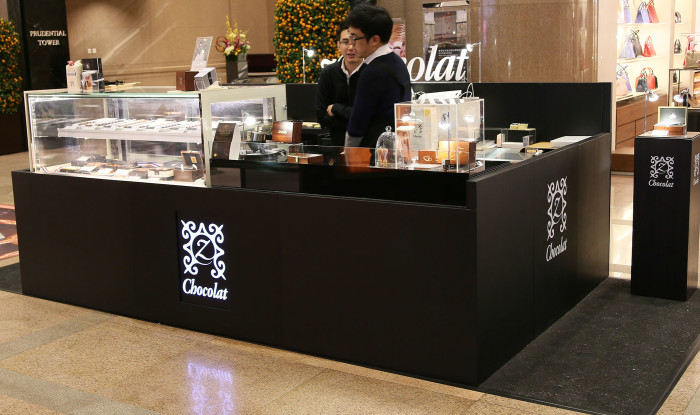 "In 1999, people wondered what an e-store was and there was little competition.  The Internet allowed us to reach people we couldn't otherwise reach.  Today, many chocolatiers are going online and having offline stores will help us gain market share and credibility," Khodara said.
"Some people simply will not buy chocolate online - they want to taste and smell them and have a salesperson explaining the chocolates to them."
He plans to open zChocolat's first store in the form of a 260-square-foot corner boutique in department store Harrods in London.  Screens to be installed on the walls will add a digital touch.
Khodara hopes to open his second retail store in Hong Kong.
"Once we have fine-tuned and optimised our retail store concept, we can build a network of stores.  They can supplement our delivery service where customers can pick up international shipments in-store," he said.
Marketing strategy
The brand targets high-end customers through word-of-mouth and does not place print ads or produce TVCs.
"The incremental costs for advertising is very high and we cannot convert them within a year," Khodara said.
That's why the brand's marketing mix, consistent with its initial business model, is heavily digital.  zChocolat relies on SEO, word-of-mouth, affiliated websites and Google ads to market the brand.
It will launch a traditional Chinese website before September for the Hong Kong and mainland Chinese markets.
"Local websites bring people to the brand," Khodara said.
"There is a lot of potential for working on the China market but we prefer to do this through Hong Kong."
In the past, zChocolat has held chocolate-tasting parties in London, New York and Dubai catering to its high-end clientele, riding on occasions such as Valentine's Day.
Below is a video of the November 2011 zChocolat private tasting event in New York.
Produced in-house by zChocolat
And here is a video of the brand's 2012 London tasting event held in the days leading up to Valentine's Day, attended by 700 customers.
Produced in-house by zChocolat
Khodara said, "These events help us establish credibility.  We don't hire celebrities because they are so expensive that it hurts the balance sheet and it is not an effective marketing strategy anymore."