To back its latest product BABY DOLL Kiss & Blush, YSL Beauté has partnered with Rice 5 to create an adorable media campaign Create Your Baby Doll infused with renowned local artist Micko's illustration.
On Yves Saint Laurent Beauté Hong Kong Facebook page is a mini game where users are encouraged to create their own personalised baby doll avatar and receive a quote from Yves Saint Laurent himself.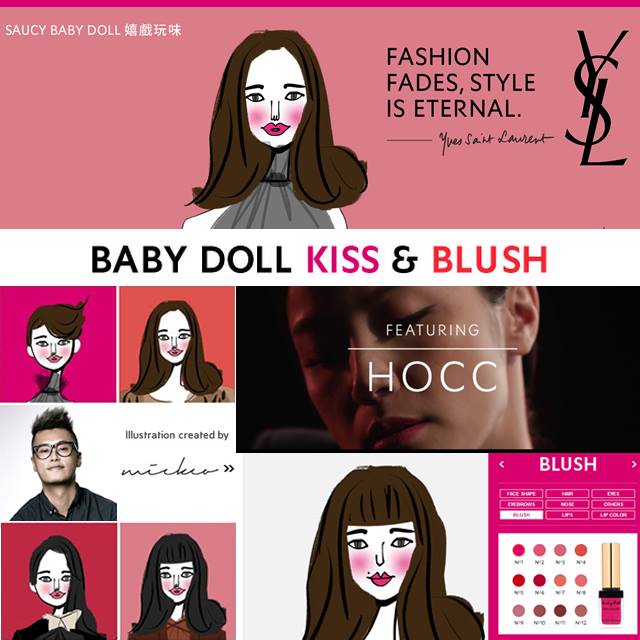 [gallery link="file" ids="50700,50701,50702,50703"]
The campaign followed a previous phase of the entire product-driven campaign, which leaded with a 26 second viral video starring Denise Ho under a tagline "Kiss Your Cheeks, Blush Your Lips".
In the video, Ho is designed to dress in two looks - masculine and feminine – to echo the gimmick Mix and Match.
[gallery link="file" ids="50675,50676,50706,50707,50708,50709,50710,50711,50712,50713,50714"]
"In the beginning of this year, YSL lips are being widely discussed socially online and offline. To sustain the buzz, we offer a new lip and cheek product – BABY DOLL KISS & BLUSH. Not only would we like to promote our new product, but also to reaffirm our leadership in the market," Queenie Lin, brand manager of Yves Saint Laurent Beauté, told Marketing.
She said the campaign marks the first time to collaborate with celebrity.
"We quickly came up with Denise Ho because she shares our brand DNA, namely edgy, daring, subversive, luxury.
"While the MIX & MATCH feature of the product is fun and playful, that's why we came up with this tag line," she added.
The campaign will run until the end of June.