As Yahoo seeks to boost its native advertising proposition, the online group has released its own commissioned research which suggests native ads are more appealing than banner ads.
The study, conducted last month by Yahoo Hong Kong and Cimigo, shows more than 60% of respondents revealed would take the initiative to search for relevant products or service information because of the native ad content.
Respondents to the survey regard native ads as an information provider that are not intrusive, and do not disturb the browsing experience.
Browsing time for native ads was 36% higher on Yahoo homepage and 32% higher on Yahoo's mobile properties.
Meanwhile, 29% of respondents were able to recall messages from native ads, while 57% of respondents would do further online research to understand more about products and services.
Survey results show the perceptions of native ads versus banner ads: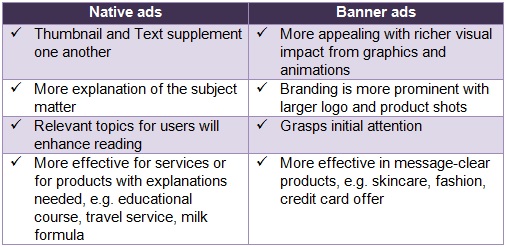 The survey employed eyeball tracking technology with in-depth interviews for a total of 15 hours between 11 to 15 May to analyse browsing behavior on desktops and mobile devices.
Respondents were aged from 18 to 49, with a mix of occupation and monthly personal income, and were non-rejecters of online advertisements.
During the survey, respondents were required to put on eyeball tracking glasses to browse the Yahoo Homepage and Yahoo mobile front page, and use the Yahoo News app.
Eyeball actions were recorded while each individual browsed. Respondents first watched the taped eyeball actions replay and then a personal interview was conducted afterwards.