Yahoo has launched website revamps for its Yahoo Finance and Yahoo Homepage for users in Singapore. According to Rico Chan, Yahoo vice president and head of India, Southeast Asia and Hong Kong, the revamp will allow brands to achieve greater reach, contextual alignment.
This includes increased user engagement which will also provide enriched data to help advertisers reach the right audience both on and off of Yahoo. Through a newer content experience, the new sites aim to be more uniform and seamless for consumers. It also hopes to lead to an advertising experience that is more consistent, and therefore more impact for brands.
According to Yahoo, the new experience promises that ads will be seen during moments when consumers are most engaged. This extends to a brand campaign appearing on the homepage, content viewer or elsewhere in the network.
The new sites look to deliver a continuous stream of articles tailored to each user and aim to deliver a more consistent experience on Yahoo properties across devices. It also looks to increase personalisation for users with cleaner and more modern designs.
Post the revamp, the company says it has seen some improvement in key consumer engagement metrics so far. This includes an overall increase in user engagement via scrolling activity, increase in sessions per day and deeper engagement while in discovery mode. This is seen through an increase in interactions such as comments, shares, follows and favourite topics. It also saw deeper engagement in consumption mode through more time spent on Yahoo's front page.
"The infrastructure of the new page allows us to develop more creative rich media formats for advertisers who seek for visually impactful effective," Chan said. The new Yahoo homepage will allow users to simply scroll through related stories online, compared to opening different articles in different tabs. Readers can also engage in conversations and share what they are passionate about with a tap, and follow topics of interest across devices.
The new upgraded design for Yahoo will provide users with a new experience which includes considerably faster page load and more seamless surfacing of slideshows, videos and original content. The new homepage will also showcase stories picked by Yahoo editors, alongside what it views as content most relevant to readers.
Users can like their favourite articles by clicking on the heart icon and as users interact with the content, the Yahoo stream will become more tailored to individual interests, the company said.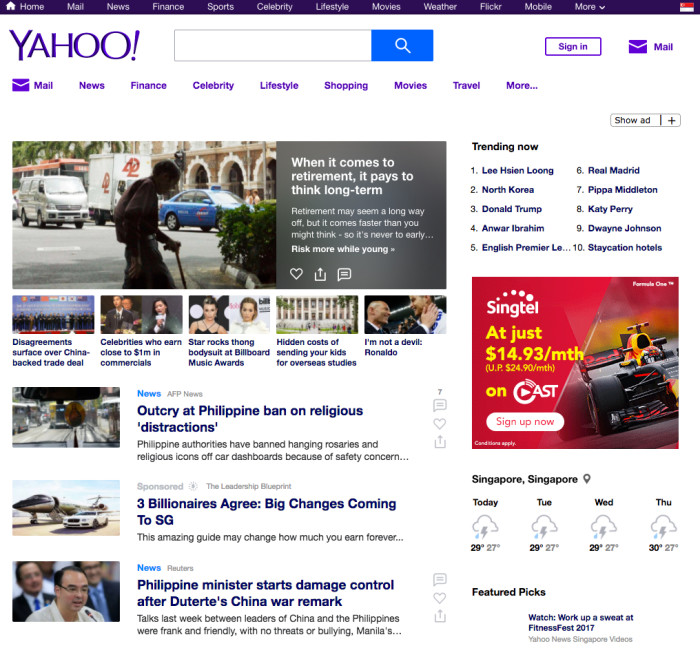 Meanwhile, for Yahoo Finance, the website will see bigger headlines and photos in the revamp. The publication, which is targeted at readers who are investors in Singapore, hopes to give readers a way to keep track of their Singapore and global equities more easily. This is while continuing access real-time data, editorial insights and analysis, breaking news and video.
Other features include a watchlist, portfolios and popular market data such as top gainers and losers. This has been consolidated into a configurable dashboard where users can add, remove and reorder stocks directly on the homepage. Users can also jump between interactive charts with just a click on the ticker on the watchlist. Instead of 15 fixed headlines, there will also be an "infinite" stream of content on the quote page, with related articles grouped into clusters, similar to the homepage.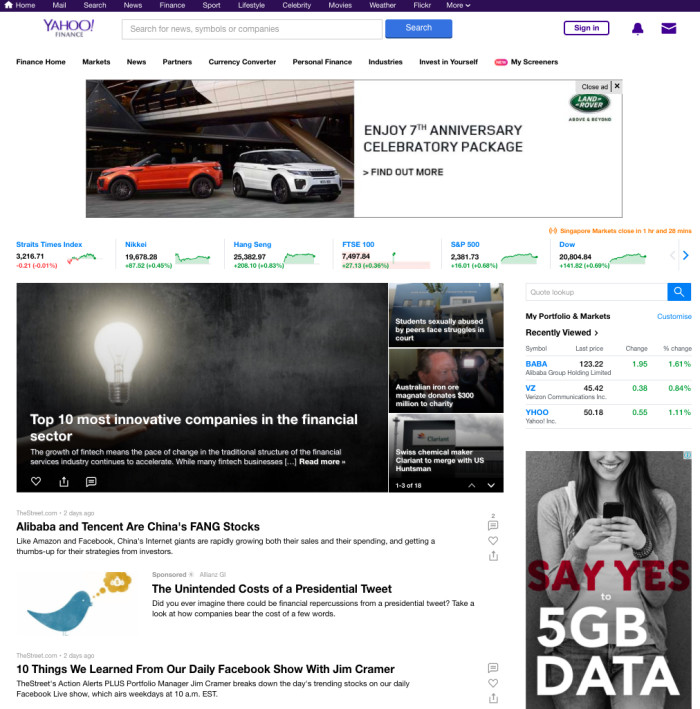 Yahoo has also released a new feature called "Conversations" section which aims to be community centred. The section is available on each quote page. Relevant conversations from articles will also appear to help users discover what is being said about companies anywhere on Yahoo.