Last year the streets of Malaysia displayed a parade of ads as we moved towards GE13. The ads weren't just outdoor; they were on the radio, TV and even on YouTube. There was major speculation over the total ad spend in the months leading up to the most expensive general election in the nation's history.
Nielsen has recently released a study reporting that global ad spend is growing. At the end of the first three quarters of 2013, global advertising spend was at 3.2% higher than 2012.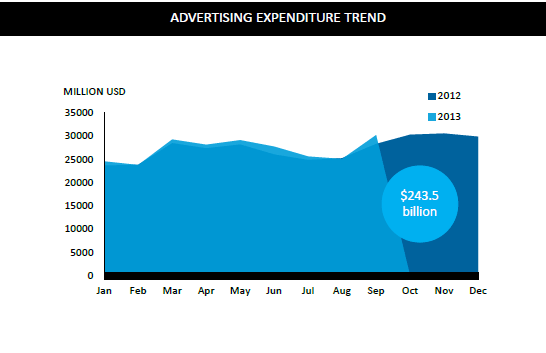 The growth most probably reflects Asia Pacific's expanding powerhouse ad market as well as a bottoming out of Europe's contracting ad market.
The largest ad spend increase went to display internet with a jump of 32.4% last year.
The question is, with the impending price hikes and looming introduction of GST, will Malaysia's ad spend slow down while the rest of APAC picks up?
Andy Miller, CEO of Vizeum said: "We as a group predict that ad spend in Malaysia will increase by 8% but in reality this is a slow growth for Malaysia. It will be a relatively slow year even though it is a world cup year as peoples expendable income will be less this year with the price hikes."
No other agencies could be reached for comment at the point of publication.