An excellent social media strategy is crucial for many industries today and even more so for the world of telco - an industry many love to hate.
According to a recent study by social media monitoring firm Digimind, in Malaysia telco Digi has won over the social media trophy with the biggest following and most interactions across its virtual channels, compared to its peers in the country. Digimind studied the latest data on six big Malaysian telco players namely - Celcom, Digi, Maxis, Telekom Malaysia, Tune Talk and U Mobile - from 23 June to 23 July this year.
Meanwhile, the top 2 telcos in terms of interactions were Digi and Maxis. Both had majority of their followers from Facebook and You Tube. In fact, Facebook accounted for the largest following for Digi, U Mobile, Maxis and Tune Talk.
For Telekom Malaysia, it was Twitter that contributed to the biggest community out of all their official social channels.
LinkedIn, unfortunately, was one of the least engaging social media platforms for the telcos studied.
[caption id="attachment_145278" align="alignnone" width="584"]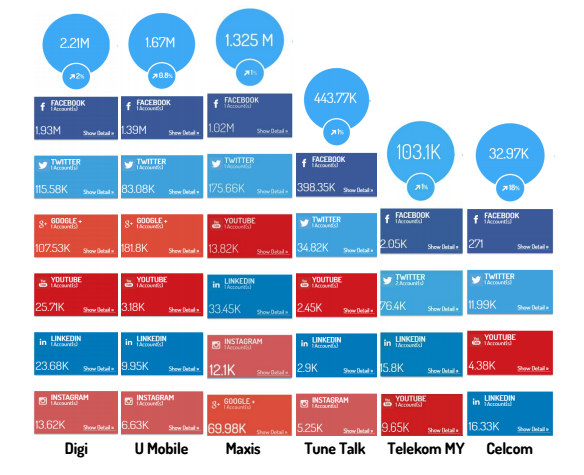 Community Leaders[/caption]
[caption id="attachment_145277" align="alignnone" width="698"]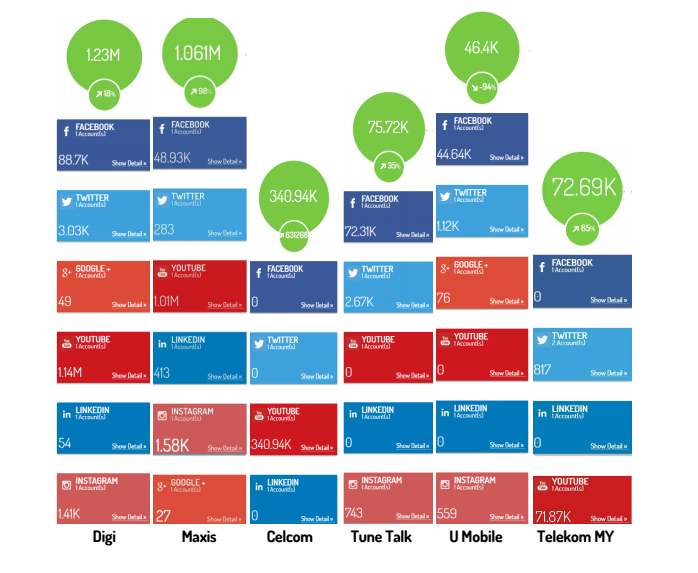 Interactions Leaders[/caption]
Tune Talk, meanwhile, was the most active telco in Malaysia on social media with a total of 271 posts made across their social media channels.
Interestingly, U Mobile, Digi and Maxis were active on Google+, with U Mobile posting a total of 20 times in the period studied. Compared to Singapore which had little to no activity recorded, Malaysian telcos were also definitely more inclined to invest in Google+ as an engagement channel with customers.
[caption id="attachment_145275" align="alignnone" width="763"]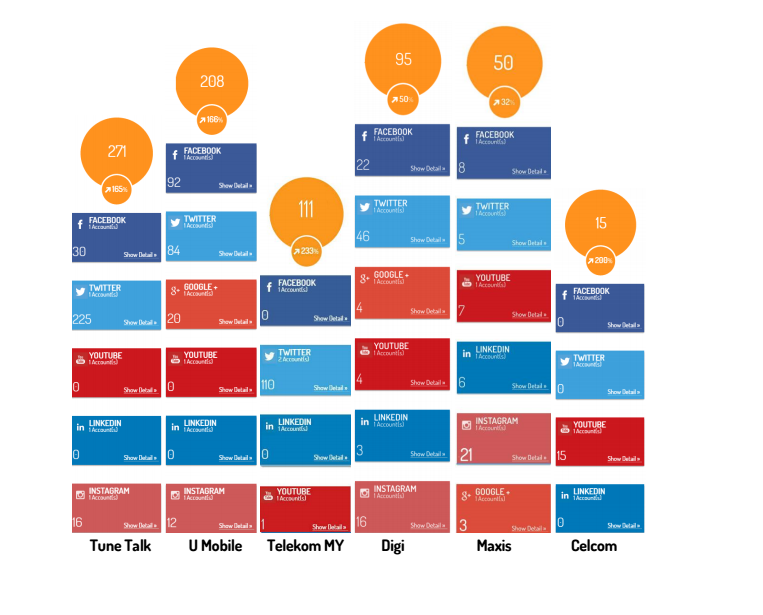 Publications Leaders[/caption]
The six telcos were examined based on factors that include key services, customer perception and top searched item in the country's telcos.