The use of consumer level databases (CRM, DMP) is increasingly becoming a key area of focus amongst consumer-facing businesses globally.
To better understand the awareness and the implementation and productive use of analytics with DMP, ZenithOptimedia and Nielsen collaborated on a qualitative research in the second half of 2015.
In this research, over 20 of the top consumer marketing and media spenders across a broad range of categories in China were interviewed to get a qualitative understanding of their level of familiarity, actual current progress and expectations for the future in this space.
Familiarity is high amongst leading advertisers with strong belief in the potential importance to the business.
Awareness was virtually universal, but the level of familiarity varied significantly, with half of the respondents claiming to be "very familiar" and the rest "moderately or somewhat".

A majority (86%) say DMP is important to the business (Very important or top priority)
With 80% claiming to be keeping a database of consumer records, though most at a very preliminary stage.

Spending behind DMPs is still low (majority below 10%), but the majority will increase investment levels in the future.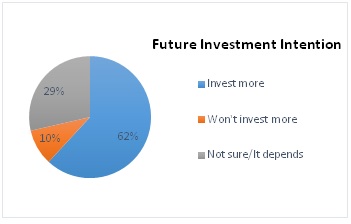 Data being tracked and collected is largely demographic. Behavioral data and ad exposures are less commonly tracked.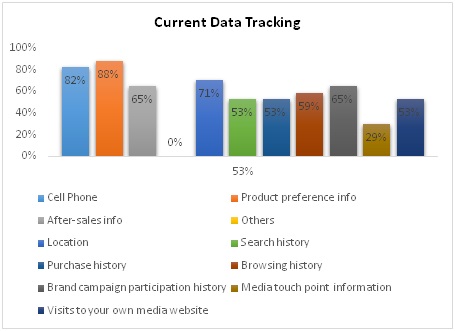 Most DMPs are 3rd party managed.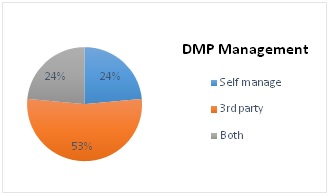 Programmatic trading is widely used, but investment levels are still low.
Yet, despite most (81%) also saying they use programmatic, only one-quarter (24%) use it for proper segmentation for the business, and by the majority are spending less than 10% of their media budget.

Advertisers strongly believe in the importance of data quality, but admit to being moderately informed.

Through the research, we see that though awareness of DMP amongst China marketing professionals is high, and the organizational discussion continues to progress, actual commitment to implementation and productive use of analytics with DMP is still at an early stage. This research highlights a clear disparity between knowledge and execution.
The main concerns with building active use of CRM into DMP are diverse, including critical points directed at data quality, budget funding, consumer privacy and leveraging the right expertise. In a fast-moving and constantly evolving market like China, these are all real and legitimate challenges.
Data quality is an ongoing question for the industry to address and answer; how data can be properly assessed, cleansed and streamlined begins with managing transparency: the challenge in China- with newer structures and growing checks and balances- are acute and, though improving, continue to do operations. Uncertainty about consumer privacy regulations invariably plays a part in this, especially since an uncertain gray area exists on acceptable and unacceptable practices, placing a drag on implementation procedures.
Though the topic of "digital transformation" is a top agenda for many organizations, budget funding continues to be source of questioning and, when the time comes to allocate investment capital to DMP, difficulties typically arise. Companies with a proper vision and framework set up from the top-down are navigating the transition easier, though most admit developing organizational consensus (and priority) is proving tricky.
Chris Maier, head of research and analytics, ZenithOptimedia China said: "For both in-house or consultancy partners, the crucial area that can be sensibly managed is in the incorporation of expertise to develop and manage the integration of analytics with DMP. On the other hand, segmentation is a powerful practice to build into the consumer profile, if the appropriate perspectives are taken and segmentation is properly applied."
Del Levin, vice president of marketing effectiveness at Nielsen commented that the other critical consideration here is measurement. "We believe that ultimately the growth of DMPs and programmatic trading will go hand in hand with advertisers', publishers' and media agencies' commitments to using accurate measurement, taking this important technology from being a 'black box' to a transparent tool for accurate targeting."