Debates that involve any sort of nationalism or notions of national identity are likely to become very heated.
WeChat has come under fire after its American Flag Easter egg was made available around the world. WeChat's American Flag Easter egg was supposed to only trigger a cascade of raining American flags when a WeChat user in the US typed in the words "civil rights".
The American Flag Easter egg was created to lead up to the US federal holiday Martin Luther King Junior Day, which fell on 19 January this year.
In WeChat, an Easter egg is where when a WeChat user types in certain key words, emoticons rain down in the WeChat app.   For example, the words "Happy Birthday" would trigger a storm of birthday cakes raining down the screen.
A screenshot of the raining American flags was posted by the official Weibo account of the Fujian chapter of the Communist Youth League of China on Sunday night.
It wrote, "Today, netizens have been sharing screenshots of the cascading American flags which appear after they type in the key words into WeChat and these are the results of the experiment.  But when you type in 'National Day', 'China' or 'Chinese flag', nothing happens!  Tencent, come out and tell us: what do you mean by this?"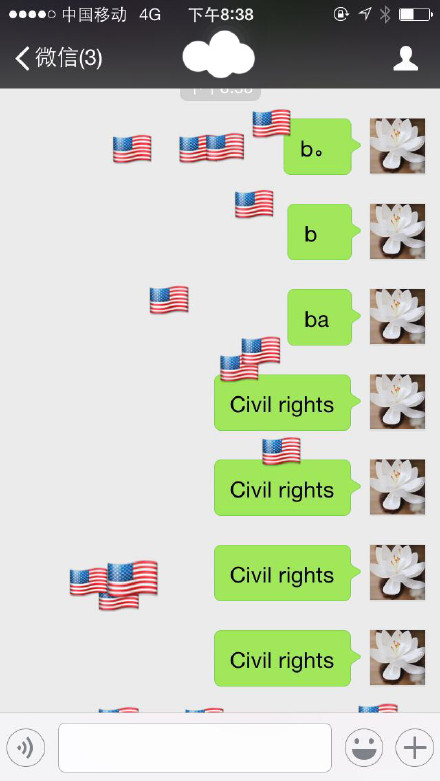 Tencent, which owns WeChat, has apologised on its official Weibo page.

It explained that to celebrate Martin Luther King Junior Day, WeChat's office in the US applied to create an American flag Easter egg, where certain key words would trigger emoticons raining down in the WeChat app and that it was only supposed to be available for US users.
Tencent wrote, "Because there was a back-end technical glitch, the American Flag Easter egg became available to users in other regions."
"Please forgive us for this misunderstanding! Tencent's road to internationalisation is not an easy one and our products and operations need to be fine-tuned – we will work hard on this!"
A digital marketer, who chose to remain anonymous, said, "WeChat must have thought about how they would need different versions of the app for different markets.  Why did they not think about that for this particular update in the app? Is this a way for WeChat to attract attention?"
Outraged comments from mainland Chinese users on WeChat's Weibo apology echoed the same sentiment.
One Weibo user commented, "How can a company that wants to be a multinational company make such a low-level mistake? Saying it's an operational problem is just an excuse!  I am not part of the 50-cent party but I am also not someone who has no feelings for my people.
"If Martin Luther King Junior's birthday gets an Easter egg, then what are you guys going to do when it's Mao's or Zhou Enlai's birthday? WeChat is rubbish."
Another Weibo user wrote, "People in your country support you going international but you can't forget your roots, and you definitely can't be a slave."
"Pay more attention to the feelings of your people.  Not everyone treats Americans as gods.  If you are talking about civil rights, shouldn't you take care of those who dislike Americans?" asked a third Weibo user.  "My last point: the apology is sincere so let's not go too far with our comments."
Other Weibo users jumped in to defend the Internet giant.
"It's beautiful," wrote one Weibo user while another commented, "If you like it, use it.  If you don't like it, leave."
A third Weibo user wrote, "Should we go so far? Those creating a class conflict online because of an Easter egg – hasn't anyone told you that the Cultural Revolution is over?"
What WeChat could have done the second time round
Lleyton Li, manager of intelligence and analytics at CMRS Digital Solutions, believes WeChat could have used words more specific to Martin Luther King Junior Day, such as "Martin Luther King" rather than words like "civil rights" which are more general.
"For example, on Twitter, we tracked tweets about Martin Luther King Junior Day and found that 'Martin Luther King' is the most frequently used word.  Over 350,000 tweets used it, whereas only around 40,000 tweets contained the words 'civil rights'," Li said.
"The term 'civil rights' is very broad and users would not immediately associate it with Martin Luther King Day."
Many users commenting on WeChat's Weibo apology asked for a similar Easter egg to be created using an emoticon of the Chinese national flag for specifically Chinese occasions.
In response, Li said there are reasons relating to a flag code as to why Tencent can't simply use the Chinese flag for an Easter egg even if it wanted to.
"There are rules governing how the Chinese flag can be used commercially.  They would need to get permission to use it in an Easter egg and it probably can't rain down the screen like the American flag," Li said.
He recognises that WeChat users are annoyed because WeChat has not created similar Easter Eggs for days important to Chinese users.
"But I agree with some of the Weibo users saying that Tencent is just trying to make a splash in the US market.  I think this initiative could also have come from their US team, which would explain why they created an occasion-specific Easter Egg for the US first," Li said.