What happens when a bulk of marketing fund is invested in the promotion and joint partnerships to usher and push out a mobile app? It wins, that's what.
The latest report by the GlobalWebIndex shows that WeChat has a staggering 1021% increase in usage among youths aged 16 to 19.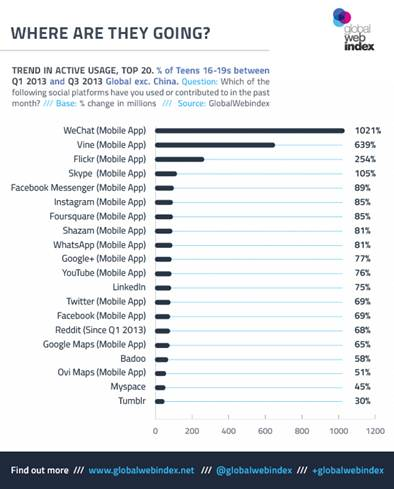 WeChat has dethroned all its competitors in a landslide victory, surpassing other major social networks and applications to reign as the fastest growing app in its category.
The app commands over 100 million registered user accounts globally and has been recorded as the most downloaded social communication app across many markets.
Poshu Yeung, vice president international business group at Tencent (the company behind the development of WeChat app) said that to not only top the chart, but also dominate in teenage mobile social app usage is a demonstration of our promise to provide the best all-in-one social communication app to users worldwide.
"The global trend shows that more and more users are turning to mobile social platform to consume content, communicate and keep in touch with people they care about."