Vpon has introduced a new mobile e-commerce solution package – 3D (Data, Deep linking, and DCO), which aims to crack the riddle of driving ad-to-app traffic effectively.
Many e-commerce companies follow a two-pronged business strategy of operating a mobile website and a native app. However, driving traffic from mobile ads to a specific product page within the app is much more challenging than to a particular web-based product page.
Along with the technology of big data analytics, Vpon's 3D mobile e-commerce solution package incorporates two technologies that can reduce the post-click dropout rate and drive transaction volume.
Dynamic creative optimisation (DCO)
DCO makes it possible to present the most appealing ad to individual customers at the right time. Through big data analytics, Vpon analyses clicking behavior to identify the most effective combination of factors in the advertising (messaging, layout, color, format, etc.) to trigger the purchasing behavior. A tailored-made ad is then created and presented to the audience through this dynamic and complicated process.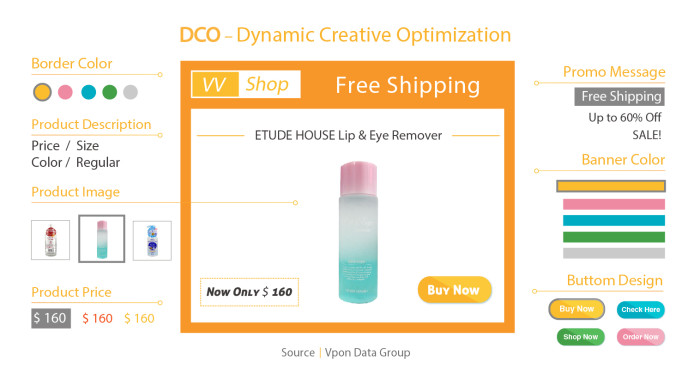 Deep linking
To provide seamless shopping experience, deep linking allows audiences to access directly from the ad to the product's purchasing page within the app. It resolves the problem of high dropout rate due to an overly long process, which the ad could only be linked to the homepage of the app. This convenience increases the conversion rate from ad to purchase.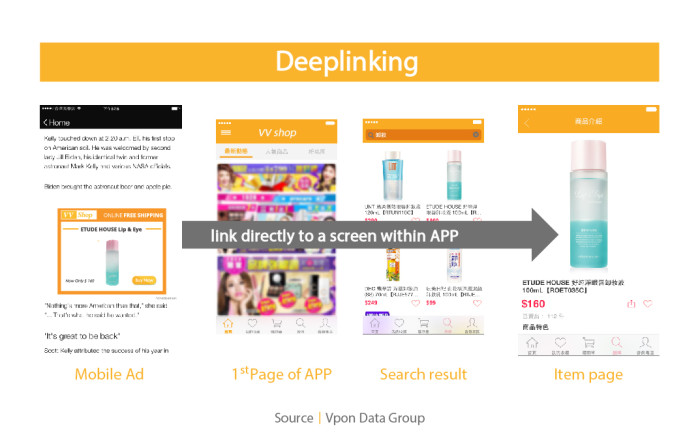 Vpon CEO Victor Wu takes online cosmetics stores as example: "Suppose, a consumer has already made a purchase via an app. Through our big data analytical model, we can predict when this consumer may need to stock up on cosmetics again. Vpon's advertising platform will dynamically design a mobile ad introducing a cosmetics product to this consumer. That's the DCO part. Next, the consumer will likely be pleasantly surprised and click on the ad, which automatically opens the purchasing page of that very product in the cosmetics app. That's the deep linking part."
Wu adds that Vpon's 3D mobile e-commerce solution package is a smart and powerful sales toolkit that can effectively boost an app's return visit rates and purchasing rates to an unprecedented level.