ViuTV announced on Wednesday that it would take down all episodes taped with exiled Chinese democracy activist Wang Dan (王丹) and ex-president of Hong Kong University Students' Union Billy Fung (馮敬恩) at its travel show "Travel with Rivals", which features interactions between mismatched travelling companions by pairing them into journal groups. The announcement has received considerable attention from the public while reactions from its audiences have been split.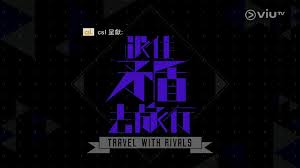 Wang and Fung, invited by the PCCW-owned TV broadcaster, participated in ViuTV's popular TV show "Travel with Rivals" season 2, shot from October 15th to 19th in Japan. Prior to the show's scheduled air date, the two attended a press conference that talked about sensitive topics such as Hong Kong and Xinjiang independence.
The broadcaster released a statement yesterday, stating that the two had organised a "self-arranged" press conference and made inappropriate remarks. It announced that the programme will not broadcast any clips with Wang and Fung.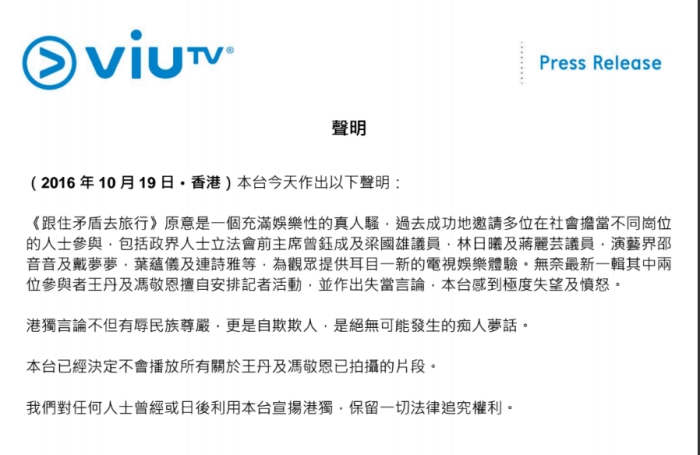 "Any remarks on Hong Kong Independence is not only an insult to the dignity of our nation, but also a total false hope, a farce that can never happen. We reserve all legal rights against anyone who once or will use(d) our channel to promote Hong Kong independence," the statement read.
Wang Dan responded to Viu's announcement last night, describing the statement as "shameless", and stating that the press conference was organised by the TV broadcaster, but not by himself or Fung.
"The TV broadcaster invited me to Japan to tape the programme, and they organised all the content on their own, including the press conference. I was acting in concert with the organisations. Now they claimed it was an unauthorised press conference from me and Fung, this is the most shameless behaviour in the world!" He said.
"It's understandable that you are under pressure from Beijing. It is fine for you to remove the programme quietly, but lying to the public and accusing us of holding a press conference 'ourselves' has gone beyond the bottom line," he added, lamenting that Hong Kong has fallen.
The statement made by ViuTV was instantly slammed by its audiences. "Did they expect the two to talk about Tokyo fashion with their political background?" One netizen mocked. Some said they would not watch ViuTV anymore. "Show your trip schedule to prove your claim, ViuTV!" one added.
Meanwhile, some supported ViuTV for making a stance.
Launched in April this year, the TV Broadcaster picked an unusual approach to dedicate its prime time to air "factual entertainment" shows, one such show includes "Travel with Rivals".
In August, data from market research company YouGov suggested that ViuTV had a bright future ahead.
With over 60% of Hong Kong respondents having already watched programme, only 10% of respondents say they will not watch it. Among those who have already watched ViuTV's program, 67% of them think it provides good local TV content. (Read more: 60% think Netflix brings a positive impact to the media industry)
ViuTV's general manager Lo Ting Fai said last week that viewership numbers are "getting healthier", as 41% of their views from September to October were aged 15 to 44, meaning they had successfully attracted a younger audience. (Read more: ViuTV to launch English channel next year)
However, this dispute may change the game.
[Updated on October 21]
ViuTV admitted that the press conference was actually scheduled by the TV broadcaster in the new announcement released on Thursday night, after Wang revealed his trip schedule on his Facebook page. On the schedule, Wang was asked to join the press conference on October 17 in the morning.
In its latest statement, ViuTV said the crew failed to organise the desired talk with a Japanese university for the two, so the final schedule was changed into the press conference. It added that ViuTV had failed to foresee changes that would be brought by the change of format, and did not expect pro-independence content to emerge from a factual entertainment show. "We strongly oppose anyone who use our channel to promote Hong Kong independence, and will sustain the decision not to broadcast any clips with Wang and Fung."
Wang said the latest statement has proved his innocence, and demanded apologies from the TV broadcaster.