With the abundance in product choice and clutter of marketing messages in today's world, many marketers struggle to make a connection with customers.
"Think of your customer as a date," said Pascal Ly, former head of digital customer experience at Schneider Electric. When you want to go for a date and court a person you are interested in, you will take the necessary actions to reach out to that person.
Customer engagement should be no different, said Ly.
"Across all segments, be it B2B or B2C, finance, electronics or fashion, customers just want to be engaged with. Human interaction is still key."
With data being readily available, tracking the consumers and reaching out to them has now become much easier. However, to avoid sending confusing messages to consumers, it is still important for a company to have a single voice.
Giving an example of the processes which were previously in place at Schneider Electric, he said that when he first entered the company, different organisation silos were all sending their own messages to their customers. What the different departments failed to realise then was that these customers were receiving numerous messages from one single company.
"What we had was a huge amount of valuable information that was untouched and had not been analysed. Hence, we were also missing a unique single view of our customers."
To do so, the company needed to gather all relevant customer information from the different departments and create a single visual image of the customer for sales and marketing to turn into actionable insights.
Quoting Carly Fiorina, former executive, president and chair of Hewlett-Packard, he said that what organisations needed to ultimately work on was turning data into useful information, and information into insight.
One way to do this is to start small.
"You need to start small but think big," said Michael Kustreba, APAC MD of Epsilon.
First and foremost, companies need to analyse a couple of data sources to understand their customers journey. Only then can marketers effectively implement campaign automations and monitor their ROI.
He also added that marketers should also adapt their content based on data to proactively optimise their marketing dollars. Also consistently analysing data will help the brand to understand its consumers and build on complexity.
Here's a quick look at how to incorporate data into your marketing mix: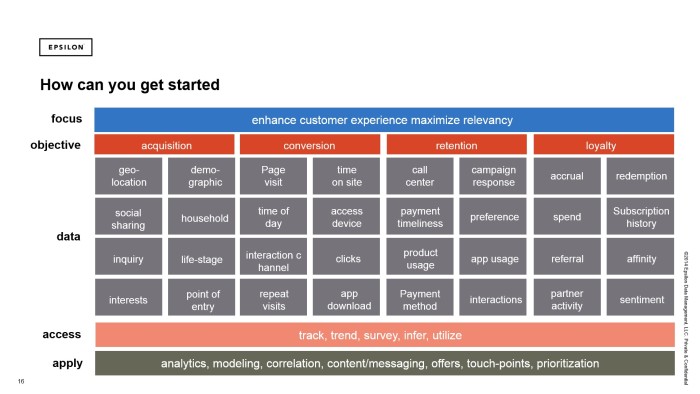 While the customer is at the heart of marketing, data is fast engulfing the function. With data here to stay, now more than ever, marketers need to be prepared to handle the data influx to avoid being stuck under a pile of information.
Ly and Kustreba were speaking at the Customer Experience Conference 2015, a two-day conference held on 11-12 March at the InterContinental Hotel Singapore.