The spending power of Chinese travellers is no secret, and many global luxury brands have been targeting this group for a number of years.
However, the next five years are going to see a rapid shift not only in the number of travellers, but also in the range of destinations they visit and the products they buy, opening up opportunities for wider variety of businesses, brands and retailers.
Findings from a new study from insights consultancy TNS, Understanding the New Chinese Traveller, show that China's travel routes are being redrawn as long-haul journeys become more achievable thanks to increasing wealth amongst China's middle class and currency depreciation in markets once considered unaffordable.
The study shows that travellers are now heading further afield to Korea, Australia, Japan and even Europe, as opposed to their traditional shopping destination of Hong Kong.
What's more, it's not just luxury goods that are being purchased, with 66% of shoppers picking up local goods and souvenirs, 30% buying beauty products and 36% buying other items including electronics, toys and games. Whatever the category, brands and retailers must market effectively to connect with this new audience and take advantage of this significant opportunity.

According to the study, brands must focus on the four key moments involved in planning and experiencing a trip abroad for Chinese travellers – inspiration, research, experience and sharing – in order to effectively market throughout this journey.
The anticipation of the shopping experience plays a key role in inspiring Chinese consumers to make the decision to travel. According to the study, the key to leveraging this appeal lies in identifying a platform where Chinese seek travel inspiration.

Weibo, a Chinese social media platform, has established a specialised travel portal that provides over 400,000 businesses with the opportunity to target travellers who have subscribed to receive updates on popular destinations. Brands need to work with these platforms to ensure that their target audience is inspired to travel to their country in the first place, and ensure that their brand is front of mind when they get there.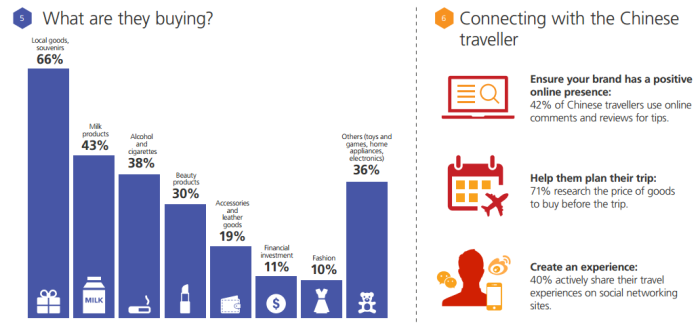 Kathryn Chan, project director of brand and communications for TNS Hong Kong, said: "It's clear that Chinese travellers take a very methodical approach to planning their shopping trips abroad," she added that this opens up opportunities for brands to connect with them from the very beginning of their shopper journey.