Uber, the ridesharing service which set foot into the Singapore in January 2013, recently ran a promotion titled "free Uber" where customers were treated to a maximum of two free rides from uberX or uberTAXI.
The company claims the aim of the campaign was to reward its existing customer and rider base.
Whilst, according to Uber, the promotion "received a tremendous response" on Wednesday with the demand going off the charts, a quick check on the ride services provider's Facebook page shows quite a number of unhappy or dissatisfied customers.
Some lucked out and identified themselves as fans of Uber's services but on the flip side, several customers readily expressed their dissatisfaction.
On its social media page, many complained that they were unable to redeem their free ride due to the high demand, accusing Uber of being unable to deliver as promised. Furthermore, there were hiccups in the service as well - some customers had been mistakenly charged for their free rides.
One user Zion Lass criticised the post saying that while the service might have been off the charts, he was unable to get any service.
Another loyal Uber user Adam Ryley added that as a very frequent user of UberExec, he noticed that "there is never an Uber taxi available at peak times. It would be nice to have car volumes concentrated on peak times of morning or late afternoon."
Another customer Martin Bahr added: " Did you guys even consider what this promotion meant for loyal users??? - Sure demand is off the charts if you offer free rides. - But it also made it impossible to get an Uber for the entire day! Yes some people were happy to get a free ride, but I am sure myself and other frequent users of your service were totally frustrated as they couldn't get a ride. So thanks for nothing Uber, you have just lost a customer who used to use your service almost daily in the past. Welcome Grab Taxi!"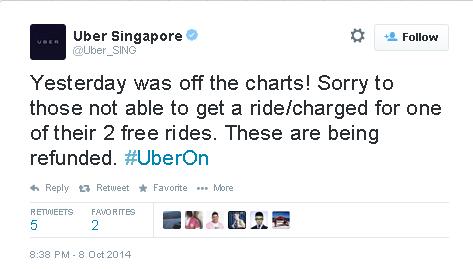 When asked about the hiccups, an Uber spokesperson acknowledged the issue and said that the company is "continuing to help a small number of riders resolve their issues from the day".
Uber focuses on connecting riders with a drivers much like a taxi services and says it aims at "creating a fun and social culture to bring people closer to their cities."
In Singapore itself, there are three products: uberExec, uberX and uberTAXI. To spread awareness, Uber has already conducted several campaigns from Ice Cream on-demand to #ImNOTdriving - done in conjunction with McLaren and Johnnie Walker - and of course, the popular free Uber days as mentioned above.
In addition to these, for the rest of October, all riders will also be able to enjoy a flat 25% discount on all uberTAXI rides.
Written by Prasanthi Ram