If you have been browsing for flights online to plan your next big trip abroad, you might think travelers, just like you, are flocking to online ticketing agents.  However, in Hong Kong, travelers prefer to frequent offline travel agencies.
To capture a segment of customers who are booking online or through mobile, Australian-based travel company Flight Centre will launch an online booking site this quarter, starting with an online platform for PC and mobile.
A still developing online ticket booking market present business opportunities.
"The online ticketing agent (OTA) business in Hong Kong is very immature – customers are sticking to traditional offline business and methods of payment, they have high standards for the kind of service they want and in general, Hongkongers are time poor," David Fraser, greater China managing director, said.
"Markets with high adoption of OTAs are markets with high levels of domestic travel but most people in Hong Kong travel to mainland China or abroad."
He added online booking is suited for short point-to-point or last minute trips while offline works better for planning complicated and multi-destination trips where the expertise of consultants are more helpful.
"I predict our business will be 80% offline and 20% online, with people of all ages forming part of our online user base," Fraser said.
"Travel agents are either primarily online or offline.  We want offline and online to be synchronised with each other in our platform.  We will start by bringing our business online through making online credit card authorisation available, then launching an online booking system before moving onto O2O."
The enduring importance of offline
However, the offline business is still important to the brand.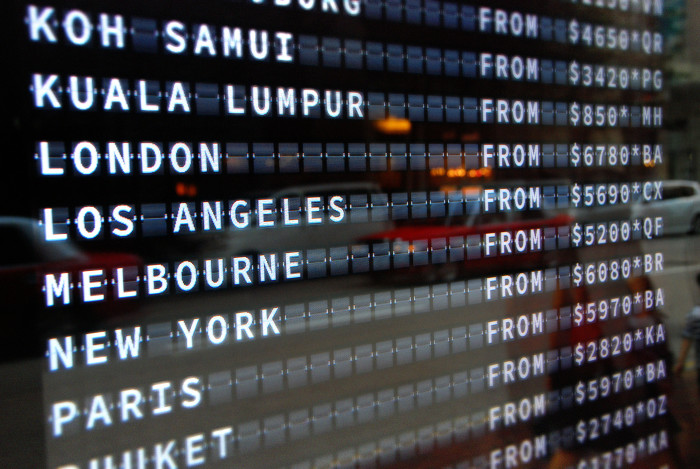 Fraser said, "Online is not the fastest growing platform for travel agencies in Hong Kong – people still call when things go wrong."
That's why the company has been growing its retail presence in the city.
In October, it opened its third retail store in Wanchai which taps into potential travelers frequenting restaurants and working in commercial office buildings in Wanchai and Admiralty, such as Pacific Place Three, bringing business during lunch hour and after work.  It currently has two other stores – one in Happy Valley and another on Caine Road in the Mid-Levels.
Later this year, the brand plans to open a larger flagship store on Lyndhurst Terrace and move its Caine Road store operations over to the new store.
"We want to swap the Caine Road location with a store in Central closer to Queen's Road Central because there are plenty of retailers there," Fraser said.
A five-person team made up of more seasoned travel consultants focused on premium travel are based in the company's head office in North Point.  Typically, when Flight Centre staff members receive calls or emails from premium travelers, the requests are forwarded on to this team.
The upcoming flagship store will have its own in-house team for handling premium travel requests.
The brand hopes to operate five to ten stores in Hong Kong in the future.
After the brand began opening retail stores three years ago, leisure travel took up about half of its business, which was previously heavily focused on corporate travel.
Leisure travel experienced 30% year-on-year growth, and that part of the compnay's business has more than doubled over the past three years.
"The retail stores gave us credibility and awareness.  When we only took bookings for leisure travel by phone or email, most people thought we were operating from overseas.  Customers didn't realise we were based in Hong Kong," Fraser said.
"The retail stores helped cement who we were and helped people understand us better."
Advertising mix
The brand places print ads in newspapers and magazines, as well as placing online banner ads and sending out eDMs.  Its marketing mix is shifting more and more towards digital.
Three years ago, around 95% of its marketing budget was print and around 5% was digital.
Today, about 60% of its marketing budget is spent on digital advertising and marketing, with 30% taken up by print and 10% by miscellaneous items such as sponsorship.  The company's digital spending includes retargeting, search and content marketing, but not mobile ad spending.
Going niche
Historically, Flight Centre has been a mass-market brand in many markets but in Hong Kong, the company has chosen to go for niche markets.
"Mass-market is very cut-throat in terms of competition through price, product and platform and it is very commodified," Fraser said.
"We are not trying to compete with large local retail agencies.  Instead, we want to find niche market segments such as expat travelers and try to gain a bigger market share in those markets."
The company has been localising over the past few years by hiring more locals for their retail stores rather than English-speaking travel consultants as they have done in the past, consistent with the company's increasingly focus on high-end travel in the future.
Flight Centre Hong Kong will also be exploring other niche markets such as sports and music travel, and corporate travel for SMEs.
Corporate Travel Business
Flight Centre started off as a corporate travel agency in Hong Kong through its brand FCM Travel Solutions in 2004.  It only began diversifying into the leisure travel business in the past four or five years.
While the company's FCM brand organises corporate travel for big and mid-market businesses, managed as accounts, its FCBT team focuses on a niche within a niche market – corporate travel for SMEs.
Its FCBT brand speaks to small business owners where a staffer in the company would typically book their own tickets.