The latest in the series of account hacks is Twitter CFO's Anthony Noto whose account tweeted spam links to other users. "While his account information did not appear to be stolen, it isn't clear how the spam started," Jim Prosser, a Twitter's spokesman said.
"We've locked the account down and deleted the tweets." Prosser did comment on whether Noto uses two-step verification, which helps protect accounts, for "privacy and security reasons."
Here's a screenshot of the Twitter page by Business Insider.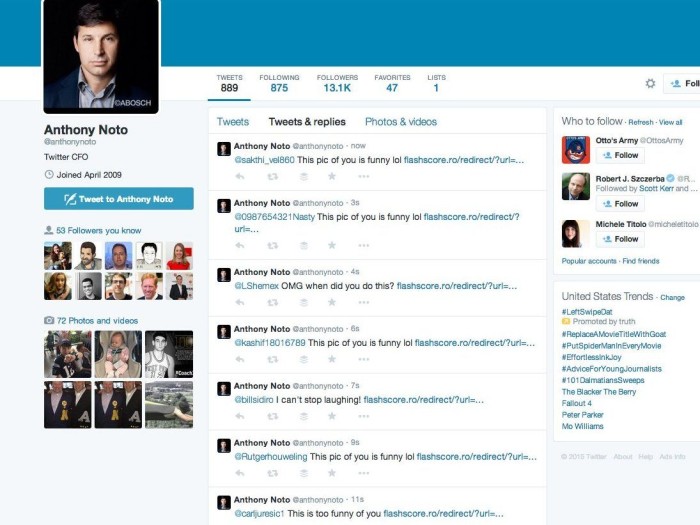 While not a first incident, it once again brings to light the need for tighter security measures online.
Read also:  10 tips to handle hacking
The real price of hacking for brands
FB, Microsoft, Google battle hackers
Malaysia Airlines website hit by hackers
Noto, a former Goldman Sachs banker who led Twitter's IPO, joined Twitter in July 2014, and this social media hassle isn't his first. Last year, the new CFO accidentally posted a private message about a deal to his public Twitter followers. The company said it has since worked to improve its product for direct messages.
While this embarrassing hack reveals Twitter's security flaw, it also serves as a reminder for regular users to be more vigilant. As for Noto, his latest tweet reads: