Hong Kong's dominant free-to-air TV broadcaster, TVB, has received a surprise offer from a mysterious investment company to buy a 29.9% stake.
The privately held company, named TLG Movie & Entertainment Group, said it has made a "conditional cash partial offer" to pay HK$30.50 per share for up to 138 million shares, which amounts to 29.9% of TVB.
The proposal is subject to two conditions: It should receive approval or have no objection from the Communications Authority of Hong Kong; the offer announced two weeks ago (24 January 2017) - the repurchase of 138 million shares by Young Lion Holdings and concerted parties - should be voted down by shareholders; and shareholders should negate a so-called 'whitewash waiver.'
The filing with the stock exchange added that a more specific announcement of the proposed offer will be made during the week of February 20.
TVB sought suspension in the trading of its shares in the same morning, soon after the announcement of the offer fueled spike in its share price, then down 0.8%. The company has now resumed trading.
It confirmed on the same day that it has received the offer, although there is "no certainty the plan will materialise into a credible offer."
"The possible purchaser is not known and the identity of the ultimate beneficial owner, its source of funds and proof of financial soundness have not been disclosed to TVB," the broadcaster said in a statement.
It added that it will "take steps to evaluate whether the proposal is credible and capable, and whether TLG has adequate financial resources."
TVB shareholders are meeting on February 17 to vote on the buyback proposal.
TLG is a Hong Kong-registered private firm established in August 2015. It is headquartered in Beijing, with operations in Hong Kong and Shanghai, information on its official websites said. It has two shareholders and just one company director, Kelvin Dong Wei-tsun, according to the filing.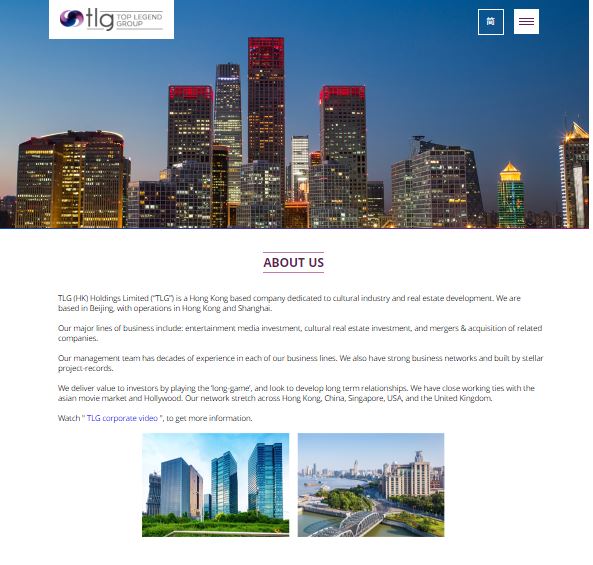 Its major lines of business include: entertainment media investment, cultural real estate investment, and mergers & acquisition of related companies.
Currently, Young Lion Holdings (YLH) owns 26% of the TVB stake. The private company is controlled by TVB chairman Charles Chan Kwok-keung, Li Ruigang and HTC chairwoman Wang Hsiueh-hong.
The repurchase YLH offered last month could raise its stake in TVB to 37.96%.