China Trust is at an all-time high among both the informed public (82%) and general population (73%), and China, surprisingly, now sits at the top of the Edelman Trust Index. Trust has increased in all four of the institutions of business (12 points), NGOs (17 points), media (9 points) and government (4 points) since 2015.
However, despite an overall higher state of trust, there still remains gaps between the public's expectations of business and its leaders to engage in wider societal and economic issues.
"This is a positive sign from the public that they are willing to let these institutions into their lives," said Bob Grove, CEO of Edelman North Asia.
"However, with this greater trust also comes increased expectations for organisations to act beyond their traditional remit, posing a big risk for organisations who are not prepared to take on the challenge."
In spite of double-digit increases in trust, business is now the least trusted of the four institutions with both China's informed public (80%) and general population (70%).
Kevin Wang, managing director of Edelman China's Corporate Practice, said CEOs will play a critical role to bridge the trust gap.
"Leadership must recognise the importance of taking action and do so in a way that resonates with their audience.
"By demonstrating their own personal values and directly engaging with customers and employees, leaders have the ability to make themselves more relatable, which will ultimately help to bridge the trust gap."
CEOs are well positioned to address wider societal issues, as the Chinese general population is trusting of CEOs (80%) and now considers CEOs to be the second most trusted creator of social content (78 percent) behind "my friends and family" (90%).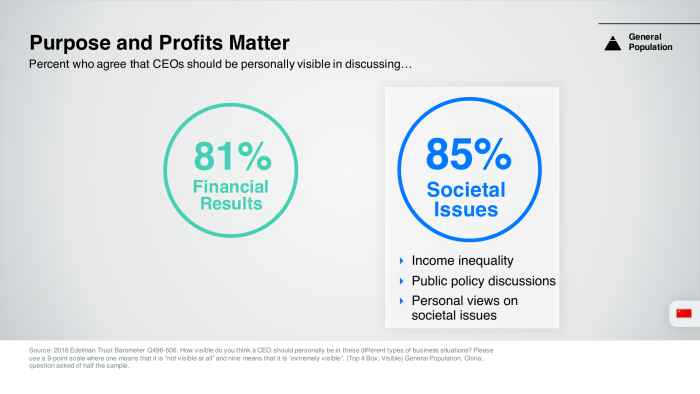 In China, big business remains the most trusted type of business (79%) ahead of state-owned (73%) and family-owned (59%).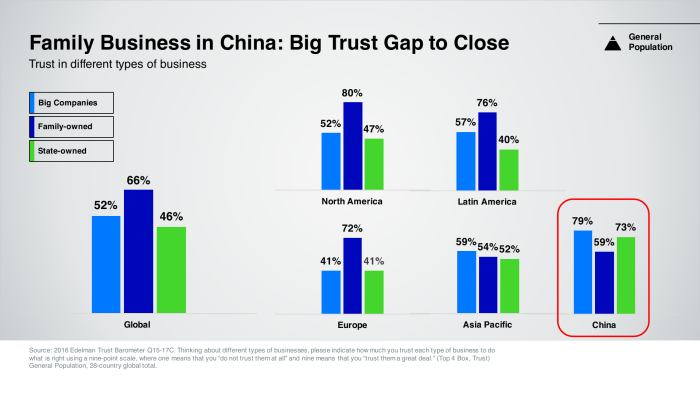 As for the trust in media, traditional media continues to be the most trusted source for news (76%), just ahead of search engines (75%) and online-­only media (72%) in China.