Market research company Ipsos has announced the results of its annual Affluent Asia Study, previously known as PAX, which shows that traditional platforms still matter for consumers of luxury goods.
In the study, 18,830 affluent people aged 25 to 64 in 10 markets – Hong Kong, Singapore, Malaysia, Thailand, Taiwan, Indonesia, India, Philippines, South Korea and Australia – were surveyed on their lifestyle, spending and media consumption habits from the third quarter in 2013 to the second quarter of this year.
Mainland China was not included in the survey.
In the survey, people in Asia count as affluent if they earn an average personal income of US$43,000 per year, representing 18% of the general population. The combined value of their investments, excluding investments in property, come to about US$1.1 trillion.
Traditional media platforms are preferred as first sources of information
Although digital media consumption is on the rise, for international media brands, traditional media is still preferred as the first source of information and platform for news and current affairs, business and finance news, sports and entertainment.
For example, the survey found that traditional TV channels have a reach of 61% among the affluent, which increases to 66% when digital TV is included in the mix. Similarly, print has a reach of 32% among the respondents, which rises to 42% when digital content is included.
TV features most heavily in the sports and entertainment categories, which both see 47% of respondents going to TV as their first platform.
"The affluent have not given up on traditional platforms at all. It's not that digital media goes up and traditional media is gone. The affluent are on a range of different platforms and screens," said Clare Lui, executive director at Ipsos Media in Hong Kong.
Andrew Green, chief marketing officer of global media at Ipsos Media in Hong Kong, added: "Traditional media is not dying and there is space for the total amount of time spent on digital to go up."
Hong Kong is among the top three markets of owners of three screens (laptop, smartphone and tablet) in the survey, along with Australia and Singapore. In Asia, 3.7 million affluent people own three screens and Asian affluents spend an average of 5.7 hours using media every day.
Hong Kong also comes top in the survey for the purchases of jewellery and luxury watches.
The survey results suggest that international media brands are better at reaching affluent consumers.
"The power of international media brand consumers can be illustrated by the reach differences shown by consumers and non-consumers of international media brands," Lui said.
For example, targeting travellers, who had made more than two trips last year among consumers of international media brand content, obtains a 23% reach compared with a 10% reach among non-consumers.
The difference in reach between international media brand consumers and non-consumers varies between different product categories.
For example, among international media brand consumers, the reach for those who purchase tablets is 46%, compared with 32% of non-consumers. Meanwhile, for those who buy jewellery, the reach among international media is 27% compared with 23% among non-consumers.
Those among the affluent who are part of top management also have greater access to screens. Eighty-eight per cent of respondents who are top managers own a smartphone, compared with 79% of the general affluent population, while half of the top managers own a tablet compared with 42% in the general affluent population.
How international media brands are doing in the region
CNN tops the charts in terms of monthly multi-platform and daily, weekly and monthly TV reach, followed by BBC World News.
Multi-platform reach: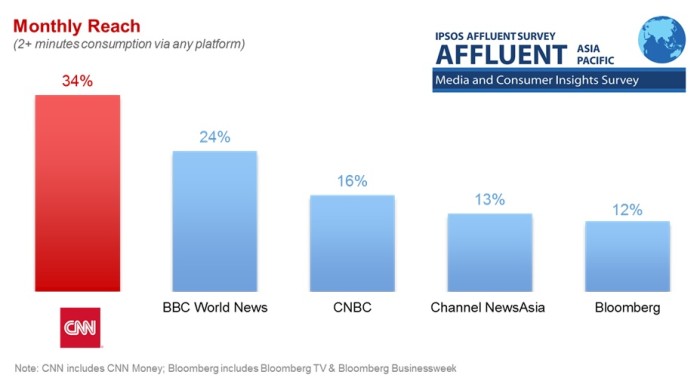 TV reach: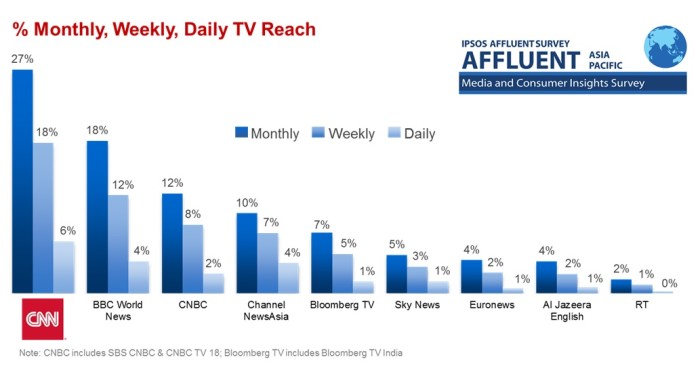 Every month, 34% of the survey's affluent respondents in Asia consume CNN's content across all platforms, followed by 24% who consume BBC World News and 16% who are viewers of CNBC.
On the TV front, CNN has a monthly reach of 27% compared with 18% for BBC World News, 12% for CNBC, 10% for Channel News Asia and 7% for Bloomberg.
CNN is also ahead of BBC World News in its monthly reach on websites and apps at 9% compared with a 5% reach.
[Image]: Shutterstock