While it may seem that digital has taken the forefront in reaching across to a wider segment of audience, marketers should not be so quick to dismiss traditional completely. A new AdReaction study from Kantar Millward Brown indicates that traditional formats of advertising still play a critical role in reaching out to Gen Z (age group of 16-19).
The study found that 55%  of Gen Z prefer outdoor means of advertising as compared to the other forms of advertising. This was slowly followed by cinema magazine and newspapers. Television and radio, however, trailed back at 48% and 39% respectively. Gen Z are dramatically more passionate about music and movies. Ads placed in these contexts are far more powerful with this group, with 39% of Gen Z saying music makes them more positive to advertising and 38% reporting that movies have the same effect (compared to just 29% and 28% for Gen X).
The reports also indicated that Gen Z's daily mobile usage is lower than that of older generations, as 74% spend more than an hour a day on their mobile device compared to 83% for Gen Y and 77% for Gen X. In fact, Gen Y (age group: 20-34) seemed to be the most receptive towards online ad formats, followed by Gen X and Gen Z.
The reasons why online may not be the appropriate channel to reach out to Gen Z is because they are more impatient. For instance, their least favourite formats are the invasive kind – such as non-skippable pre-rolls. The study indicates that Gen Z across Southeast Asia are also less tolerant of ads longer than 10 seconds than older generations.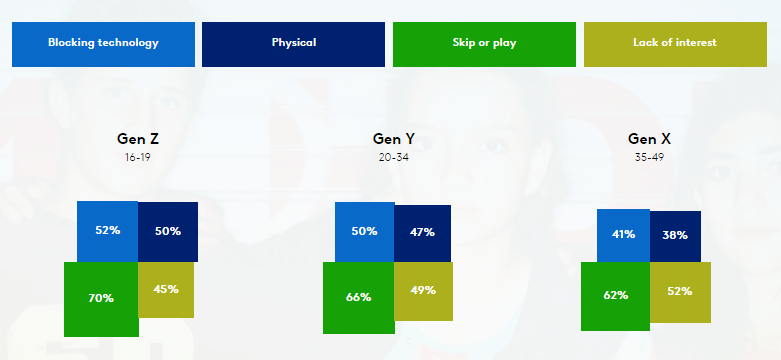 As a result of the above, brands seem to be in the danger of not being noticed at all by Gen Z, as one in four (23%) use ad blocking software on their desktop computers and 18% have now installed it on their phones. This means brands need to work hard to capture the attention of Gen Z when they are consuming media – either traditional or digital - or risk being missed altogether.
[gallery link="file" ids="162561,162578,162558"]
 Type of content that works
While it is clear that traditional mediums still work to lure Gen Z, simply slapping your piece of artwork on an OOH bus shelter or a cab alone won't work. It is still critical of marketers to understand the nature and content that resonate with the GenZ.
The characteristic most likely to make Gen Z positive towards an ad is humour, with 58% agreeing. This was followed by the ability to tell an interesting story (51%) and the inclusion of good music (50%). Newer characteristics such as the use of special effects and augmented reality are less popular, at 38% and 29% respectively.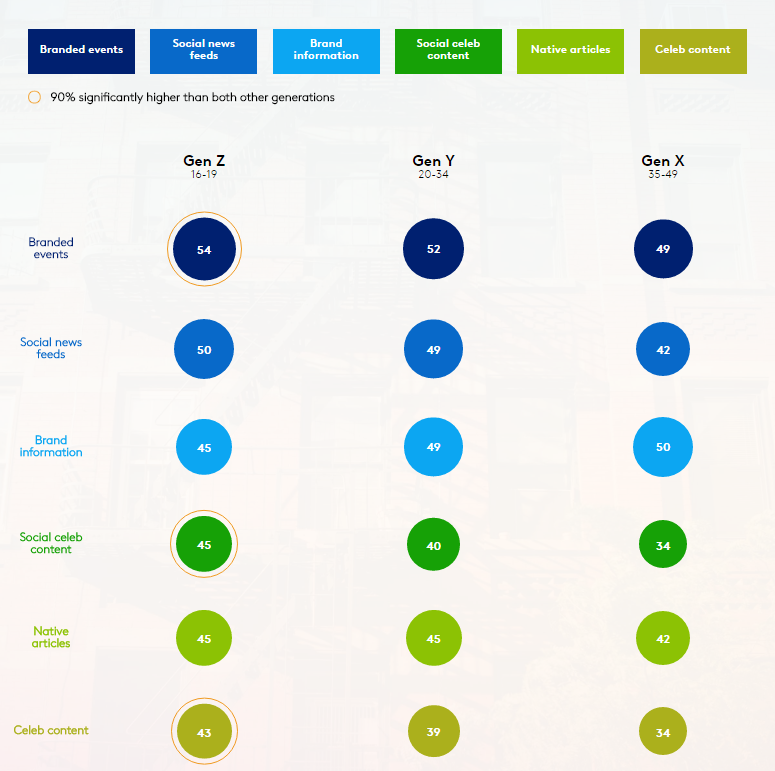 Also, before you dole out a couple of million dollars to have Brad Pitt front your next campaign, it is worth noting that the use of celebrities is not a sure shot at success. Only 22% of Gen Z in Southeast Asia say that celebrity endorsements made them feel more positive about an ad. This was even lower (17%) for ads that featured social media celebrities/influencers.
Kamal Oberoi, senior director, media and digital solutions for Kantar Millward Brown said:
It is clear that Gen Z are not great fans of advertising content in its current state. They do not want brands forcing themselves into their space nor are they keen on out-of-context ads that don't connect with their needs and wants.
"The single largest opportunity for marketers in our region is to engage Gen Z with ads that feel real and honest, that invite the audience to join in if they choose," he added.
Duncan Southgate, global brand director, media and digital at Kantar Millward Brown said, "No generation is a monolith and Gen Z is no exception. Their upbringing, expectations and access to technology, however, has created a range of attitudes and behaviours that will challenge marketers. Only where brands take all this into consideration will they be successful in engaging this increasingly critical and fast-emerging group of consumers."