The CMO role has not changed drastically from just a couple years ago. While in the past they were tasked with deciding a direction and the mediums their ads should run across, today's CMOs have to now learn to inject humanity into their brands and be more personally invested in the consumer. CMOs today are the eyes and ears of the business, and the propellers of change.
Most recently Forbes, Sprinklr, and LinkedIn created The World's Most Influential CMOs 2017 report to identify how today's top marketers adapting to new opportunities and expectations.
The report found that top CMOs are personally invested in social. 45 of the Top 50 are on Twitter and 49 are on LinkedIn. The Top CMOs are also more active on social, with two times as many LinkedIn connections, 2.5 times as many Twitter followers.
For these CMOs, social media isn't just an indicator of CMO influence; it's an active instrument top marketers skillfully utilise to expand their reputation and reach. Many Top 50 CMOs have built their network incrementally over the course of successive leadership roles in multiple companies.
They have thus established a potent following at one brand and as such, their fans will likely follow when they advance to a broader role elsewhere. Along the way, savvy digital marketers leverage their personal social media followings in service of the brands they lead, sharing corporate messages and accomplishments across networks cultivated over numerous years and roles.
This phenomenon is most apparent on Twitter – where you will find 45 out of 50 of the top influencers – but can also be observed on LinkedIn, where all our CMOs save lone holdout Phil Schiller have a presence. The deep engagement these top CMO influencers evoke on these platforms underscores the increasing relevance of social media within companies and among C-level executives.
Here are the top 50 CMOs in the world: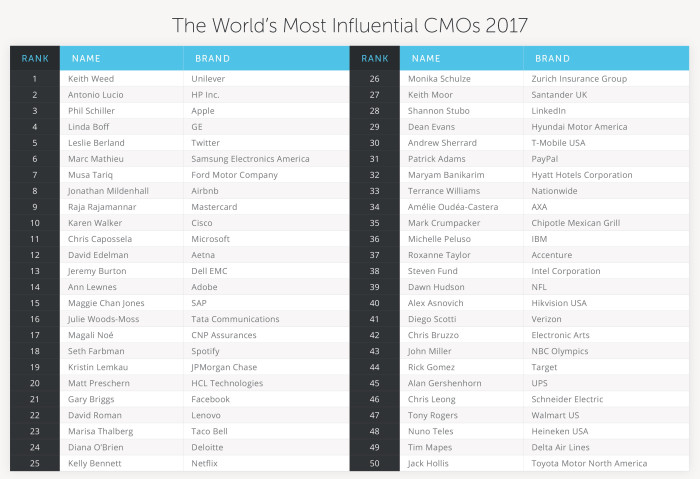 The study finds that certain industries are inherently more fertile for building a national or international reputation.
40% of the world's most influential CMOs work in tech, including telecommunications and the internet. Given the exceptionally high degree of social network usage in those communities, a large audience closely following every move, tweet, or status update is virtually standard-issue for tech CMOs. It also incentivises companies to promote or recruit executives who bring a breadth of digital knowledge to the table. The financial services sector is also well represented, totalling roughly 20% of the list.
(Photo courtesy: 123RF)