In cooperation with companies, universities and non-profit organisations in China, US-based shoes brand TOMS has brought its month-long programme 'One Day Without Shoes' movement to China for the first time.
From 5 May to the official kick-off day on 21 May, Chinese consumers can take part in this charity event through different online and offline channels without any time or monetary commitment.
The brand will donate one pair of shoes to children in need for any barefeet photo posted on Sina Weibo, WeChat, Mogujie, Alibaba Fan'r or Instagram with the hashtag #withoutshoes#.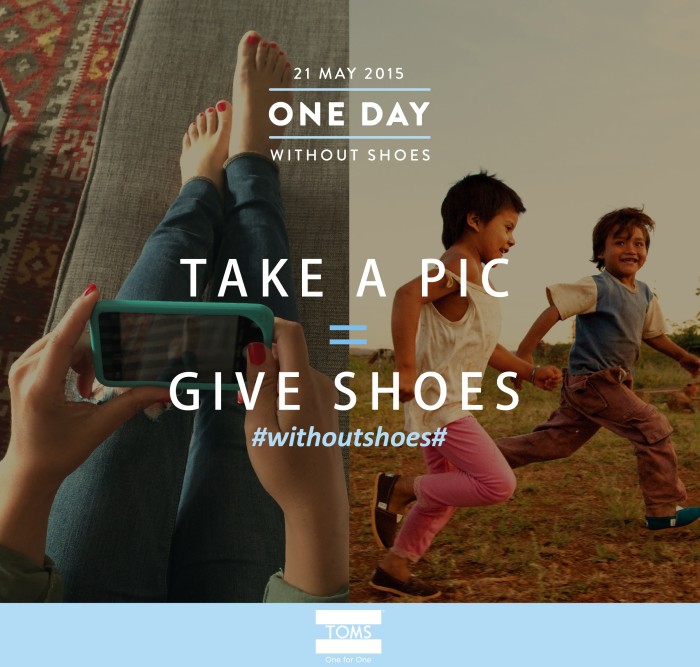 Fans can also follow the global photo tally on the brand's Tmall.com flagship store or TOMS.com during campaign period.
Customers who make any purchase over RMB1,000 on its Tmall store during May 16 to 21 can enjoy an added 20% off and a chance to receive a limited-edition ODWS tee to encourage shoppers to go barefoot on May 21.
On retail front, 11 stores in China will set up barefoot photobooths during May where guests can take off their shoes and step into the grounds similar to that of Argentina and Nepal.
On the morning of 21 May,  TOMS' founder Blake Mycoskie will travel to China to kick off the movement by climbing the Great Wall of China barefeet with 15 business and public sector leaders including head of Gates Foundation China and vice president of APAC of Park Hyatt.
Other activities include University One Day Without Shoes, NPO Seminar and dinner with social entrepreneurs.
By virtue of its One for One business model, TOMS aims to use business to improve lives and help a person in need with every purchase. To date, the brand has given over 35 million pairs of new shoes to children in need in more than 70 countries through its One Day Without Shoes activations originated in April 2008 with the aim to raise global awareness to children's health and education.