The 2016 Olympics in Rio De Janeiro, Brazil was extremely special for all Malaysians given the spectacular performances from the Malaysian Olympians which won the nation 4 Silver Medals and a bronze Medal, the best achievement for Malaysia in the Olympics thus far.
Being Malaysia's only digital platform for Rio Olympics 2016, during this period, TM provided free live coverage of the games - through its 8 HyppSports HD dedicated Live and Interactive TV Channels and also real time social media updates and engagement via its flagship TM Team Malaysia initiative.
Understanding consumers are no longer loyal to just one device, TM also provided an omniscreen viewing experience of the live sporting action both via HyppTV as the Official IPTV Broadcaster of the Rio Olympics 2016 and its HyppTV Everywhere mobile application, to be enjoyed anytime and anywhere.
In a conversation with A+M,  Jeremy Kung, executive vice president, TM New Media, said: "TM and HyppTV are very excited to be able to bring a world class sporting event to our UniFi and HyppTV viewers for the first time, as the Official IPTV Broadcaster of the Rio Olympics 2016, and in such an innovative manner."
He added this was the perfect time to unite the brands' passion for sports and Malaysians by providing viewers non-stop free live coverage and exclusive Rio 2016 content, anytime, anywhere and on any device.
Meanwhile, Izlyn Ramli, vice president, Group Brand and Communication, TM, added: "Beyond our services and digital platform, we support Malaysian athletes through our unique TM Team Malaysia initiative that unites the sports fans and Malaysians across all walks of life to support our national athletes."
Recently, at the Anugerah Sukan Negara 2016, TM Team Malaysia was declared as the Official Supporters of Malaysian Athletes by the Minister of Youth and Sports. As such, at Rio 2016, TM's Team Malaysia on-ground team rallied and organised the Malaysian supporters whilst providing real time reporting of results and updates on social media.
"TM Team Malaysia will always be behind the athletes, to help ignite their spirit and give them that extra boost to perform their best when bearing our national flag at the games," Ramli added.
She explained that when it comes to sports, content is key but digital and social media is becoming increasingly more important in engaging with the fans.
"As our audience shifts online for sports content, we provided them with the most rewarding experience beyond sports through innovative use of Facebook 360 and exclusive images on our social media assets, Team Malaysia Facebook page, Twitter and Instagram," she said.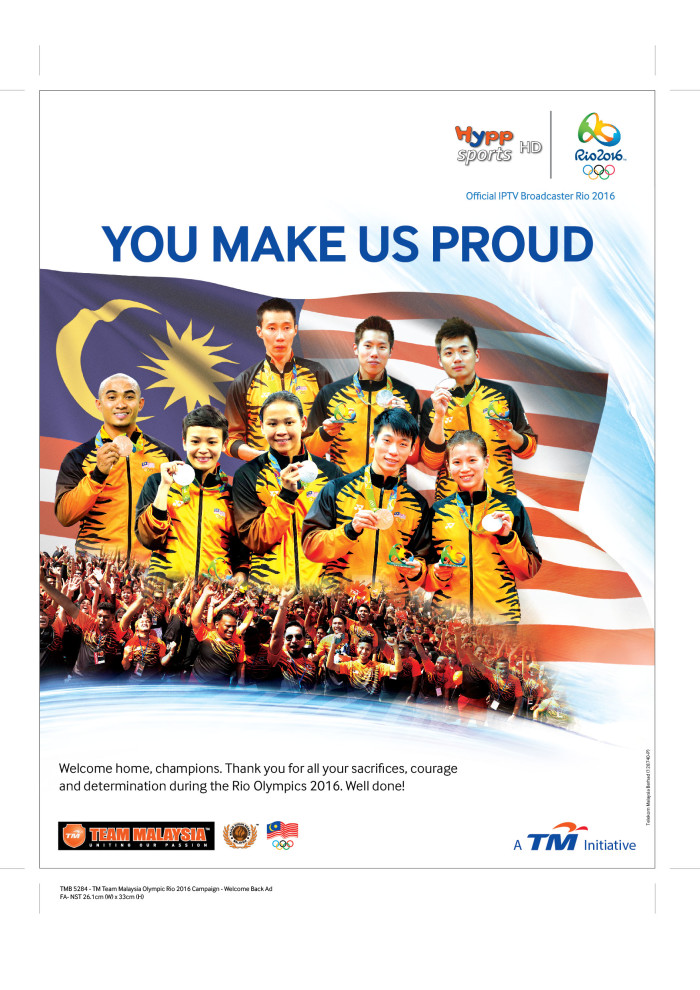 TM Team Malaysia also had a series of on-ground and online activities including TM Team Malaysia Fan Run & Team Malaysia Campus Road Tour 2016 and an online contest for TM customers as well as the public to win exclusive merchandise by participating via the @TeamMsia twitter account and Team Malaysia Facebook page.
Members of the public could also showcase their support to the Malaysian athletes competing in Rio 2016 through an official hashtag – #KamiTeamMalaysia and #TeamMsiaOlympics as well as in support of the hashtag #Rio2016 and #TeamMalaysia. There was also a "Flagship Life Made Easier Road Tour", where TM exhibited its latest consumer offerings in a fun and casual atmosphere; while at the same time promoting its TM Team Malaysia initiative through sports-related activities during the tour.