Tyrion Lannister once said, "Everything's better with some wine in the belly."
Tiger Beer certainly did not forget his words and are intent on letting their consumers know that everything will be better with some beer in the belly, especially when it comes to chasing away Monday blues.
Leveraging on the current buzz around the latest season of "Game of Thrones", Tiger Beer posted two pictures of its new beer range on Facebook - Tiger Black and Tiger White. This was while making references to the TV show.
The post wrote "Monday is coming. It's time to pick a side.", referencing one of the show's iconic phrases "Winter is coming". The Facebook post garnered 1.5k reactions, 92 shares and 39 comments at the time of writing. Reactions from netizens were generally positive, with some netizens referencing "Game of Thrones" in their responses and many tagging their friends.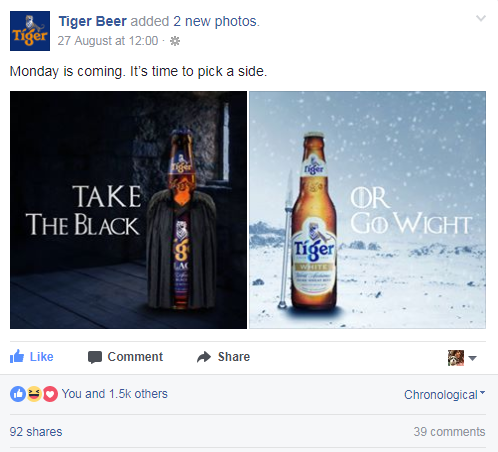 In a subsequent post which was later pulled down, Tiger Beer placed a witty spin on another iconic phrase - "The lone wolf dies, but the pack survives" - to market its six pack.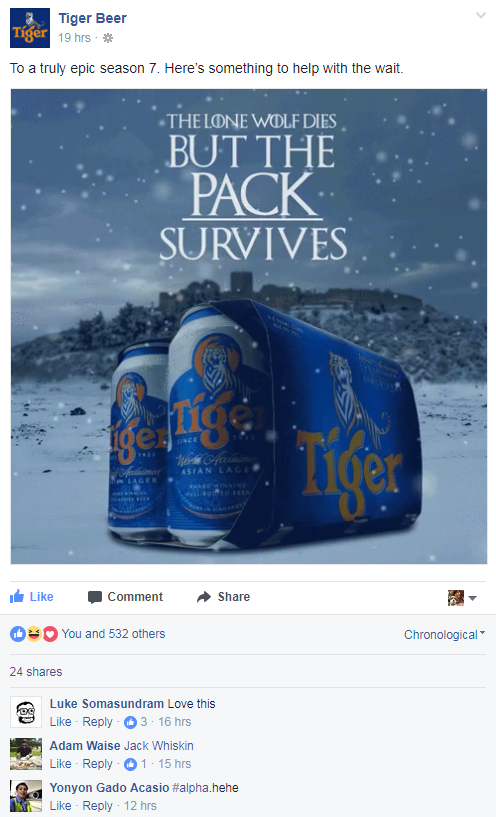 In a statement to Marketing, Venus Teoh, head of marketing, Asia Pacific Breweries (Singapore) said its staff members were huge "Game of Thrones" fans and the season finale was the talk of the office. Hence, it saw a "synergistic opportunity" to talk about Tiger Black and Tiger White in the context of the show. Creative agency BBDO was responsible for creating the post.
Teoh added that in place of direct sales objectives or targets for its creative social content, the company looks to constantly drive engagement with consumers. This is through speaking to consumers in ways that resonate and build relevance. Having consumers tag their friends or share Tiger Beer's content on their news feeds also shows that the company has its finger on the pulse of pop culture, she said.
Launched earlier this month, Tiger Black and Tiger White are the brewery's take on the classic black lager and German wheat beer. BBDO Singapore created an integrated campaign titled #UNCAGETHEUNEXPECTED to showcase a bolder and smoother side of Tiger. Starcom Media Worldwide and Ogilvy PR were also involved in the execution of the campaign.
The campaign, which runs until the end of August, has assets running on TV, print, OOH, digital and social through to e-commerce. The campaign kicked off with a launch film as well as a series of experiential activations. It also saw Tiger Beer having plans to transform regular spaces such as streets, lifts, and supermarkets into unexpected bars. This was to allow people to taste the two new brews that are vastly different from its predecessor, the classic Tiger Beer.
As the saying goes "If you can't beat them, join them". I think I'll go wight. What about you?